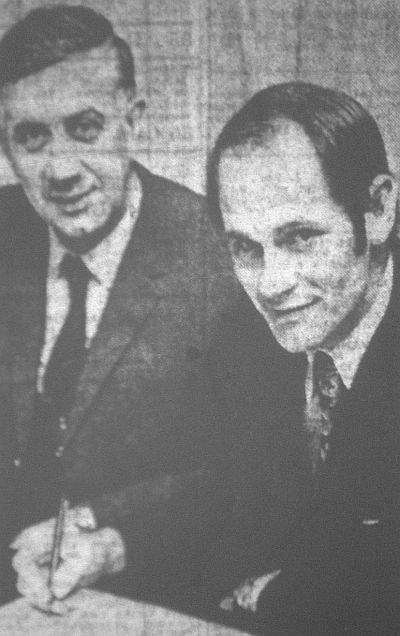 Jimmy Robson puts pen to paper to become a Burnley player again
It wasn't the sort of signing we'd expected with Robson, a team mate of Adamson in the championship team 13 years earlier, now aged 34 and on a free transfer having been released by Bury.
Robson had left Burnley eight years previously having played 242 games for the club in which he scored exactly 100 goals. We'd sold him to Blackpool and he'd gone on to play for Barnsley as well as Bury before the Turf Moor return.
Adamson, however, explained the move by revealing that he'd signed Robson as a youth development player with his role to help the players playing for the reserve team in the Central League.
The manager said: "We can't do all the coaching out on the training field and Jimmy has the experience to instruct the youngsters on the field of play.
"I have been looking for a player of his type for some time. We know Jimmy's character and we know he will do a good job for us."
Admitting to being shocked when he heard Burnley wanted to sign him, Robson said: "It was a pleasant surprise. At this stage of my career it could not be a better move for me. I live in Burnley and still have a great feeling for the club. I'm very happy to be coming back."
Meanwhile, Adamson confirmed the retained list with just two players, both youngsters, being released. The two players leaving the club were both aged 18, defender Joe McNamara and goalkeeper Jim Highdale.
McNamara had been with the club for three years and had played nine Central League games during the 1972/73 season and Highdale had been signed from Ormskirk a year earlier and had been the regular youth team goalkeeper.
The remaining 28 professional players were all retained as shown below.
Goalkeepers: Alan Stevenson, Jeff Parton, Micky Finn
Defenders: Mick Docherty, Keith Newton, Colin Waldron, Jim Thomson, Harry Wilson, Eddie Cliff, Billy Rodaway, Ian Brennan, Jimmy Robson
Midfield: Martin Dobson, Doug Collins, Geoff Nulty, Billy Ingham, Alan West, Ronnie Welch, Bobby Flavell, Brian Flynn
Forwards: Paul Fletcher, Frank Casper, Leighton James, Ray Hankin, Eric Probert, Colin Morris, Paul Bradshaw, Kevin Kennerley
As a thank you to supporters, the club had kept season tickets at 1972/73 prices despite the relegation and despite the fact that VAT would be introduced before the end of the next season.
They revealed that tickets would go on sale from Monday 7th May and for fans who wanted the best choice of seats in the soon to be built Brunshaw Road stand were advised to move quickly. It would be a case of 'first come, first served' based on the purchase of season tickets in the cricket field stand.
The prices were
Cricket Field Stand
£14 - Reserved Seat Adult
£7 - Reserved Seat Juvenile
£7 - Unreserved Seat OAP
£10 - Reserved Seat OAP
Ground
£6 - Adults (to end of June, then £7)
£3 - Juveniles and OAPs (to end of June, then £3.50)
Tickets would be available from the secretary's office during normal office hours, including Saturday morning, and from 7 p.m. to 8:30 p.m. on Fridays.
There was news of two more of our 1960 championship team. John Connelly had decided to leave Bury, hang up his boots and concentrate on running his fish and chip shop in Brierfield with wife Sandra.
Alex Elder, meanwhile, had been released by Stoke due to weight problems. Alex, by then 32, would not play league football again.
Back in Burnley, fans were still celebrating as the club revealed a civic reception and a fans' night at the Cats Whiskers organised by the players.