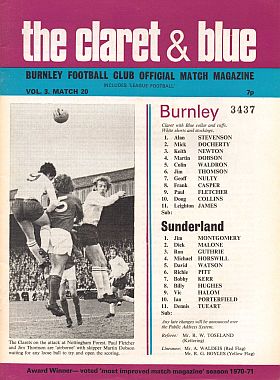 There will be no other news from the time reported on this occasion, it will be all about the big news, the only news in town as Burnley celebrated in style leaving, I'm sure some sore heads and missing workers on the Tuesday.
The game was being played nine days late because of Sunderland's involvement in the FA Cup, but it was worth waiting for.
A Monday night for much of the season would have been a difficult one for me. I had university lectures until 5 on a Monday but this was the Easter break and so I had just the short walk to get there, via the Park View which was always, back then, our port of call before a game. It proved to be our port of call for hours and hours after the game too.
I was nervous, as I'm sure many others were, but one of our group, Brian Lucas, arrived so ultra confident with champagne and some glasses ready to celebrate.
Almost 23,000 of us went through the turnstiles with Burnley forced into one change from the team that had started the game against Huddersfield two days earlier. Mick Docherty, stretchered off in that game, was out. It was confirmed that he'd suffered a cartilage injury and would be ruled out for the rest of the season.
Eddie Cliff had deputised a few weeks earlier when Doc was suspended but this time Jimmy Adamson turned to his tried and trusted substitute Billy Ingham who had come on and done so well at Leeds Road. Youngster Ray Hankin took his place on this big night.
We started so well and might have had an early goal to settle the nerves, mine at least. Leighton James went on a superb fifty yard run in only the second minute before losing control and Frank Casper was inches away from getting onto an Ian Porterfield back pass that just about reached goalkeeper Jim Montgomery.
The FA Cup finalists were second best but hung on until the 27th minute when Turf Moor simply erupted. Martin Dobson and Ingham built up a move down the right hand side before getting the ball across to FLETCHER on the edge of the box. He turned sharply and lobbed Montgomery to give the Clarets the lead.
Little had been seen of Sunderland but in the closing minutes of the first half they forced Alan Stevenson into two saves, a reminder that this game was most definitely not won.
We'd played well but the second half didn't live up to the first as Sunderland started to get more physical leading to four of their defenders being booked.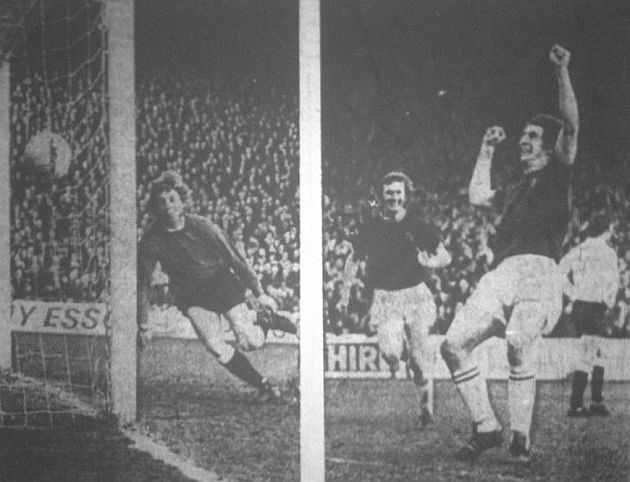 Jim Montgomery beaten and Paul Fletcher celebrates his second goal
It really had got scrappy, but we kept the lead as time went on and then, in the 89th minutes, we knew we were on the way up as we doubled the lead. Again it was FLETCHER with a fierce shot that Montgomery couldn't hold.
Soon after the final whistle blew to start celebrations that I'd never witnessed before as a Burnley fan. The bottle of champagne was opened on the Longside and we stood there having a celebratory drink.
The team came back out for a lap of honour and I saw my dad punching the air in jubilation, thinking a man of his years, he was 51 at the time, should be politely applauding and not getting too carried away.
It was the first time I'd seen Burnley win anything. I'd come in just after the championship win of 1960 and this was, and remains to this day, so special to me.
It was back to the Park View. All the press came in. The Cricketers had gone and this is where they were now hanging out. One of them was Dennis Lowe, a fat bloke who used to do a bit on Grandstand at the time.
He'd never favoured Burnley and was now stood at the bar in my local, alongside my friends and dismissing our chances in the First Division. When he told me it proved too much and, aided and abetted by Burnley Evening Star reporter Keith McNee, I gave him more than a piece of my mind.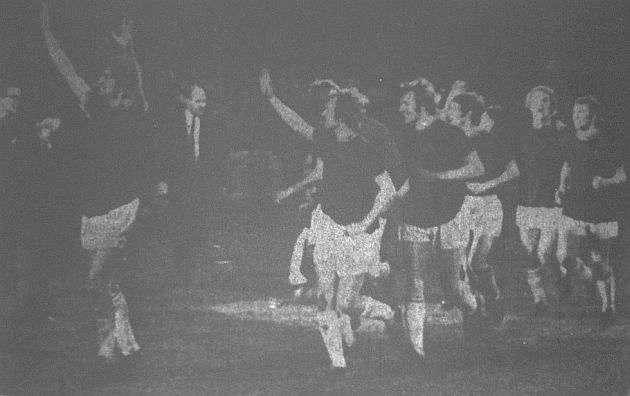 Martin Dobson leads the team on a lap of honour
He wondered what had hit him but his insistence that Burnley would be relegated again within a year had to be challenged. He left soon after and the party went on. Licensing laws? I don't know about that but the Park View certainly didn't shut at 11 that night. I think we were there close to 11 on Tuesday morning.
I remember the papers arriving at the newsagents and us all going over and taking them, leaving money of course, before the shop opened. I recall seeing one fan on the roof of what is now the ticket office enjoying a drink.
The party spilled out into Brunshaw Road for a while. No one seemed bothered. I saw Bob Lord smile as he came out of the ground, I kid you not and even Jimmy Adamson came out to talk to us alongside his captain Martin Dobson.
The teams that night were;
Burnley: Alan Stevenson, Billy Ingham, Keith Newton, Martin Dobson, Colin Waldron, Jim Thomson, Geoff Nulty, Frank Casper, Paul Fletcher, Doug Collins, Leighton James. Sub: Ray Hankin.
Sunderland: Jim Montgomery, Dick Malone, Ron Guthrie, Micky Horswill, Dave Watson, Richie Pitt, Bobby Kerr, Brian Chambers, Dennis Tueart, Ian Porterfield, David Young. Sub: Joe Bolton.
Referee: Mr R. W. Toseland (Kettering).
Attendance: 22,852.
We'll have some of the reaction to the promotion, from Bob Lord, Jimmy Adamson and Martin Dobson later this week and head of our triple Easter programme.
But Burnley were back in the top flight with four games still to play. Now we needed to go for that title.
Second Division Result
Mon 16th April 1973
BURNLEY 2 SUNDERLAND 0
Burnley's Goalscorers (League Only)
15: PAUL FLETCHER
11: MARTIN DOBSON
10: FRANK CASPER
8: LEIGHTON JAMES
6: GEOFF NULTY
4: DAVE THOMAS
3: BILLY INGHAM, COLIN WALDRON
1: DOUG COLLINS, KEITH NEWTON, OWN GOALS
Second Division Goalscorers
22: DON GIVENS (QUEENS PARK RANGERS)
18: GORDON BOLLAND (MILLWALL)
16: ALAN GOWLING (HUDDERSFIELD TOWN), STUART PEARSON (HULL CITY)
15: STEVE EARLE (FULHAM), PAUL FLETCHER (BURNLEY), BRIAN JOICEY (SHEFFIELD WEDNESDAY)
14: STAN BOWLES (CARLISLE UNITED & QUEENS PARK RANGERS)
13: HUGH CURRAN (OXFORD UNITED), VIC HALOM (LUTON TOWN & SUNDERLAND),
JOE LAIDLAW (CARLISLE UNITED), RAY TREACY (SWINDON TOWN), ALF WOOD (MILLWALL)
12: JOHN GALLEY (BRISTOL CITY & NOTTINGHAM FOREST), GERRY GOW (BRISTOL CITY),
BILLY HUGHES (SUNDERLAND), BOBBY OWEN (CARLISLE UNITED)
The League Table
Team
pld
w
d
l
f
a
pts

BURNLEY

38

21

13

4

63

34

55

QUEENS PARK RANGERS

37

20

12

5

73

37

52

ASTON VILLA

38

17

11

10

46

43

45

BLACKPOOL

39

17

10

12

54

47

44

SHEFFIELD WEDNESDAY

39

17

9

13

58

50

43

FULHAM

38

15

11

12

54

43

41

MIDDLESBROUGH

39

14

13

12

39

41

41

OXFORD UNITED

38

17

6

15

48

39

40

BRISTOL CITY

39

14

12

13

56

49

40

LUTON TOWN

38

15

10

13

43

47

40

SUNDERLAND

35

14

10

11

52

42

38

MILLWALL

38

15

8

15

52

44

38

HULL CITY

37

13

11

13

60

53

37

NOTTINGHAM FOREST

38

13

11

14

43

46

37

SWINDON TOWN

39

9

15

15

44

58

33

PORTSMOUTH

38

11

10

17

39

54

32

CARLISLE UNITED

38

11

9

18

47

48

31

ORIENT

37

10

11

16

42

46

31

PRESTON NORTH END

38

10

11

17

33

59

31

HUDDERSFIELD TOWN

39

7

16

16

33

52

30

CARDIFF CITY

36

10

8

18

36

51

28

BRIGHTON & HOVE ALBION

38

8

11

19

43

75

27