First came the civic reception held at the prestigious Keirby Hotel in Burnley. The dinner was given by the Mayor of Burnley, Councillor Abel Bridge to mark Burnley's return to the top league of English football but also to celebrate the achievements of fellow Lancashire clubs Liverpool, Bolton and Southport who had won the other divisions.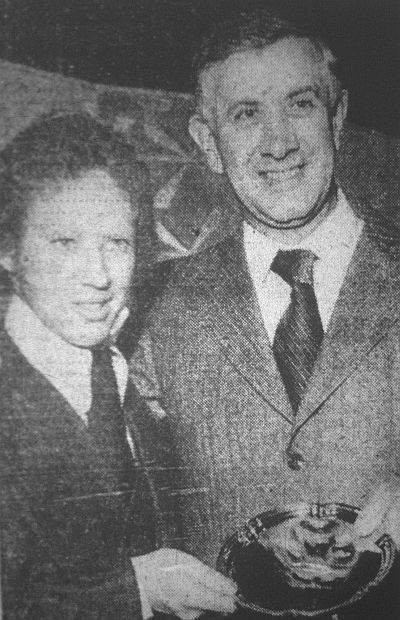 Billy Ingham presents Jimmy Adamson with a silver salver
Over 120 guests heard Burnley chairman Mr Bob Lord say that Burnley's promotion was down to a manager who was 'a world beater' but manager Adamson was quick to heap praise on his players, singling out three in particular. Those players were skipper Martin Dobson, left back Keith Newton and forward Frank Casper.
"At Turf Moor, Martin is known as the squire because of the way he dresses," Adamson said. "He us known over a much wider area as the best footballer in the Second Division. Personally, I reckon he is the best player in any division in the Football League."
The manager described Casper as a model footballer who had, previously, not gained any honour with his two clubs, Rotherham and Burnley. "Now he has achieved something and we are very happy for him," said Adamson.
He described Newton, who he said had been on the scrap heap before signing for Burnley, as the missing piece in the jigsaw.
That was followed by the players' party . It was gate crashed but 700 supporters at the Cats Whiskers, including some long haired louts as can be seen on the photograph. Impressionist Paul Melba provided the cabaret but it was Geoff Nulty and Eddie Cliff who stole the show with the rest of the first team squad as backing singers and one, who shall remain nameless, playing with his ukulele.
There was a surprise too for the staff as Jimmy Adamson, Joe Brown, Brian Miller, George Bray and Jimmy Holland all received gifts from the players.
It hadn't been such good news for former prolific goalscorer Willie Irvine who found himself in lumber with his club Halifax after playing in the John Angus testimonial. He hadn't been involved with the first team since the beginning of March but he was instructed to pull out of the game at Turf Moor and travel with the Halifax team to Walsall for a Third Division game.
He defied their orders and played at Burnley and as a result of his action was fined two weeks wages, a total of around £100, for what was described as a serious breach of club discipline.
Irvine said: "It meant a tremendous amount to me to play in the testimonial for John, who has been a great colleague to me and many other players at Burnley. I had not been in the Halifax team for about three months and I was not expected to play at Walsall.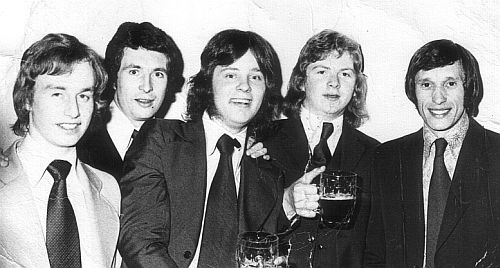 Guests at the players' party
"I went into this with both eyes open. I realised what would happen, but I have no regrets. If I had the choice I would do the same again."
Subsequently, Willie was released by Halifax, bringing to an end his Football League career at the age of 29.
Meanwhile, Adamson's team building was in progress and the manager confirmed that former Manchester United defender Willie Watson would be joining the Clarets when the players reported back for pre-season training.
A 24-year-old Scot from Motherwell he had been released by United and Adamson was impressed with the versatility of the player who could operate either at full back or in the centre of defence.
He was playing in the United States but Adamson confirmed he would be at Gawthorpe for pre-season and suggested it could be a trial period.
Having just won promotion, the Football League announced that they were about to make it easier for us to be relegated by changing the rules on promotion and relegation that had been in place for years.
At the time it was two up/two down between the First and Second Divisions, and similarly between the Second and Third Divisions, with a four up/four down rule between Divisions Three and Four.
A change in the relegation and promotion rules was being put in place to start immediately. It was to increase the numbers going up and down from two to three between those top three divisions.
Some clubs wanted it increasing to four all round, led by Derby who had put the proposition forward initially, but the compromise of three up/three down was agreed on. One year on from this the first team to be relegated from the First Division after finishing third from bottom was Southampton who finished above Manchester United and Norwich.