I seem to remember in the 1980's we were going to sign a Spanish player called Jesus Seba. I seem to remember he broke his leg but did he get a game and what happened to him?
Jesus Seba was one of the 'Three Amigos' who signed for Wigan Athletic in 1995, the others being Isidro Diaz and Roberto Martinez. Sadly he was the worst of the threesome and Wigan released him early the following season.
It was then that Adrian Heath offered him a trial at Turf Moor, which lasted between October and December 1996. He did not make a first team appearance for the Clarets but did play a number of times for the reserves. Despite scoring in his final reserve match against Wrexham, Inchy decided against offering him a permanent contract because "We're not really able to offer him a first team chance." so no broken legs as far as I can tell.
Later that season he returned to his original club Real Zaragoza of Spain. More recently he has been been on the fringes of the Belenenses squad in the Portuguese First Division.
Despite extensive attempts to find a picture of Jesus Seba we were unable to track one down so I hope no-one minds this picture of the real thing at Christmas time.
I can understand that for a season the League may have decided that the Division 2 Champions could play in the Charity Shield, but why did we play Man City. I believe they finished mid table and did not play in the Cup Final.
The 1973 Charity Shield should have been between Sunderland (FA Cup winners) and Liverpool (League Champions). My understanding is that both were invited but declined to take part as the match had a lower profile at the time.
Spurs won the Football League cup and may have been invited but failing that they went for us as the Division 2 Champions. Man City were invited because they were the holders of the Charity Shield having beaten Aston Villa in 1972. Out of interest that year Aston Villa were invited as the old 3rd Division Champions and City presumably because they finished 4th in the League and were the highest placed club to accept the invitation.
The following season Burnley were actually invited to take part again as holders after Leeds and Liverpool turned it down but then the FA decided to hold the match at Wembley, so Leeds and Liverpool hurriedly changed their mind. Not sure how old you are but you may remember that was the match Keegan and Bremner were sent off for fighting.
Is there a County in England where Burnley have never won or lost?
As this is an away game question I've concentrated on the won side of the question!
Cornwall would be a bit of a cop out I suppose and the Local Government changes in 1974 also add to the confusion but I think that we have won at least once in just about every County we have played a significant number of matches in.
At first I thought that Tyne and Wear, Teesside and Wearside would be good bets but we've won in all 3 of them. Then I moved on to Hampshire with Portsmouth and Southampton but we have beaten Pompey in a match from the 1981/82 season which escapes the memory. Thought I had it with Ipswich and Suffolk but we did win there in 1970 but haven't won in 5 matches since that date. I figured that would be the worst recent record but then I went with Cumbria where we haven't beaten Carlisle in our last 6 visits.
In the end I've settled for 8 with Humberside and Berkshire as our worst record with 7 visits to Grimsby and 1 visit to Hull failing to yield a win since John Deary and Steve Davis scored in a 2-1 win at Boothferry Park in January 1994 and 8 fruitless trips to Reading since 1981.
If you can improve on that I'd be more than happy to hear about it but for now I'm giving up!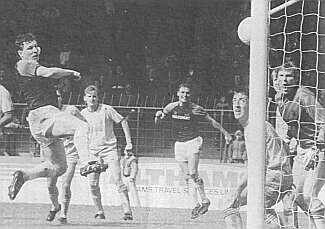 Neil Grewcock scores against Southend

When were the last occasions that we won away at either Wolves, Manchester United, Arsenal or Everton? I've been watching them 40 years and can't remember winning at any of them.
The only one I knew off the top of my head was Wolves where we won 1-0 in the season of The Orient Match thanks to a goal from Neil Grewcock.
Our last win at Old Trafford was just over 41 years ago so I suppose you're right about that with a handsome 5-2 win thanks to goals from John Connelly (3), Lochhead and McIlroy.
Arsenal was in Septemner 1974, 1-0 with a goal from Peter Noble and Everton is slightly more recent with a 3-2 win in January 1976 with goals from Peter Noble, Brian Flynn and Derek Scott.
How many goals did Kevin Reeves score for Burnley in his short career?
Kevin scored a total of 16 goals in 30 full appearances. In the league he scored 12 out of 20 matches plus 3 goals in 5 FA Cup matches and finally 1 goal from 3 appearances in the Lancashire Cup. He also came on once as a substitute in the league but didn't score in that match.
He was injured in an FA Cup 3rd round replay away at Oxford United, a match which the Clarets lost, and he never played professional football again. Interestingly the league season was at the exact halfway point when he was injured. In the first 23 games (with Reeves scoring at a rate of 1 goal every 2 games) we picked up 39 points but it the remaining 23 we only gained a further 23 points to finish the season in mid table.
There is no doubt that his loss was a major blow to the Clarets and if we had maintained our form in the second half of the season we would have been very close to a promotion spot and how differently might John Bond's time at Burnley be viewed if that if we had achieved promotion?
As the teams are introduced to the pitch and in the programme Pretiumque et Causa Laboris is referred to as 'The prize is the cause of our labours'. However, the original phraseology seems to suggest that the phrase is 'The prize and the cause of our labours' Can you help?
This followed on from an earlier question about when the club's crest changed and the questioner is right.
Pretiumque et Causa Laboris was the motto on the town crest for 120 years and Burnley FC adopted the crest of the town. It was last worn on the shirts in season 1968/69 and dropped completely when the club crest was redesigned and copyrighted in 1973. The town dropped the crest and motto the following year due to local Government reorganisation.
It was revived in 1999 when Burnley FC decided to use it as part of our 'corporate image' or 'brand identity' but as you point out, it was sadly mistranslated, whether by accident or design I'm not sure. The Latin 'et' means 'and', not 'is'.
The difference appears subtle but the meaning is quite different. The Prize is the Cause of our Labours makes us sound like a bunch of glory hunters where nothing else matters whereas the proper translation is meant to reflect pride in the efforts we put in to our support for the town/club and for what we have made it into.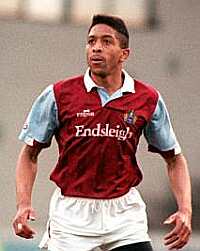 Roger Eli

And finally, the question we were never asked.

Finally, because this will be the last feature in the Ask Clarets Mad series. In the last 18 months we have answered around 250 queries with over 60 of them being used in answers in this section. Unfortunately, the questions, especially those with answers that might be of interest to other Clarets, have tailed off over the last 6 months to the extent that it is not really viable to run it as a regular part of the site. Queries and question will still be welcome to the address at the bottom of the page or via the messageboard but it is unlikely that we will use them as features in the future.

Anyway, when we launched in July 2002 we hastily designed a picture of a Claret with an obscured face further covered by a question mark and sat back to wait for the first question which would undoubtedly be about the identity of the player. Well no one ever asked it but as you can see now revealed is the unmistakable figure of Roger Eli from season 1992/93.

Just in case you were wondering.

In future please send any Clarets related queries HERE