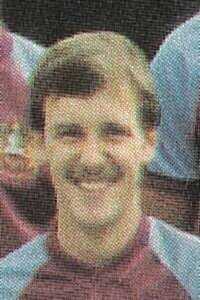 A young Mike Phelan

What can you tell me about Man Utd coach Mike Phelan's time at Burnley?
Mike, or Mickey as he was more commonly referred to at Burnley was on schoolboy terms at Turf Moor before becoming a professional in 1980. He was born locally and supported the club as a boy. He made his full league debut on 7th February 1981 in the 1-0 victory over Exeter City at Turf Moor aged just 18. Despite his youth he was equally adept playing in central defence or central midfield, which is a rare quality in any player let alone one, so young.
By season 1982/83 and with Burnley in the old Division 2, he had firmly established himself in the Clarets side and was an ever present in a total of 61 league and cup games that season. His record was almost as good in the following 2 seasons with 57 apiece meaning that he had missed only 5 matches out of a total of 180 games.
Through no personal fault of Mickey's those years saw Burnley suffer 2 relegations. The 4th Division was no place for his talents however and Norwich effectively stole him for a fee of £70,000. 4 years later they sold him to Manchester United for over 10 times that amount.
His total record of achievement was 218 starts plus 2 as substitute scoring a total of 13 goals and he is already being talked about as a potential Burnley manager of the future.
What was the Burnley team for the second leg of the 1968 Youth Cup Final at Turf Moor?
Burnley lost the away leg at Coventry 2-1 but triumphed 2-0 at home to take the trophy 3-2 on aggregate.
For the home tie we lined up as follows:
Gerry McEvoy, Peter Jones, Mick Docherty, Wilf Wrigley, Eddie Cliff, Eric Probert, Alan West, David Hartley, Willie Brown, Dave Thomas, Steve Kindon
Sub. George Coppock
A little known fact is that the Coventry City goalkeeper on the night was none other than future sports presenter and mystic, David Icke. A full feature on the FA Youth Cup winning team of 1968 is to follow shortly.
Which current Football League/Premiership grounds have Burnley never played at?
I reckon that at the start of next season there will be 10 current grounds where Burnley have never played.
Hull City (Kingston Communications Stadium), Oxford United (Kassam Stadium), Southampton (St Mary's), Man City (City of Manchester Stadium) Sunderland (The Stadium of Light), Boston United (York Street Stadium), Rushden and Diamonds (Nene Park), Kidderminster (Aggborough Stadium), Yeovil Town (Huish Park), and Darlington who are moving to a new 25,000 capacity ground which has recently been christened as The Reynolds Arena after Chairman and benefactor George Reynolds.
Did Frank Sugg who played football for Sheffield Wednesday, Derby County and Everton and cricket for Yorkshire, Derbyshire, Lancashire and England ever play football for the Clarets?
The quick answer is yes he did. He played for Burnley between 1884 and 1888 but because that was in pre-football league days the official records only credit him with 3 full appearances in the FA Cup in seasons 1886/7 and 1887/8 however he played in numerous 'friendly' matches also.
That isn't quite the end of the story though. Frank played twice for England at cricket in August 1888 and there is a possibility that he was still technically a Burnley FC player when he turned out for England at cricket. We know that he was still playing for Burnley in early 1888 and that he made his debut for Everton on 6th October 1888 but we haven't yet been able to ascertain the exact date of his 'transfer'.
One thing we do know for sure is that Frank Sugg was playing CRICKET for Burnley at the time he played for England with his Test Match appearances being sandwiched between appearances on the Turf Moor cricket field and that he was also playing for Lancashire at the same time. Enquiries are still continuing and we hope to be able to bring you a more detailed feature on Frank Sugg in the near future.
It appears from some pictures of the time that coat of arms worn by Burnley in the 1914 FA Cup Final is the royal crest, is this true?
10 out of 10 for observation it is indeed the royal crest and in 1914 we were one of only a handful of clubs entitled to wear it. Burnley were in fact the first ever club to have the right to wear it on their shirts following the visit of Prince Albert Victor to Turf Moor on 13th October 1886.
The Prince who would become Edward VII was on the first ever royal to visit the town of Burnley and after opening the Victoria Hospital took his seat at Turf Moor to watch the match between Burnley and Bolton Wanderers. In doing so he became the first royal to watch a game of professional football. Permission was granted for the use of the royal crest inside the stadium and thereafter we were able to use the crest and also the phrase 'Under Royal Patronage' in connection with the club a distinction that, the club was justifiably proud of. (Note - Frank Sugg referred to above played in this match)
Reports of our first home game in the Football League in 1888 say that we wore a gold badge on our strips, which was possibly the royal crest. Although it is difficult to tell the team photograph of the 1890 Lancashire Cup winning team also appears to show the players wearing shirts with the crest on. Other than that there is a reference around 1910 to us wearing the crest on the occasion of another royal visit to the town but it was certainly not worn routinely.
By 1914 Edward VII's brother George V was on the throne and he was the first monarch to attend a final. His attendance seems not to have been based on the fact that Burnley were playing and likewise we would have worn the royal crest, as was our right, whether he was in attendance or not.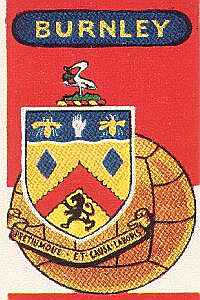 The old Borough of Burnley crest

I was wondering when and why the club changed from the town crest to the current badge.
Following on from the above question the first evidence I have been able to find of us wearing the town crest on our shirts is in the 1947 Cup Final. It does not appear to have been a regular part of our strip until the 1960/61 season following on from our Championship win the previous season. The town crest was then worn until the 1969/70 season when it was replaced with a simple BFC.
I had assumed that the club crest itself was changed when the old town crest was replaced with the present one following changes to Local Government in 1974 but the Clarets were ahead of the game. The new club crest was actually introduced in August 1973 and it was registered as an official trademark. The new crest was to feature on 'ties, blazers, cufflinks, pottery, stainless steel and other saleable commodities' and was 'not to be reproduced without the permission of Burnley FC'.
It had taken 2 years of work to bring about the change and times had changed from the early royal crest days but from the reference to it being reproduced on 'saleable commodities' it is probably safe to assume that the change was largely money minded. Just out of interest this put us almost 30 years ahead of Arsenal in introducing a club crest that was subject to copyright.


I remember talking to a player in a pub in Halifax in the late 1980's who said he was going to join the Clarets. He was called something like Phil Burrows and I wonder what happened to him.
After a bit of detective work we managed to solve this one and the player in question was Phil Brown. He never did join the Clarets but he did indeed leave Halifax in the summer of 1988 to join Bolton Wanderers. It is interesting that we came close to signing him as I'm sure he would have been a fantastic player for Burnley but our loss was Bolton's gain as he went on to play a total of 330 games over the next 6 seasons. He joined Blackpool after that but returned to Bolton where he is currently assistant manager to Sam Allardyce.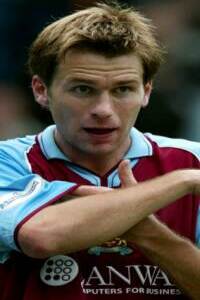 Gareth Taylor
How many goals did Gareth Taylor score last season? The club say he scored 17 league goals yet all other sources say 16. Who is right and why the discrepancy?
I originally thought the question was simply a matter of confusion over league goals which I say is 16 and the 17 goals he scored in total including his FA Cup goal against Fulham and it was actually the person that asked the question in the first place who did some further research and put me on the right track.
The discrepancy arises because Burnley FC are the only body to have credited Gareth with a league goal at home to Coventry at Turf Moor on 9th November 2002.
For those that weren't at the game, Gareth had the ball on the corner of the penalty area and crossed the ball in the direction of the far post before it took a wicked deflection and looped over the wrong footed keeper into the net and a fine sight it was but was it Gareth's goal?
I would love for Gareth to be credited with this but for proper records to be maintained there has to be some integrity in the way these things are compiled. In the Premiership they have the 'Dubious Goals Committee', which meets to decide exactly who should be credited with this type of goal. A simple rule of thumb they use is 'Was the original shot going on target?' giving the benefit of any doubt to the attacker. If it clearly wasn't going in then it is quite simply an own goal. Sadly there was no way that Gareth's cross was even going close.
Unfortunately the Football League doesn't have a 'Dubious Goals Committee', we know because we asked them about one of Andy Payton's goals and they seemed surprised that anyone should even care! Burnley FC gave Payts his disputed goal but that was a question of who got the last touch as it went over the line which is sometimes better decided by those within the club rather than reference to a committee watching TV evidence.
The betting industry also has an active interest in these matters and they can't wait for the 'Dubious Goals Committee' to get it's act together and they pay out on who is recorded as the scorer in the following day's papers and they recorded it as an own goal.
Rothmans Football Yearbook is often regarded as the Bible on these things and I have very little doubt that when the current year's edition is published it will say that Burnley's 3rd goal against Coventry last season was an own goal. Sorry Gareth.

Please keep the questions coming. We've been doing this section for almost a year now and have answered in the region of 200 queries in total.

If you have a question or any other comments just CLICK HERE to contact us.