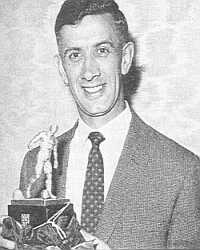 Jimmy Adamson

Whatever happened to Jimmy Adamson?

Jimmy Adamson was undoubtedly one of the greatest ever servants to Burnley Football Club with a total of 486 appearances spanning 14 years as a Claret. In 1962 he was awarded the prestigious Football Writers Footballer of the Year award as pictured. The award is now on display at Towneley Hall along with a small collection of Clarets memorabilia. Jimmy is now 73 years of age but still lives in Burnley where he prefers to quietly spend his well-earned retirement.
How many times did Lee Dixon play for Burnley?
Lee Dixon played a total of 4 games for Burnley. He made his debut as a 19 year old in a home game against QPR on 10th May 1983 and also played in the 2 remaining matches of a season that was to end in relegation. Lee then played in John Bond's first league match in charge, a 4-1 defeat away at Hull City, before he was dropped and replaced at right back by Derek Scott who had been playing in midfield. In February 1984 he was released on a free transfer to Chester City before joining Bury, Stoke City and then Arsenal. Ironically his first team chances had been limited the previous season by Brian Laws who Bond also released.
When did Burnley start to play in Claret and Blue and why?
In the early 1900's Burnley played in green shirts but in May 1910 it was announced that, as from the following season, we would play in 'claret and light blue jerseys and white knickers'.
The strip was first seen in public on 1st September 1910 when the reserves won 2-0 against Stockport County at Turf Moor. The first team had to wait another 2 days until the opening match of the 1910/11 season at Turf Moor when Lincoln City were beaten 3-1 in a Second Division match.
It is widely believed that the change was made to match the colours of the current First Division champions Aston Villa in the hope that it might bring us some luck after a couple of poor seasons but that is not a belief that I subscribe to.
The whole idea doesn't make sense to me. There is no evidence that any club routinely changed its strip for luck or to match the team currently at the top. What if that team was relegated the following season, how lucky would that be?
By 1910 we had already changed strips at least 3 times and looking at the old photos the green shirts look entirely unsuitable for playing football in. A change was long overdue and the new jerseys were certainly of a more modern design. The Claret strips must have been chosen by the Directors who probably picked the strip on the basis of price, availability and personal preference.
At the time the Burnley Express was the font of all local knowledge on Burnley FC and if they knew the reason for the change they certainly weren't saying but it might have been this newspaper that gave birth to the myth. In an attempt to describe the strip to its readers it said that it was 'something like the Villa rig out' which it undoubtedly was but there are only so many colours in the rainbow.
Of course within a few years Burnley had won promotion back to Division One and had brought home the FA Cup thereby assuring the future of the 'claret and light blue jerseys and white knickers'.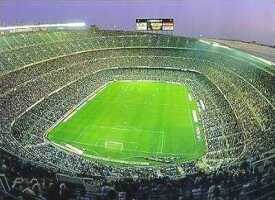 The Nou Camp today

I've heard that Burnley took part in the first ever match played at the Nou Camp stadium in Barcelona, is this true?
The real answer is that we played in the second ever match but it is still a fairly remarkable story.
In the summer of 1957 the Clarets went on a tour of Spain and during that trip we received an invitation to participate in the festivities that were due to take place when the Nou Camp was opened that September. As you will see from a later answer the Clarets really were trailblazers when it came to overseas tours and we had previously visited Spain in 1949, as well as tours to Sweden, Germany, and Mauritius. Sad to relate that in the modern age we can only make it as far as the Isle of Man!
The invitation was for a match to be played on Wednesday 25th September 1957. It had been expected that we would play the host club but only a few days before the journey the club received the news that we were to play the famous Flamengo FC of Brazil.
Travelling on a Tuesday morning and returning on a Thursday night was far from ideal especially as the club was in the middle of an injury crisis and had several players suffering from flu. The situation was so bad that we had lost our previous 2 games, both away from home, 7-0 and 6-1. There was some talk of cancelling the trip but it was seen as a great honour and we were also receiving a fee for going so off we set for sunny Spain.
The match was played in front of a crowd of 50,000 Spaniards and the final score was Flamengo 4 Burnley 0 which no one was too disappointed about bearing in mind our injury problems. It was indeed a great honour to be invited to take part alongside some of the greatest club sides in the world at the opening of a magnificent 90,000 capacity stadium but we weren't quite the first.
The inaugural match was played the previous night when Barcelona beat a select XI from Warsaw 4-2 so I suppose you could argue that we played at the first match at the Nou Camp between 2 recognised club sides. It also occurs to me that Burnley might well have been the original intended opponents for the first match but as we had impressed Barcelona so much when beating them 1-0 in 1949 they might have fancied an easier team to play to make sure that they got underway at their new stadium with a win.
What is the title of the record by The Piranhas played when Burnley score a goal?
The record is called Tom Hark and it reached number 6 in the charts in August 1980. This is probably more info that you need to know but it was originally recorded in 1953 by a group called 'Elias and his Zig-Zag Jive Flutes'. The distinctive tune was based on South African folk music played on a penny whistle. These are the lyrics:
Does anybody know how long to World War Three?
I wanna know, I've gotta book me holidee.
They want me in the army, but I just can't go,
I'm far too busy listening to the radio
The whole thing's daft, I don't know why.
You have to laugh, or else you cry,
you have to live or else you die.
You have to laugh or else you cry.
My friends say that we're heading for a grotty time;
It's just a load of slapstick in a pantomime.
We're heading for disaster, but I just don't care.
Shut your eyes and count to ten, you won't be there.
Who have been Burnley's goalies since 1960?
A nice easy one! We reckon the full list of goalkeepers who have played in competitive matches since 1960 is as follows:
Adam Blacklaw, Jimmy Furnell, Harry Thomson, Rod Jones, Peter Mellor, Tony Waiters, Alan Stevenson, Micky Finn, Jeff Parton, Gerry Peyton, Billy O' Rourke, Roger Hansbury, Joe Neenan, Dennis Peacock, Phil Harrington, Tony Woodworth, Chris Pearce, David Williams, Andy Marriott, Mark Kendall, Nicky Walker, Marlon Beresford, Wayne Russell, Tony Parks, Chris Woods, Gavin Ward, Frank Petter Kval, Craig Mawson, Paul Crichton, Nik Michopoulos, Luigi Cennamo.
Outfield players to play in goal:Les Latcham, Brian Laws, Paul McGee, Andy Farrell , Mark Monington, David Eyres.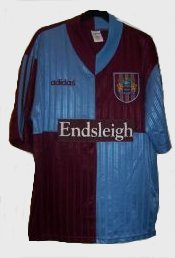 Come in number 16

I recently purchased a number 16 Burnley shirt in Claret and Blue quarters signed by Chris Waddle and other players. Who did the shirt belong to?
The shirt is from the 1997/98 season and it can only have been worn by one of the substitutes.
Squad numbers were introduced for the 1999/2000 season although 16 is an interesting number having been used by three different players. It was Tom Cowan's in 1999/2000 but then was given to Phil Gray for 2000/01 and then to Ian Moore when he arrived.
They seem to have been with us for ages but it is in fact just over three years.






It seems that Burnley were invited on a continental tour in late May 1914 as winners of the FA Cup. If you have any information on this tour I would be much obliged.
Burnley did indeed take part in such a tour in the summer of 1914 when they played at total of 6 matches in Germany, Austria and Hungary. The details are as follows:
17/5/14 Burnley 2 Berlin Victoria 1 (Played in Berlin) att.12,000
21/5/14 Burnley 1 Celtic 1 (Played in Budapest) att. 20,000
24/5/14 Burnley 1 FTC Budapest 3 (Played in Budapest) att. 14,000
26/5/14 Burnley 2 Hungarian XI 0 (Played in Budapest) att. 2,000
31/5/14 Burnley 3 Rapid FC 1 (Played in Vienna) att.6,000
1/6/14 Burnley 0 Austrian XI 3 (Played in Vienna) att. 5,000
The most remarkable of the above matches was the one played against the Scottish Cup holders Celtic. The Clarets had been anticipating a friendly encounter but found when they arrived that their Hungarian hosts had built the match up into an unofficial play off between the 2 British cup winners. They had even gone as far as commissioning a large trophy, which was shaped like a lighthouse and encrusted with jewels and prepared commemorative medals for each player.

As a result the match turned into a far tougher encounter than anyone had imagined. Celtic led at half time through a penalty given for handball but Tommy Boyle equalised for the Clarets thanks to another spot kick for a foul and it remained 1-1. The schedule did not allow time for a replay so, showing tremendous skill, the Clarets captain Tommy Boyle won a toss of a coin and Burnley were proclaimed the winners.

The Clarets actually agreed to play a return match against Celtic when we were both back home but by the time the match took place the following September war had broken out in Europe and the trophy was still in Hungary making the 2-1 defeat the Clarets suffered fairly meaningless.

It is amazing to think that, only 27 days after the Clarets played the final game of the tour, the heir to the Austro-Hungarian Empire, Archduke Franz Ferdinand, was assassinated and within 2 months the First World War had begun.

As you can see from the above we are prepared to answer anything ancient or modern so if you have a question or any comments please click HERE