Why is Turf Moor called Turf Moor?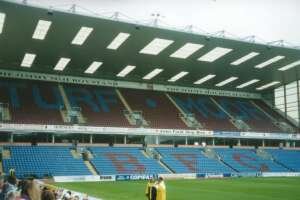 This is Turf Moor
The answer is fairly simple but to get to the origins you have to go back 1,000 years to when the area was first referred to as 'Turf Moor'. At this time Burnley was nothing more than a collection of a few farms concentrated around the current site of the Sparrow Hawk hotel and along the rivers Brun and Calder. These farms had enclosed fields, which reached the boundaries of the present day ground. Turf Moor itself was actually common land, which all of the farmers could use for grazing and other purposes and it remained common land until the 17
th
century.
The word 'Moor' means just about the same as it does today namely an unenclosed area of waste or common land. Now we tend to think of moors as upland areas but back then the ground was literally at the edge of the land under cultivation.
The area became known as Turf Moor because it was used primarily for the cutting of squares of turf to be burnt on fires. It is likely that the area was quite marshy and covered in heather and this type of turf burned particularly well on fires, in the same way that peat does.
Around 1700 the land became part of the Fulledge estate but it never appears to have been built on or cultivated to any great degree and it always retained the name of Turf Moor. Burnley Cricket Club took over the land in 1843 when, apart from cricket, it was also used for a variety of other sports. In 1883 the newly formed Burnley Football Club amalgamated with the Cricket Club and took over the 7 acres of land where the ground stands today.
How many of the 1947 Cup Final side are still alive?
Sadly no members of the team that played in the Cup Final are still alive. Billy Morris was the last one to pass away on New Years Eve 2002. Prior to that we lost Jack Chew in late October 2002 and George Bray who died in February 2002.

The other members of the team were Jimmy Strong, Arthur Woodruff, Harold Mather, Reg Attwell, Alan Brown, Ray Harrison, Harry Potts and Peter Kippax.
I am trying to find out the results of all the matches I have been to and am short a few results, can you help? The matches are 27/07/1993 Bolton Wanderers lancs manx (home) 31/07/1993 Rochdale lancs manx (away).
The pre season competition was called the Marsden Lancashire Cup. The full results were as follows:
24/7/93 Burnley 4 Blackpool 3 (Heath, Eyres, Conroy 2) attendance 5,740
27/7/93 Burnley 0 Bolton 1 attendance 6,001
31/7/93 Rochdale 4 Burnley 1 (Francis) attendance 2,656
The game against Blackpool saw Warren Joyce, David Eyres and Kevin Russell make their debuts for Burnley. The Rochdale game saw us wear the halved jade and black away strip for the first time and it was definitely a case of the shape of things to come. After its inauspicious start to life the shirt became something of a burden and we believe that we never won a league match whilst wearing it and drew only once with all of the others being lost. In fact we only ever won one game in the colours that being an FA Cup 1st round replay at York City which we won 3-2 but maybe the bad luck continued as Mark Monnington was sent off for time wasting after taking 5 seconds over a late throw in.

It's status as a bad omen was confirmed on New Years Eve 1994 when Southend United arrived at Turf Moor without the correct kit. Although it was no longer our away strip they were handed the green and black halves to play in and were promptly thrashed 5-1, the Clarets best result of the season.
What happened to our old physiotherapist 'Sumo'?
Sumo was better known as Andy Jones and it was a chant he had to endure many times at Turf Moor thanks to, shall we say, his slightly rotund proportions.
Andy left Turf Moor in September 1997 to follow his old boss Adrian Heath to Everton. When Inchy left Goodison in June 1999 it was time for Sumo to get on his bike again. This time however their ways parted with Heath taking over at Sheffield United and Jones taking up residence as physiotherapist at Charlton Athletic where he remains to this day.
Can you give me any info on Burnley players who served their country in the First World War?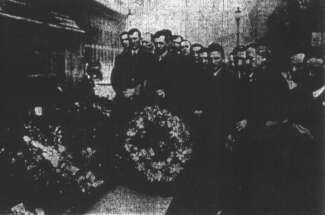 Burnley players at the Cenotaph in 1921
Whilst I don't know the individual service records of all the Burnley players from 1914 I can say that in general terms it seems that most of them continued to play for the Clarets until the end of the 1915/16 war season when regional leagues were played. From 1916-18 very few of the 1914 squad made more than an occasional appearance for Burnley and it is likely that they served in the army during those years.
The archives show us that 3 Burnley players were killed in action during the 1914-18 war. These were: William Pickering who made a total of 14 appearances for the first team, he was killed in action in Belgium in 1917. Jonathon Brown who made just 1 appearance, details of his death are not known and a player only referred to as Lorrimer who is not referred to in official records as having made a first team appearance. He died in a dug out in Egypt in 1917.
Probably the most well know casualty was 'Little' Teddy Hodgson who died in Calderstones Hospital in 1919 after returning from the Army of Occupation of the Rhine. Calderstones was used as a military hospital at the time. Hodgson decided to join up in 1916 and was involved in only a handful of games after this although he actually played his last game for Burnley in December 1918, i.e. after the war ended but before the league proper had started again. He had been injured near to the end of the war and his condition worsened on his return home leading to his death in August 1919. He had been a member of the 1914 FA Cup winning team.
The picture shows members of the 1921 team laying a wreath for their fallen colleagues at the Cenotaph in London prior to a match against Arsenal.

Is Stan Ternent the most successful manager in Burnley's history? If not who is?
In purely statistical terms our most successful manager is Cliff Britton (1946-48) with Stan second. To make the comparison everything has been calculated to 3 points for a win. I know the figures do not include numerous other variables but on an average of points achieved per game played under their management the results for the most prominent Burnley managers in our history are as follow:
Cliff Britton (1946-48) 1.80
Stan Ternent (1998-present) 1.58
John Howarth (1910-24) 1.56
Harry Potts (1958-70) 1.54 (late 1970's spell not included)
Jimmy Adamson (1970-76) 1.30

What is the current policy at the Centre Spot? Are the bar prices reasonable and can anyone get access on match days?
The Centre Spot is now known as the Clarets Foundation Members Bar. On match days admittance is free to members of the Clarets Foundation but costs £2 if you are not a member. This is now more strictly enforced than it was last season. The entertainment mainly consists of a quiz, a free prize draw and a question and answer session with an ex Claret. The answer sessions are normally very good.
The downside is the bar prices, which are £2 for Thwaites 'Smooth' bitter and £2.20 for Carling lager. Apart from being expensive, compared to neighbouring pubs, in my humble opinion they are not very good.
It depends what you want out of it but speaking personally I would recommend joining the Clarets Foundation.
Can you tell me about the match in the 1890's against Blackburn when they ended up with only one player on the pitch?
The match took place on 12th December 1891 at Turf Moor. It was played in terrible conditions with heavy snow falling and Blackburn (the FA Cup holders) were losing 3-0 at half time. Even though Blackburn would now be playing with the strong wind rather than against it, only 7 of their players came out for the second half.
Following a clash early in the second half Joe Lofthouse of Blackburn and Alex Stewart of Burnley were sent off. At this the entire Rovers team, with the exception of their goalkeeper, left the field.
Burnley went down the field and scored only to see it disallowed for offside! The referee then abandoned the match but the result stood.

As you can see from the above we are prepared to answer anything ancient or modern so if you have a question or any comments please click HERE to e-mail us. Whilst we can't promise to publish the answer to every question you can be assured of a quick response.