8. Back in the Big Time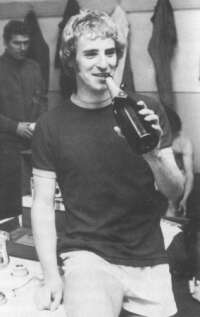 Deepdale goalscorer Colin Waldron celebrates the Championship
Relegation in 1971 was a sickening blow for many Burnley supporters, a 24 year run in the First Division meant life at the top was all they knew. Although no longer a major force in the game the poor season came out of the blue and in his first season in charge Jimmy Adamson was facing 2
nd
Division football.
We did reasonably well in the first season down but never threatened to go back up and after a bad run up to and including Easter a further relegation was a possibility. A 4-2 defeat at Blackpool on Easter Saturday (we had been 4-0 down) brought about a massive demonstration against Adamson and two days later things went worse as we managed to lose 4-3 at Sunderland after leading 3-1 with less than five minutes to go.
From then on it was full steam ahead and not a single point was dropped in the six remaining matches and we ended the season in a comfortable seventh place.
Adamson brought in one new player during the summer to bolster the squad in Everton's former England full-back Keith Newton. Some were up in arms because he had started his career and played over 300 league games for Blackburn. They were soon to change their minds about this classy player.
It was to become a wonderful season when the Clarets played some fantastic football. The unbeaten run from the previous season continued and a 2-0 win at Portsmouth at the beginning of September saw us hit top spot for the first time.
Shortly afterwards we even sold Dave Thomas to QPR and they were already looking promotion candidates. How many clubs would sell one of their top players to a promotion rival?
Some said we were drawing too many games and we shared the points in nine of the first sixteen games but the other seven had all been won. Then disaster struck and we lost to third bottom Orient at home. The prophets of doom predicted a collapse but the next four were all won 1-0 and we ended 1972 four points clear.
Things were getting better and we started 1973 with a brilliant 3-0 win at Villa Park against fourth place Aston Villa and just about everyone was predicting promotion by now with seventeen games still to play. The next though was lost at 2nd place QPR.
There were two more defeats, one at home and one away, but that was it just four defeats all season and on Monday 16th April Sunderland came to Turf Moor. They had reached the FA Cup Final and it was only because of their games in hand that we weren't already guaranteed promotion.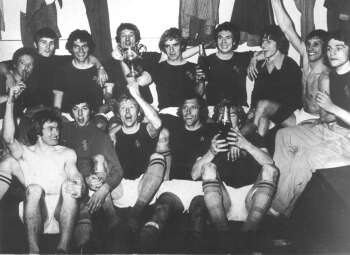 The dressing room at Deepdale after the Championship had been clinched
We were by the end of the night as two Paul Fletcher goals won the game and the parties began – Monday night was definitely party night in Burnley as the whole town came out to celebrate long into the night, in fact well into the following morning. Now it was full steam ahead for the Championship trophy but QPR wouldn't give it up, it went to the last game.
That was Deepdale and we needed a point to secure it, by chance Preston needed a point to avoid relegation. We did have to suffer going behind but a Colin Waldron goal early in the second half equalised for us and there never appeared any possibility of another goal and the trophy was ours. The attendance at Deepdale was 21,550 and well in excess of 15,000 were Clarets.
We were back in the top division and although many thought we would struggle we were to prove them all wrong for two years. This was the most fantastic of seasons and saw us back where we all felt we belonged. To lose only four games in a full season is a brilliant achievement.
We had a side with quality all the way through it although it has to be said we were fortunate as far as injuries were concerned. We used only 17 players and 3 of them made only the odd substitute appearance. Once Dave Thomas had gone to QPR it was virtually the same team every week: Alan Stevenson, Mick Docherty, Keith Newton, Martin Dobson, Colin Waldron, Jim Thomson, Geoff Nulty, Frank Casper, Paul Fletcher, Doug Collins, Leighton James. Sub Billy Ingham.
The night against Sunderland and the clinching of promotion still remains my all time best memory. To see your team climb back into the top division is just brilliant.
7. The Greatest Show on Earth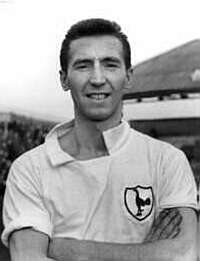 Cliff Jones - got two for Spurs
For those of us old enough to recall Burnley and Spurs were the best two teams in the country for a period in the early 60s and there were some classic encounters between us. My earliest recollection of a game between the two sides came in December 1960 at White Hart Lane. I wasn't there but was following it at the reserve game on the Turf.
There was no local radio and no such innovations as Ceefax and until the scores came up around 4:50 on Grandstand there was no hope of finding out what was going on other than at the reserves. There you would be informed of every goal.
The first news came early, there was a crackle on the public address system followed by the familiar words, "Attention Please, Attention Please, the latest score at White Hart Lane is Tottenham 1 Burnley 0", and we were behind. We had just returned from France having played Reims in the European Cup and Spurs were already storming towards the League Championship that Burnley held. They had won 17 out of 19 league games with 1 draw and just 1 defeat.
Worse was to come for the Clarets and by 3:30 we were sick of 'Attention Please'. No it wasn't telling us that we were 2 down or even 3 down, Spurs had now gone into a 4-0 lead. They Champions were being torn apart by the league leaders. Winger Cliff Jones had scored two of them with the others from centre-half Maurice Norman and left-half Dave Mackay.
There were stunned faces on the Turf, a typical reserve team crowd of around 10,000 were finding it difficult to believe that even against the all conquering Spurs we could be so many behind so early. Just how many were we going to lose by, this could be a record defeat.
But then the Clarets started to turn this into the greatest show on earth. Seven minutes before half time John Connelly pulled one back and despite going in at half time with a 4-1 deficit there was hope both for those at White Hart Lane and the Turf. The hope was nothing more than the fact that the defeat might not be as bad as feared.
Incredibly things got even better and the next announcement brought another Burnley goal, this time for Jimmy Robson and the suggestion was that if we could hold it at 4-2 then it wouldn't look to bad at all.
John Connelly - first and last goals in the amazing comeback
Hold it!! Not on your life!! The Clarets had other ideas and Ray Pointer made it 4-3 and suddenly we were back in the game. Spurs came storming back at us and hit the post with Blacklaw beaten but we were having none of that and John Connelly almost got a second but was denied by the woodwork at the other end.
None of this was known to those of us at the Turf but suddenly there was another crackle and there was hush as everyone waited, hoping for the best but fearing the worst.
"Attention Please, Attention Please, the latest score at White Hart Lane is" and it then seemed to take an age before it continued, "Tottenham 4 Burnley 4" and the ground went wild. And that was the Turf. There were 58,737 watching at White Hart Lane but you would have thought it was going on in front of you at the Turf such was the excitement.
The goal had come from John Connelly, his second, who hit an unstoppable shot into the top corner and then despite Spurs trying to regain the lead we held out for a draw that nobody could have believed possible just over an hour earlier.
Referee Windle from Chesterfield described it as the most incredible match he had ever officiated at and thanked the players for 90 minutes of great entertainment. He stood by the side of the pitch at the end and applauded all 22 players as they left the pitch.
What the match was like to watch I will never know but I can recall the announcements as if it was yesterday. And how did the reserves go on? No idea, and can't even recall who they were playing but on a day like that it hardly mattered.
It must have been the Greatest Show on Earth.