80. The Jimmy McIlroy Stand is opened
The 20
th
century was drawing to a close and our last game of the millennium was to at home against Oxford United. Prior to kick-off the stand at the Bee Hole End (previously known as the East Stand) was to be officially renamed as The Jimmy McIlroy Stand.
This was something I will never ever forget as my heroes from almost 40 years earlier came onto the Turf one by one in an emotional pre-match parade. It started with goalkeeper Adam Blacklaw and ended with Jimmy McIlroy himself. Each of them were afforded a wonderful reception from the Turf Moor crowd, and rightly so.
Jimmy had been gone from Burnley for almost 37 years but finally he was back with the naming of the stand, a decision that had met with approval from all supporters. After a short speech he officially cut the ribbon before rejoining his former colleagues as they completed a lap of the ground.
It was a standing ovation all the way around the ground and that didn't end when they reached the Oxford fans at the Cricket Field End, they too stood and applauded the great Burnley team.
The players there that day with Jimmy McIlroy were Adam Blacklaw, Alex Elder, Tommy Cummings, Brian Miller, John Connelly, Ray Pointer, Jimmy Robson, Brian Pilkington, Trevor Meredith and Billy White. Those who played in the Championship season and unable to be there were John Angus, Jimmy Adamson, Bobby Seith, Gordon Harris, Ian Lawson, Billy Marshall and Jim Furnell.
79. 'We are Burnley FC' Wembley song 1994
Wembley songs are normally reserved for teams appearing in the FA Cup Final but when Burnley reached Wembley in the Division 2 Play Off Final of 1994 a group of fans managed to record and release a song on a cassette tape in a matter of days.
It began with a clip of Guy Havord's slightly hysterical Radio Lancashire commentary of John Francis's, 2nd goal in the semi-final at Plymouth and launched into 'I follow Burnley I'm proud of it, We sing wherever we go.' The chorus was a fantastic terrace like chant of a softly spoken 'We are' followed by a roar of 'BURNLEY FC' which was just made to sing along to.
The rest of the lyrics rather lost their way but did record the only known reference in the history of British music to meeting a girl in Panama Joe's. It wasn't Lennon and McCartney but it was a damn site better than most Wembley songs.
78. Hoskin scores at Swansea
As fixtures go a 4
th
Division match between Swansea City and Burnley was hardly going to hit any headlines. It was a cold Friday night in February but the crowd of 6,015 represented the biggest crowd at a Burnley game all season.
The early worries of a fight at the bottom of the Football League were there and this was a game that looked set to be another defeat before we saw one of the best Burnley goals in years.
With the score at 1-1 Ashley Hoskin picked up the ball with no danger to the Swansea goal, in fact if memory serves me correctly he was a lot nearer his own goal. In an amazing piece of individual brilliance Hoskin, then with hair and looking nothing like Phil Collins, ran towards the Swansea goal taking on all before him. His run took him almost straight down the middle of the pitch.
With the last defender in his wake he unleashed a shot from the edge of the box which gave Swansea keeper Mike Hughes no chance and went on to win the Clarets a point in a 2-2 draw. The goal deserved to win a championship but contributed a much needed point in our relegation fight.
77. Who threw that pie?
In April 1992 Burnley reached the Northern Final of what was then known as the Autoglass Trophy where we met Stockport County. The first leg at Turf Moor was lost 1-0 and things were not going much better in the return a week later at Edgeley Park as the Clarets fell further behind on aggregate. With the chance of a trip to Wembley fast evaporating Clarets manager Jimmy Mullen was even more animated than usual as he prowled the touchline barking orders to the players and berating the ref.
It was all too much for one County fan who stood up from his seat a few rows back from the front of the stand and hurled a sizeable object at the back of Jimmy's head. It was very much a case of splat as Jimmy's greying locks were engulfed in a mushy meat and potato mess.
With the Clarets eventually going down 2-1 on the night it sounds an unlikely tale to have made a top 100 but it is featured for Jimmy Mullen's reaction to it. Despite failing to reach Wembley and having a considerable indignity bestowed upon him Jimmy was able to rise above the loutish behaviour and laugh the incident off saying only that he was surprised, having eaten a number of football match pies in his time, that the thing didn't knock him out!
76. Jimmy Mac to go
In 80
th
place was Jimmy Mac's return to Turf Moor in 1999. This was 1963 and the football world had been shaken by the news from Burnley that Jimmy had been placed on the transfer list.
It took some time for people to take it seriously, this was Burnley's greatest player ever and although now 31 years-old was still a top international player. Sadly it was true and the response from Burnley folk was incredible. Petitions and demonstrations were organised, crowds gathered at the ground, Bob Lord's Lowerhouse factory and even the Burnley Express office. The demands were simple, Jimmy McIlroy must not be sold.
Bob Lord himself had said less than a year earlier that he wouldn't consider selling him not even for £100, 000 (that at the time was the transfer record) but in the end he did go and for just a fraction of that amount.
He moved on to Stoke and many others left Turf Moor with him vowing never to go on again and most of them didn't.
Jimmy's last appearance for the Clarets was in a cup defeat at Liverpool on 20th February but because of the horrendous winter his last league appearance had come in a 4-0 win against Sheffield Wednesday on 29th December 1962.
The great man was no more and somehow he never did look quite right in a red and white striped shirt. Claret and Blue or Green were Jimmy's colours.
75. Great European night
It really does take some believing now that this great club of ours became just the third English club to take part in the European Cup, following Manchester United and Wolves. You had better believe it and in that wonderful season we made the quarter-finals and were drawn against Hamburg.
On a wonderful, if wet, January night the Clarets turned in a wonderful performance against the star studded Germans. Even the national press had to stand up and take notice, after all we were representing the country and the game was being beemed live across the country by the BBC and Kenneth Wolstenholme.
We may have gone out over the two legs but this tie deserves to be in any great memories. With this performance we showed ourselves to be one of the top teams in Europe, now that's worth repeating WE WERE ONE OF THE TOP TEAMS IN EUROPE.
74. Billy Hamilton's first goal against Preston May 1982
There are goals and then there are goals. Often the best bit is the time of anticipation before the ball hits the net such as the second or two when you wondered if Michael Owen would score when the chance fell his way against Brazil in the World Cup.
In May 1982 far more important things were afoot as we met Preston North End at Turf Moor in a match we had to win to hang on to our promotion hopes.
With the scores locked at 0-0 and the clock running down Turf Moor witnessed one of the longest 'time of anticipation's' ever seen. A long ball was played downfield to Billy Hamilton on the half way line. He brilliantly lost his marker and found himself alone with the entire PNE half to run into. On and on he went with the chasing pack bearing down. 'Put it in' 'go on' 'score' 'please' - everyone was saying something and after what seemed like a lifetime he reached the edge of the box and cracked the ball into the corner of the net to unleash riotous scenes on the terraces. The longer the fuse the bigger the bang.
73. Gazza is a Claret
Early in the year Stan Ternent had joked about signing Paul Gascoigne at a football forum when asked which players he would like.
Nobody at the time saw it as anything other than a joke but just a few weeks later chairman Barry Kilby said we were trying to sign him. It all appeared to fall down and Burnley supporters were relieved after watching his abysmal performance for Everton in a cup tie at Middlesbrough. If this is what he could now do we didn't want him.
A week later he was a Claret and that Middlesbrough game was forgotten as the Turf Moor crowd rose as one to greet the former England great before the home game with Preston. This was another signing that had excited the crowd and we looked for him to give us that last push towards the play offs.
It didn't happen and Paul was without doubt a pale shadow of the player who had been such a great player for England. His reputation went before him and the receptions he received at away grounds, particularly at Portsmouth, were wonderful.
However he just couldn't do it any longer. He could hold the ball and he could pass it but he had certainly lost the ability to go past a man. His arrival though was greeted with fanfares but this was one big signing that did not work out.
72. We are finally doing it the Harry Potts Way
During the building of the new stand on the Longside the worst possible news reached Turf Moor with the sad death of former manager Harry Potts. This was our best ever manager passing away and there really was only one thing the club could do, give his name to the stand. We didn't do it and not only that we even allowed the next game to be played without a minute's silence being observed. The fans sang 'Harry Potts' Claret and Blue Army' at Rotherham in respect of the great man.
The CISA and London Clarets web sites later campaigned for the stand to be renamed and eventually Harry was recognised when it was agreed that the stretch of Brunshaw Road outside the ground should be renamed Harry Potts Way, this an idea by London Claret Phil Whalley. And so it was in February 2001 that the road was officially renamed with Harry's family present.
Former Burnley great Willie Irvine said at the time,
"Harry Potts was a truly wonderful person who was loved and respected by all who played for him. In my time at the club he was respected for his manner and achievements and was looked upon as a father figure throughout the club, from Ground Staff boys through to the First Team.
"I am indebted to him that he gave me my chance in professional football at this wonderful club and I will never forget him. I sincerely believe he should have been given the Freedom of Burnley, but I am delighted that he has finally been acknowledged in this way."
We are doing it the Harry Potts Way again.
71. The game of three keepers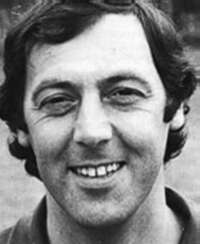 Alan Stevenson - sent off
In a bizarre 2
nd
Division game against Leicester in 1982 the Clarets used three different goalkeepers with two of them missing penalties at the other end.
Brian Laws had already missed a penalty for the Clarets when goalkeeper Alan Stevenson was adjudged to have brought down Leicester's Gary Lineker. It was a harsh looking decision made worse when referee Tyson showed the red card to Stevenson.
So in went goalkeeper number two Paul McGee. Steve Lynex converted the penalty to give Leicester a 2-1 lead. With the Clarets now behind McGee came straight back out of goal and was replaced by goalkeeper number three Brian Laws.
The ten men Clarets fought award and won another penalty. With regular taker Laws now in goal, and having already missed one, McGee took on the responsibility and he too failed to convert.
Leicester won the game easily in the end 4-2 but who knows what might have happened if our three goalkeepers had all had better days.