70. Tony Morley's haircut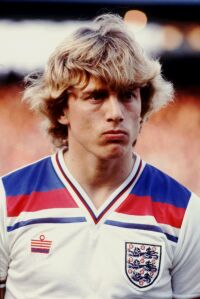 Tony Morley back to his long hair playing for England
In February 1976 the Clarets signed Preston's Tony Morley for a reported £100,000 transfer fee. The deal was struck by chairman Bob Lord and it was widely believed that manager of the time Joe Brown knew nothing about it, Lord had signed him on a recommendation from one of Preston's local plumbers, someone called Tom Finney.
The trouble is that once he had signed Bob Lord fell out with him immediately because he wore his hair long. Well not exactly long but it did cover his ears and that was too long as far as Lord was concerned. At the end of the 1975/76 season Morley was told in no uncertain terms that he must have his haircut to a shorter length by the time the players reported back for pre-season training.
Now to be honest I would never have tried to take the P*** out of Bob Lord but Morley certainly did and returned with his head shaved, something that was not done in the mid- seventies even by those with thinning hair. What made it worse was the fact that the Burnley chairman was then able to see that Morley wore an earring.
I can assure you Morley's hair was quickly growing to a sensible length again but not long enough to cover the ear that was now without any kind of jewellery.
69. Lights out
Was it really an electrical fault or is it true that chairman Frank Teasdale after a drink too many lent on the power button sending Turf Moor into total darkness on a cold December night.
There were even suggestions that this was a deliberate act but it is hardly likely that any betting syndicate were involved in an FA Cup 2nd Round replay between Burnley and Walsall.
The Clarets had felt aggrieved that they hadn't gone through at the first time of asking, a stoppage time equaliser from Walsall forcing the replay, and in the first forty-five minutes at Turf Moor we played just as badly as we had done all season. We trailed 1-0 as the players went in at half time but the fun was just about to start.
With pie and hot bovril sales low half time was suddenly extended when the whole ground was plunged into darkness. The temperatures seemed to drop remarkably as the crowd sat shivering with not even an announcement telling us what was happening.
Eventually after what seemed an age the game was finally postponed much to Walsall's disgust and the game had to be replayed with the Clarets winning through on penalties to win a 3rd round game against Liverpool at Anfield.
One player who must have been delighted when the lights went out was Paul Weller, he had been targeted for abuse by the Burnley fans during that first half and was the worst I have ever heard.
Whatever the reason for it, and there are many to choose from, I still prefer to think of Frank falling over drunk and knocking the power switch.
68. A draw at Sunderland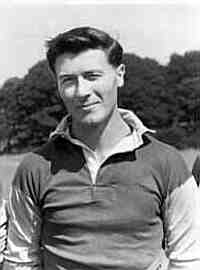 Jimmy McIlroy - debut at Sunderland in 1950
There was nothing at all really remarkable about this game at Sunderland played on 21
st
October 1950. It was a 1-1 draw with Bill Holden scoring for the Clarets. We were midway in the First Division with around a third of the season gone.
So what was so special about it? The previous week we had beaten Charlton 5-1 at the Turf and everyone was expecting an unchanged team for the trip to Roker Park. That wasn't to be the case though with one Clarets legend to come replaced by another.
The Charlton win proved to be Harry Potts' last game for Burnley, before this next game he was sold to Everton for what was a big fee at the time of £20,000. Harry was to return to become our greatest ever manager but manger of the time Frank Hill had a big decision to make.
He turned to a young Irish player who he had signed from Glentoran, a player who was four days short of his 19th birthday. He gave him a birthday present of a league debut and that player, Jimmy McIlroy, became THE modern day Clarets legend.
For those there at Roker that day they saw the start of a great Burnley career for a Burnley great.
67. Time to do some baking on the Bee Hole End
There are tense moments in football matches, there are enjoyable moments and there are sometime moments of light relief. Then there are those occasions when the whole crowd burst into laughter and a game against Norwich City on the Turf gave us one of those moments.
During the week the Norwich manager John Bond had described his striker as a bag of tricks that First Division defences couldn't cope with. One leading national newspaper suggested that rather than a bag of tricks the striker, called Ted McDougall, was perhaps more like his name, with a headline of Bag of Flour.
McDougall had an early chance to give Norwich the lead at the Bee Hole End but made a hash of it. Suddenly he disappeared amidst lots of what appeared to be white smoke. In fact thrown at him from the terracing was a full bag of McDougall's self raising flour.
Needless to say the story reached the press and the same tabloid as above covered an excellent picture of the flour hitting him.
66. Whoosh
Ray Deakin played in over 270 matches for Burnley. He was a fantastic captain in 'The Orient Game' and led the Clarets out at Wembley a year later. Throughout the late 1980's he was undoubtedly our most influential player so why was he known as Ray 'Whooshy' Deakin.
Who knows how these things start but it was undeniable that he wasn't averse to the occasional long ball. He would usually control the ball, survey his options, then launch it long. Presumably because he used to do it so often a small section of the Turf Moor faithful began to shout 'Whoosh' as he hit the ball. For some reason it caught on and before long everyone was doing it.
Every time he got the ball a sort of 'Wwwwww' noise would form in the collective voices of the Clarets fans and more often than not he kept the fans happy, enabling them to complete the 'hoosh' part of the sound.
It wasn't really done out of any disrespect to Ray, who was a fantastic servant to the club, it was just funny. Normally, given the very small number of visiting fans in attendance, we could keep the joke to ourselves but in January 1991 some 8,000 Man City fans descended on Turf Moor for a Third Round FA Cup tie. By this time 'Whooshy Mania' was at its peak and Ray got the full treatment much to the confusion of the City fans who were supposedly well known for their ability to laugh at themselves. They want to see how much they would laugh after 6 years in Division 4.
65. Five goals and five goals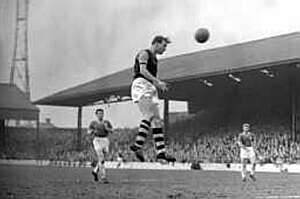 Andy Lochhead seen scoring in an earlier home game against Chelsea
To score five goals in one game is without any doubt a major achievement. Only six players have ever achieved it in the history of our club. This is not one but two great moments to honour the only player to have scored five in a game for the Clarets on two occasions, Andy Lochhead.
Until Paul Barnes netted all five in a 5-2 win against Stockport in 1996 Lochhead had been the last Claret to achieve it over 30 years earlier.
The first of Andy's five came in the last match of the 1964/65 season in a 6-2 home win against Tommy Docherty's Chelsea. It brought to an end an excellent second half of the season that lifted us into mid table. Needless to say Andy's regular partner Willie Irvine scored the other goal.
Less than a year later and this time in the FA Cup he did it again. After a 1-1 draw at Bournemouth in the 3rd round he hit five past them on a miserable wet Tuesday night in front of a 21,000 plus crowd. It proved to be an easy 7-0 win and again Irvine scored with Gordon Harris also on the scoresheet.
Will anyone ever equal Andy's record of scoring five in a match for the Clarets TWICE?
64. Celtic suffer defeat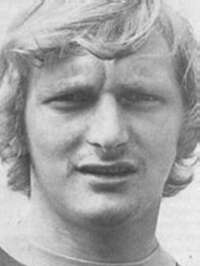 Steve Kindon - problems worsened after his goal
Somehow Celtic had failed to win a place in Europe and so had to join the Anglo-Scottish Cup alongside Scotland's also rans and a group of English Second Division clubs. The Clarets pulled out the plum draw with the home leg to come first.
And so in September 1978 we took on the Scottish League leaders, unbeaten since the start of the season. There was a 30,000 crowd inside Turf Moor and for most they were to witness something they would hopefully never witness again.
The atmosphere was simply hostile from the start, it looked as though the Celtic fans were there for no other reason than to cause trouble. The fence separating home and away fans on the Longside was being ripped up and a full scale riot looked on the cards.
Then Burnley did the unthinkable and took the lead through Steve Kindon and within no time at all referee Pat Partridge took the players off the field following a pitch invasion. On close examination those on the pitch were retreating police officers and frightened children and pensioners.
Eventually some sort of calm was restored and the game was allowed to finish with the Clarets taking a 1-0 lead to Glasgow. It was all quiet in the second leg where Ian Brennan and Kindon again gave Burnley a 2-1 win on the night.
Celtic have never been to the Turf since.
63. Time for a dance
We have had good goalkeepers, bad goalkeepers and some indifferent ones. Many of them have become crowd favourites during their spells as the Burnley custodian.
Some have ignored the fans whilst others have always found time to have a word with those behind the goals but none has ever entertained the crowd in quite the same way as Chris Pearce.
He joined the Clarets in the summer of 1987 and soon became a favourite after answering the call for him to dance. 'Pearce, Pearce give us a dance' became the chant and rarely did he let the fans down whether it was in the penalty box at the Cricket Field End or entertaining the kids at the Junior Clarets on a Sunday morning.
It only came to an end when Jimmy Mullen took over as manager, and today you will not hear one good word about Mullen from Chris. Mind you having left Burnley he didn't forget how to dance and last season answered the call again whilst making the half time draw.
62. An Ewood winner from Cochrane
We had been struggling against relegation for most of the season but by Easter there was more than a bit of hope that we would survive. Off we went to Ewood where the home team were fighting higher up the league looking for a possible promotion.
What a day it proved to be and a wonderful goal from Terry Cochrane right in front of the home fans too. I would exactly say it lifted the roof, that was a few years later, but from some distance out he hit in an unstoppable shot.
Cochrane curled it in such a way that had never been seen at Ewood before and their Evening Telegraph reporter Alf Thornton ridiculously suggested it had been caught in the wind.
We avoided relegation with some ease, they didn't get near to those promotion places in the end. All's well that ends well.
61. A triumphant Derby return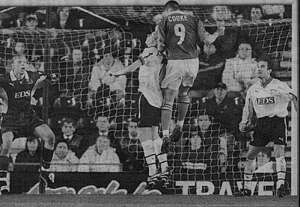 Andy Cooke heads in the winning goal past Mart Poom
Some clubs seem to have a knack of doing a bit of giant killing, knocking sides from higher leagues out of the FA Cup. It is not something that has ever sat comfortably with the Clarets.
A 3rd round draw in 1999/2000, strangely before Christmas, sent us to Derby's Pride Park for our first ever visit there. There was much talk of a previous visit that had ended in glorious defeat but we never expected the 90 minutes we got.
Usually a giant killing act comes when the lower team scores against the run of play, has a bit of luck or something like that. We decided to change all that and apart from a short spell midway during the first half we dominated the game and outplayed our Premiership opponents.
Andy Cooke got the all important goal and you just knew we were going to hang on, we were so much better than Derby. Even their manager Jim Smith left before the end.
When the final whistle blew the victory had done no more than take us into the last 32 of the FA Cup but it certainly didn't feel like that, for a time I thought we had been crowned Champions of Europe such was the excitement and jubilation.
'This is the best game I have ever been to", a young lad behind me said as he celebrated with his dad. It will always remain as one of those wonderful times I will never forget.