6. The greatest goal ever
What was the best goal you ever saw for Burnley? It is a question that is often asked and one that provides a wide range of answers. Some will go for the well worked team goal whilst others will prefer a 30 yard plus strike. Significant goals, match winners or more so those which bring promotions and avoid relegations, will always be included.
We would have a list of so many goals it would be impossible to choose one – or would it? There is a belief that one goal stands out above all others when choosing the best goal ever at Turf Moor.
It is a goal I personally didn't witness, I was in fact just one week old when it was scored, and it came in a 2-1 victory over Newcastle United in January 1952. Even more surprising was the goalscorer Tommy Cummings, a player not particularly noted for his prowess in front of goal. In fact he scored just 3 times in 434 league appearances for the Clarets. Two of them came in that 1951/52 season whilst there was a ten year wait for the third.
The Clarets scored two goals in the game and no one seems to remember the other although it would have taken the headlines in other circumstances. It came from Billy Morris, he took a throw in from Jackie Chew and turned his man before shrugging off another defender. But he found himself on the goal line.
The whole ground waited in expectation of a pull back across the six-yard line but Morris curled an absolute beauty just under the bar leaving Geordies' keeper Ronnie Simpson helpless.
The Clarets completely dominated the game but couldn't add to their lead and then the inevitable happened with just 15 minutes left, Newcastle equalised through Tyneside hero Jackie Milburn.
It looked a draw but with six minutes left a Newcastle attack was broken up when Cummings got between Milburn and George Robledo to win the ball right on our own 18 yard line at the Bee Hole End.
It was not a pitch to run with the ball, snow covered in a typical winter of the 1950s, but Cummings set off on a run from the Bee Hole End. He beat a tackle from Joe Harvey and then found himself crossing the half way line where he immediately faced a challenge from Eddie Robledo before Harvey got back and he had to be beaten again.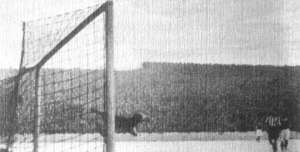 Tommy Cummings (out of picture) scores the greatest goal
It was a fantastic run and urged on by the crowd he came up against defenders Brennan and McMichael but as they closed him down Cummings switched the ball from his favoured right to his left foot and unleashed an unstoppable shot past Simpson into the top right hand corner.
The goal is still talked about to this day, and those who saw it will tell you that nothing since has eclipsed it as the finest goal ever scored at Turf Moor. And this from a defender who rarely crossed the half way line.
To this day Tommy will modestly tell you that he just kept going because there was no one to pass to.
One newspaper the following day described the goal as follows:
"Cummings produced a winning goal exactly to the pattern which boys' magazine authors have portrayed for their enthralled readers down the last fix or six decades. Most men, when boys, must have read such a story-book goal and then grown up disbelieving in such a likelihood. Now comes Tommy Cummings to prove that these vivid authors were within the realms of reason and possibility in their conceptions."
5. Burnley are Champions
This was such an occasion that it has merited two places in the top 100 of our greatest moments. Just a short time ago in eleventh place we saw the clubs run of 30 consecutive games without defeat in the 1920/21 season, a record that remains to this day.
The Clarets had a good side and after winning the cup had finished 4th in the league in the 1914/15 season. World War I interrupted football and looking back it makes you wonder just what we would have achieved had those years not been lost to the war.
Back to football in 1919/20 and we finished 2nd although we did finish the season 9 points behind Champions West Brom. Hopes were high though as the following season got underway.
Perhaps they shouldn't have been as we got off to a terrible start losing 4-1 on the opening day of the season at the Turf to Bradford City. Things didn't immediately get better either and we followed that up with two away defeats at Huddersfield and Bradford City.
Played three and no points but the fans weren't quite so demanding eighty years ago and it was almost just about accepted. At last though on 6th September we picked up our first points with a 3-0 home win against Huddersfield and the result lifted us to 18th place although all those below us had the same number of points.
Home wins against Middlesbrough and Chelsea with draws away to the same clubs followed and then a run of six consecutive wins. After such a poor start we found ourselves top, behind Liverpool on goal average, with just fourteen games played.
A draw at Oldham the week after was good enough to see us go top for the first time and we didn't want to let that top position go.
It was wins and draws all the way for months on end, with more wins than defeats and a home win against Manchester United on Good Friday saw us eight points clear with just nine games to go.
The last of those three early defeats came on 4th September, the 4th defeat of the season was on Easter Saturday at Manchester City but by then the town was already getting excited about the possibility of winning the league.
With four games left we went to Everton and earned a 1-1 draw but with results elsewhere the point wasn't even needed as we were crowned Champions for the first time in the club's history.
Despite some poor results in the last few games we were still five points clear of second placed Manchester City at the end of the season and the celebrations began.
This was a great Burnley team that proved themselves to be the best team in the country, who knows just what they would have achieved but for the war.
Those who played their part during the Championship season were: Jerry Dawson, Len Smelt, David Taylor, George Halley, Tommy Boyle, Billy Watson, Bert Freeman, Bob Kelly, Joe Anderson, James Lindsay, Eddie Mosscropp, Frank Birchenough, William Taylor, Walter Weaver, Billy Nesbitt, Benny Cross, Robert McGrory, Clifford Jones, Thomas Brophy, Alf Bassnett, George Douglas, John Lane, Len Moorwood.