60. All aboard the train
In 1973 British Rail had a brilliant idea. It was to be their last. In an age of ever increasing travel to 'away' matches they thought of laying on special trains for long distance journeys. The idea was that a special supporters' train would depart from a team's local station and deposit the fans at the closest station to the opposition ground. No changes at Preston or Manchester this was a direct service.
That wasn't all however. The trains would be equipped with an array of modern devices designed to make the journey more comfortable. There would be piped music available via headphones, restaurants and discotheques. The Burnley link came about because Clarets fans journeyed on the very first League Liner to a match at QPR on 27/1/73 when all had a good time and no one making that pioneering voyage is ever likely to forget it.
For example, how many times have you ever danced at a disco on a train? Well one member of the Clarets current coaching staff has and in the picture you can see none other than Mick Docherty strutting his funky stuff. If you were wondering, tank tops were extremely fashionable at the time.
59. The Gang of Four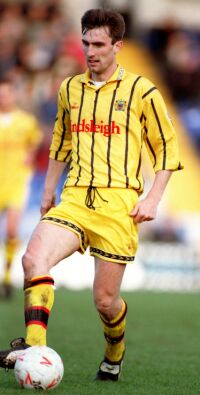 Mark Winstanley - won't play again
The Clarets had got off to an average start to the new season under new manager Stan Ternent. A home win was followed by an away defeat and we had gone out of the League Cup to a team from a higher division.
On the third Saturday of the season the calm was broken in no uncertain terms. The first half performance was diabolical and we trailed York 1-0 at half time. There were suggestions that all was not as it should be and when we came out for the second half two youngsters, Matty Heywood and Chris Scott, were on for their debuts with both central defenders, Steve Blatherwick and Lee Howey, substituted.
Within no time another there was another change as Phil Eastwood, another youngster, replaced Michael Williams. Not as though any of it made any difference and 1-0 proved to be the final score.
As the press approached Stan Ternent to question him at the end of the game he made it clear there would be no questions and he was to issue a statement. He stunned everyone by saying that the three substituted players and Mark Winstanley who had just played his first game of the season would never play for the club again. He said it was not personal but business.
None of them played for the first team again although Winstanley certainly played in the reserves. Eventually, and it took the rest of the season, all of them finally left the club.
58. That win at Coventry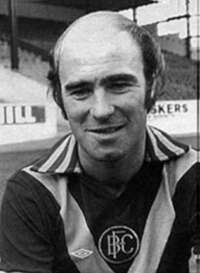 Peter Noble - scored in the win at Coventry
Most Clarets fans will know that the last time we played in the top division in the country was between 1973 and 1976. In our first season back in 1973/74 the Clarets did remarkably well in eventually finishing 5
th
but we were never within striking difference of runaway leaders Leeds United.
After 3 games of the following season Martin Dobson was sold and that is generally regarded as the start of our slide but that wasn't quite the case. On March 1st 1975 the Clarets travelled to Coventry City and trounced the Sky Blues 3-0 with the goals coming from Leighton James, Peter Noble and Paul Fletcher. It was reckoned by many to be our finest away performance since the mid sixties.
That in itself might make it worthy of inclusion in a list of 100 Clarets moments but the result put Burnley 2 points clear in second place, in what was then the First Division, only 1 point behind leaders Everton. There were 10 games to play, we had a reasonable run in and Wimbledon had ensured that we didn't have the distraction of the FA Cup. If we could maintain the level of performance we had displayed at Coventry there was no doubt that we had a very realistic chance of winning the Championship.
Of course it wasn't to be as injuries struck and we won only 1 of our remaining games to eventually finish 10th in a season where the Division really was wide open. Although we held on to second place for a couple of weeks after the Coventry match that game marked our last great peak. 12 years 2 months and 8 days later we had dropped a total of 90 league places.
57. It was just a kiss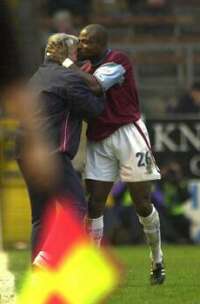 I've scored gaffer
The Turf was celebrating another goal and once again we were doing our best to ignore Tom Hark as a late equaliser secured us a point against Nottingham Forest. It was a point saving goal and so an important one and the Turf went wild as what should have been a win was looking very much like a defeat.
Everyone likes to do their own thing when a goal is scored not dance around like sheep to some stupid music and one person definitely decided to do his own thing, the scorer Arthur Gnohere.
It was Arthur's first every home goal and after initially doing a jig and then some sort of war dance made a bee line for his manager. Stan as always was at the front of his technical area or even beyond ready to join in when Arthur instead of hugging him or jumping into his arms decided to become typically French and kiss his manager.
Stan looked stunned and has never spoken about the incident. Not surprisingly Arthur has not scored since, possibly Stan had a word.
56. Barnes, Barnes, Barnes, Barnes and Barnes
When you are a striker and you sign for a new club the most important thing is to get your first goal. It takes all the pressure off and gets your new fans behind you.
In 1996 Adrian Heath broke the transfer record to bring Paul Barnes in from Birmingham, the fee in the region of £350,000. He made his debut at Gillingham in a 1-0 defeat and then saw his strike partner Kurt Nogan score three goals in the next two games at home. In fact after six games he had failed to score and the Clarets fans were starting to talk of money wasted.
Then came the Unprofessionals of Stockport (then known as the Unfriendly Club) and he finally got off the mark, not once nor twice but five times. It was a crazy sort of game and to be honest one where we didn't start too well but once Barnes had got his first Burnley goal there was no stopping him.
We won the game eventually 5-2 and Barnes was substituted close to the end to enable him to come off to a standing ovation. He had become the first Burnley player to score five in a game since Andy Lochhead – see 65.
55. Clarets plastic paradise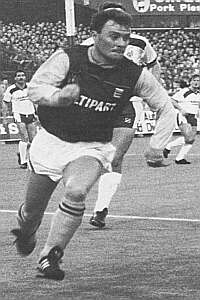 Hoskin celebrates as he puts the Clarets back in front
The Football League do make some ridiculous decisions and certainly the one they made in the 1980s that allowed clubs to use plastic pitches was as crazy as they came.
One of those plastic pitches was just down the road at Deepdale and in the 1987/88 we had to go and play on it in a cup tie. No ordinary cup tie either, in fact the Sherpa Van Trophy Northern Final Second Leg. After a 0-0 draw at the Turf it really did give them an unfair advantage.
It proved to be a wonderful night though as we won through 3-1 after extra time to book our first trip to Wembley for 26 years. In front of over 17,500 George Oghani scored the goal of the season before Preston equalised in the second half. Goals from Ashley Hoskin and Paul Comstive in extra time set of wild celebrations at the Town End at Deepdale, then used by visiting supporters.
Thankfully those plastic pitches have now been outlawed but those of us there that night will never forget our night of celebration on the plastic of Deepdale.
54. No manager and another cup win
The 1982/83 season was a crazy season where cup wins came at will and league victories were so scarce in a season that saw us lose five successive league games on three separate occasions.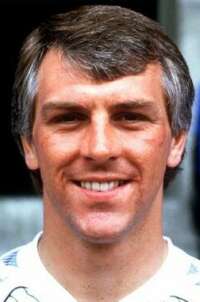 Graham Roberts - gave the Clarets a helping hand
Somehow despite struggling at the bottom of the 2
nd
Division we had reached the last eight of the League Cup, sponsored for the first ever time under the name of the Milk Cup. We had been dealt a blow though by being drawn away to 1
st
Division Spurs.
As coach after coach loaded up for a lunchtime departure from outside the Turf news broke that manager Brian Miller had been relieved of his duties, some polite way of saying he had been sacked, and that his number two was in temporary charge. Surely the club wouldn't sack the manager on the day of an important cup tie, oh yes they would.
Nobody gave us a chance but by half time we were still level at 0-0 although to be honest we hadn't produced a chance worthy of the name. "If we can survive the next ten minutes we could bring them back to the Turf", said someone stood next to me just as the second half got underway. Some thirty seconds later we were a goal down through Terry Gibson.
What happened next you could not have written in a fairy story with some thanks to Spurs central defender Graham Roberts. He was first to a Kevin Young cross to head in past his own goalkeeper Ray Clemence to pull the Clarets level and shortly afterwards Clemence should have been sent off but got away with a yellow card. He got his comeuppance though and from the resulting free kick from Young we scored again through Billy Hamilton.
It got even better though and Roberts turned in a Steve Taylor effort for what was recorded as his second own goal and then Hamilton got his second as he run on to a through ball from Young.
The Spurs midfield included Hoddle, Villa, Ardiles and Mabbut but Young stood out amongst them in a match winning performance. And what a start for Frank as manager.
53. It was like being in Mexico
The memory of some nights at Turf Moor really makes the hair on the back of your neck stand up and this was one of them. The Clarets had led the way at the top of Division 4 for almost the entire season but just 1 point from 2 games over Easter made our position ever so precarious keeping us only 3 points ahead of a dreaded place in the play offs.
The Clarets took the lead after only 15 seconds through Robbie Painter but Cardiff equalised and promotion nerves started to jangle. With half an hour remaining Andy Farrell made it 2-1 and moments later Mike Conroy guaranteed a victory that meant we were all but promoted with 4 games left to play.
Scoring 2 goals in 2 minutes never harms the atmosphere but the fact that it was a night match and we could almost touch promotion simply electrified Turf Moor but then something remarkable happened.
Out of nowhere an attempt at the Mexican Wave went half way around the Bee Hole End. The next time even more joined in as it reached the Longside and before very long literally ever Claret in the crowd of 12,408 was hurling their arms in the air at 15-second intervals as wave after wave swept around the stadium until we thought they would never stop. Pure magic.
52. See Naples and die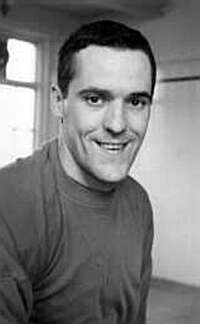 God in a green jersey - Harry Thomson
When the Clarets drew Italian giants Napoli in a Fairs Cup tie in 1966/67 it was thought it was going to be a tough game. It proved to be tougher than anyone could imagine.
The first leg went off without too much hassle and in an incredibly charged Turf Moor we won comfortably 3-0 with goals from Andy Lochhead, Les Latcham and Ralph Coates. There was one unsavoury incident when the visiting centre-half Panzanato took it upon himself to stamp on Lochhead's head after he had gone in for a diving header. The distraught Italian seemed stunned to see the referee sending him off.
The second leg proved to be somewhat eventful. The Italians were the better side but Burnley goalkeeper Harry Thomson turned in probably the finest performance of his career. He even saved a penalty as he kept them at bay and helped us through to the next round with a 0-0 draw.
Harry was enjoying himself so much that he began to gesture to the opposition players that we were winning through and this was an action from the 'God in a Green Jersey' that was probably not well advised. As the final whistle blew the home players and officials targeted him but reserve keeper Adam Blacklaw came to his rescue. Adam was attacked and then led away by police at gun point although that proved to be for his own safety.
In the end the Burnley players had to be escorted directly from the stadium to the airport with the coach surrounded with armoured vehicles. Local journalist of the time Granville Shackleton headlined with 'See Naples and die – and Burnley almost did'. This was the last European tie the Clarets won but it will always be remembered for the after match battle.
51. Great Post War boost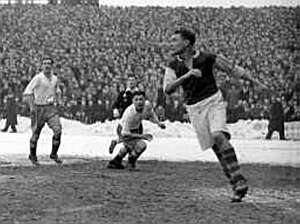 Snow on the Turf Moor pitch as Harry Potts goes on the attack
Burnley was still coming to terms with life after World War II, rationing still very much in place. The Football League finally re-opened for business for the 1946/47 season with the Clarets in Division Two. It was just what the people wanted, being able to see the football again and hopes were high under manager Cliff Britton.
It proved to be a dreadful winter weather wise that caused the season to go on until June but the Clarets were a mean lot and known as the team with the Iron Curtain defence. It was thought that if Burnley went in front that would be it and in a spell from November until February we conceded just two goals in fourteen league games.
We even found time for a cup run and on April 26th made our first ever appearance at Wembley in the FA Cup Final although we couldn't emulate the 1914 team by bringing the cup home.
Incredibly there were still seven league games left and we were in with a good chance of promotion in second place behind Manchester City. Although we allowed Birmingham to get nearer we picked up enough points in those last few games to clinch second place and return to the top division of English football for the first time since 1930. We were to stay there for 24 years.