50. Jamie gets the pies
It does appear that Burnley fans do have an appetite for pies and certainly at away games you will always see long queues at the refreshment bars as the big following buy the local pastry delicacies.
Sometimes disaster strikes and the club we are visiting has underestimated our ability to eat them and they run out. Such was the case in early 1998 when the Clarets took on Bristol Rovers at the Memorial Ground. Now this is a major disaster because the Cornish pasty served up at Bristol has to be amongst the best on offer throughout the Football League.
There seemed no hope of there being another consignment despite the fact that there were still plenty left in the home end and that's when one ingenious Burnley fan decided to do something about it.
Right in front of the fans the Burnley subs were warming up and one of them was Jamie Hoyland. The aforementioned fan asked Jamie if he could nip down the other end and get a pasty for him.
Now I ask you would a warming up sub really go down to the other end to get refreshments for a fan? Yes is the answer and having collected the money Jamie went down the other end and a short time later returned with a hot Cornish pasty. The Sinister One Glenn Roeder looked far from impressed but we believe Jamie Hoyland turned down Waddle's request to get him one.
49. What a start for the youngsters
Back in October 1968 Burnley were not in the best of form, already we had suffered a 5-0 defeat at West Ham and worse a 7-0 defeat at Spurs but a 4-0 home defeat against Liverpool was the final straw.
Three days later West Ham were at the Turf and manager Harry Potts decided to take action. Out went new signings Jim Thomson and Doug Collins along with Brian O'Neil and Andy Lochhead and in their places come younger players such as Colin Blant, John Murray, Martin Dobson and Steve Kindon.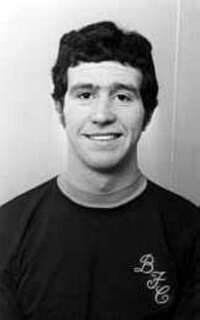 John Murray was nicknamed 'Goal Machine' after scoring eight goals in the eight games
The youngsters turned in a tremendous performance and beat the Hammers 3-1 with all three goals coming from the players drafted in, Dobson, Murray and Kindon. It was virtually the same line up for the next game at Stoke (Ralph Coates returned from injury to replace Todd) and that game was won 2-0.
A 4-0 win in the League Cup followed against Leicester before Leeds arrived at the Turf on 19th October. Surely Potts will bring the experienced players back everyone said but no he didn't and named an unchanged team.
That day was one that will live in the memory for a long time for anyone who saw it as we totally destroyed what was probably at the time the best side in the country. We ran out winners by 5-1 with Frank Casper getting a couple alongside goals from Coates, Murray and Kindon.
They hadn't finished though and three more league wins and another in the League Cup (taking us into the semi-final) followed, in all eight successive wins, before a 1-1 home draw against Wolves brought it all to an end. We couldn't even beat Wolves then.
Injuries followed and that team never really played together again but for a month and a half in 1968 the Burnley youngsters were the talk of English football.
The team for the eight games was: Harry Thomson, Fred Smith, Les Latcham, Martin Dobson, Colin Waldron (capt), Colin Blant, Dave Thomas, John Murray, Frank Casper, Ralph Coates (Sammy Todd played in the first game), Steve Kindon.
48. Breweries, organisation and Teasdale
The Clarets were in crisis in more ways than one. The new stands had become a millstone around the neck and the finances were dire. We were struggling at the bottom of Division Two with a struggling Chris Waddle as manager.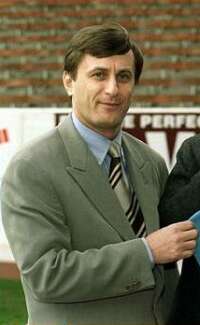 Ray Ingleby - phone calls from America
There was light though at the end of the tunnel if only the club would take a look. There were offers of financial help from more than one source but the board decided to go with an offer from a former local schoolteacher called Peter Shackleton who somehow had conjured up millions and millions of pounds to throw around at the club.
On the other side of the Atlantic in New York was businessman Ray Ingleby who had sought to buy the club but had been snubbed by the board. Ingleby was doing his best to get the fans on side and was making regular appearances on the Radio Lancashire Football Phone In with live phone calls from his New York base.
In one of those calls he went a little too far for Gary Hickson by saying on two occasions that he thought current chairman Frank Teasdale couldn't organise a piss up in a brewery. He said nothing that the fans didn't already know and certainly Gary Hickson couldn't have disagreed with him. However he told him it was not allowed on the BBC.
Teasdale's decision to go with Shackleton eventually brought about his downfall but even as he chaired his last AGM he refused to refer to Ingleby by name. Shortly afterwards they were boardroom colleagues but not for long as Teasdale eventually left.
There is no truth in the rumour that Frank now works in the hospitality department for Thwaites.
47. What a start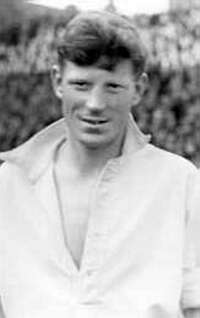 Les Shannon - scored twice
There were over 52,000 packed into Turf Moor for the FA Cup 3
rd
round tie in January 1954 with Burnley getting the pick of the tie against Matt Busby's babes of Manchester United. The queues were so long outside that some didn't get in to the ground in time for kick off and what a start they missed.
Within a minute the Clarets were in front through Les Shannon and before those already inside the ground had time to settle we came forward again and Bill Holden made it two. Incredibly with just five minutes gone the Clarets led 2-0 but the game was about to take a twist.
Two minutes later Jock Aird scored an own goal but that didn't pull one back for Manchester United, it took the score to 2-2 with Dennis Violet having scored just before. Supporters were still coming in asking if there was any score to be told 2-2, I just wonder how many really believed it.
The game settled down but by half time we were back in front with Les Shannon scoring directly from a corner but Ernie Taylor equalised just after the break. It was anyone's game but it was Burnley who won through with Jimmy McIlroy and Billy Gray both scoring to win the game 5-3.
46. Paul Fletcher - Goal of the Decade
If you are going to score the goal that is voted the goal of the decade then you want to do it in a big game and in a victory. Paul Fletcher's overhead kick at Elland Road could not have been better timed.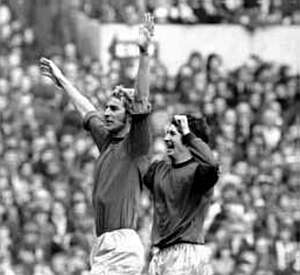 Paul Fletcher celebrates the goal with Colin Waldron (left)
He'd already given us the lead but then right on half time Leeds equalised through Allen Clarke although the ball did not cross the line. After playing so well it looked as though it would be 1-1 at half time but Fletcher had other ideas. There looked to be no danger when Geoff Nulty collected the ball but he knocked it up and Paul went for the overhead kick. It gave goalkeeper David Harvey no chance at all and left Elland Road stunned.
We really went to town in the second half and goals from Nulty and Doug Collins made it 4-1 and it would be remiss not to recall the Collins goal, a wonderful inch perfect chip from outside the box into the top corner.
Leeds were running away with the title but just as we had done at Turf Moor in 1968 (see number 49) we destroyed them. Probably it wasn't the wisest thing to do, there was no doubt you suffered if you got an advantage against this lot of thugs.
And so it was that Norman Hunter took it upon himself to assault Frank Casper on the running track with the ball a mile away. It virtually ended Frank's career, he would never be fit again and Hunter, one of a number of out and out thugs at Leeds just laughed it off.
However we will always be able to remember the game for that goal by Paul Fletcher.
45. Beware the ironing board
Having never stolen from a supermarket or store I would not be sure but I would have thought that if you were going to pay for one item and steal another then it would be advisable to pay for the cheaper item.
That isn't exactly what happened when Burnley striker Oooh George Oghani decided to buy an ironing board but steal a bag of screws at the same time. Over the years it seems to have been forgotten that it was screws he was trying to avoid paying for, it is always the ironing board that is remembered.
Poor George was caught and in an attempt to get away decided to whack the security man with the ironing board but in the end it did him no good and he had to make a court appearance.
The club supported him although gave him a final warning and he was to remain a Claret until he decided to try and re-arrange Chris Pearce's jaw the following year.
44. Kilby arrives
Things were bleak, the promise created by the recovery in the second half of the 1997/98 Waddle season had gone and we were struggling under new manager Stan Ternent. There was no money at the club, in fact the debts were high, so Ternent was unable to do much about strengthening the squad.
Ingleby had been snubbed and Shackleton had done a disappearing act with only chairman Frank Teasdale having a clue where he was. Director Bernard Rothwell issued a rallying cry and said that we all needed to help. Before his voice had died down he sold his shares for a healthy profit and cleared off with his money.
The buyer was a local businessman called Barry Kilby and he had bought out both Rothwell and Dr. Iven and was set to take his place on the board. Not many of us knew anything about him, he claimed to be a Claret, but there again so had Shackleton. The difference was that some of us remembered his dad Roy as a big Burnley fan and therefore knew the man set to become the top man at the club was a Claret.
Within no time a rights issue was announced with the new man underwriting it and at the AGM he took over from Teasdale as chairman. Things might not be perfect some three and a half years later but without him we would probably have been struggling now near the bottom of Division Three or even worse.
43. We will fight forever more because of Boxing Day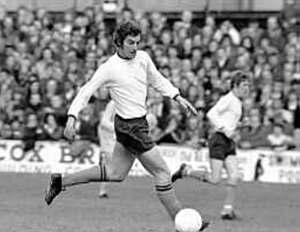 Martin Dobson - scored from the penalty spot
A win is a win although some are better and more important than others. There was one win in the 1979/80 season that if not talked about is still sung about down at Turf Moor.
The win came in a really bad season for the Clarets but came in a run of three successive victories. It was Boxing Day 1979 and the opponents were Newcastle United for a 2nd Division game at the Turf.
It was the day that Billy Hamilton finally scored his first Burnley goal in his fifth game and against the odds we won the game 3-2 with the other goals coming from a Martin Dobson penalty and Malcolm Smith. It was Smith's last goal for the club.
It was a fantastic game, a fantastic result and will forever be remembered in the classic;
Hark now hear the angels sing the Geordies ran away
And we will fight forever more because of Boxing Day.
42. The Millennium ends
We have already featured the last game of the Millennium once in this series, the opening of the Jimmy McIlroy Stand but it was a day that will also be a special day for the one Burnley player in action who really understood what went on before the match.
That was Andy Payton, now a player but always a fan, and he made the day even more special by scoring all three goals in a 3-2 win against Oxford United. It was not his first Turf Moor hat-trick, he had scored all three in a 3-0 win against Colchester earlier in the season, but on a special day it was so fitting that it was Andy who ended the day the hero.
Twice we had to come from behind. He equalised first from the spot and then got a second equaliser late in the game. The clock was ticking down when he toe poked in the winner to score the last Turf Moor goal of the 20th Century.
And not only that he fittingly scored that goal at the Jimmy McIlroy end of the ground in front of the Burnley fans. It remains his last Burnley hat-trick but who knows, he is still our most likely goal scorer.
41. A goal in temper
Players are always told to keep their cool and not to lose their temper in a game no matter what the provocation. Always needed to be changed to 'nearly always' back in the autumn of 1981 when the Clarets took on Wimbledon at the Turf.
After a dreadful start to the season we were just beginning the recovery that would lead to the 3rd Division Championship but at the time were still down at the bottom of the league. Defeats had been replaced with draws but more wins were needed.
Another home game, against Wimbledon, looked set to end in another draw with time running out and the score 1-1. We had been much the better side and really should have won the game but as often happens it was Wimbledon who grabbed the late goal that looked to have won the game for them.
They hadn't counted on central defender Big Vince Overson who was absolutely furious with the state of play and looked on the verge of losing it completely. Whether it was the right idea to give him the ball on the half way line with him in this state was perhaps debatable but that's where he got it.
With no options on he moved the ball forward no further than 15 yards and with still nothing on for him and from fully 40 yards he crazily decided to shoot. He hit it so hard it is difficult to say just how far it would have travelled if the net hadn't stopped it.