40. Youth Cup Winners
Despite our reputation during the 1950s and 1960s for producing young players with that coupled to league successes for the A and B teams there had been no great success in the FA Youth Cup.
That was all to change in the 1967/68 season as the Clarets won it and won it with some style. Under the captaincy of Mick Docherty it got off to the easiest starts with a big win against Yorkshire Amateurs but then it was difficult round after round.
We had to beat both Manchester City and Manchester United before a quarter-final meeting with Sheffield United at Bramall Lane. With that won it was Everton in a 2-leg semi final and then finally Coventry in the final. Although the first leg was lost at Highfield Road we came back to win it with a 2-0 second leg win on a Friday night on a Turf Moor that was nothing short of a mud heap.
Of those that played during the competition nine went on to make first team appearances with Mick Docherty, Steve Kindon and Dave Thomas all becoming first team regulars. Under coach Joe Brown they played some exciting football.
Never since have we won it or even reached the final but twice during the 1970s we were losing semi-finalists going out to Cardiff in 1970/71 and Aston Villa in 1977/78.
39. Yates for England
Supporters are always pleased to see players selected to play for their country, it certainly gives you a lot more interest in the international games even if it is not England.
Burnley's first international though was English and in March 1889 the Burnley fans of the time must have been thrilled to see Clarets' centre-forward Jack Yates line up for England against Ireland at Everton's ground, then Anfield.
What a debut it was too for Yates as he scored three of England's 6 in a massive 6-1 win. Burnley have never been able to provide England with regulars but surely this was going to be the start of a long international career for Yates. Not quite, despite his magnificent start he was never to be selected again to play for his country.
Hard to believe but he was not to be unique as three players from the 1959/60 Championship side had good debuts for England and never played again. John Angus and Brian Miller both played against Austria in Vienna in 1961 and Gordon Harris against Poland (also at Everton but by then at Goodison Park) in 1966.
38. John Francis has done it again
It doesn't really matter who gets the goals when Burnley win but sometimes, just sometimes, it makes it even better when it is one particular player.
That was definitely the case at Home Park back in May 1994 when we went for the play off semi-final second leg. It was a season when Burnley could do no wrong at home and a season when we could do precious little right away from home.
We played the first leg at home and even against ten men for part of the game could not break down Shilton's thugs and had to make do with a 0-0 draw. There was clearly to be no second chance for Jimmy Mullen's team and by the time we got to Plymouth the home fans were booking their coach seats for Wembley.
They scored the first goal through Marshall and it is rumoured that the Devon club had booked another dozen coaches for Wembley by the time we kicked off again. The home fans were cock a hoop but disgraced themselves with some appalling abuse aimed at John Francis.
If only we could equalise and if only it could be Francis, that would quieten them. Someone answered our prayers because that's exactly what happened and right in front of those abusive fans. John made the most of it and celebrated accordingly and letting them know just what he thought of the abuse.
He did even better than that though, before we had settled down after the goal he went and did it again by which time the coach companies were ringing in to make sure whether they really did want so many later in the month.
It was tense until Warren Joyce got the third against his former club but those two goals had changed the game and ultimately sent us to Wembley. It was our night, it was Jimmy Mullen's night but it was a very special night for John Francis.
37. FA Cup Final Day at Wembley
We have made four appearances at Wembley with two of them in FA Cup Finals. The 1962 visit came at the end of a season when the Clarets almost became the second club in the 20
th
Century to win the League and Cup double.
It will always be a special day for me because it was my first ever visit to the twin towers to see the Clarets although I will also recall the disappointment because of the result.
I'm sure we can take some consolation from the fact that it was spoken of at the time as one of the all time classic finals and we more than played our part. Things went against us and there is no doubt that if referee Finney had spotted the foul on Blacklaw before awarding a penalty to Spurs for their third then it could have been such a different result.
We did get the opportunity to create a bit of history that day and when Jimmy Robson scored the equaliser it was the 100th FA Cup Final goal scored at Wembley. A painting of it was subsequently presented to every club in the Football League, Grimsby have recently sold theirs via an online auction.
The team were a credit though and when the returned to Burnley were greeted with a turn out as big and supportive as the one two years earlier that had celebrated our Championship win.
36. Bobby Seith gets his medal
When you play in a side that wins a league it means you pick up a winner's medal. There are rules that state you must have played in a certain number of games to qualify though.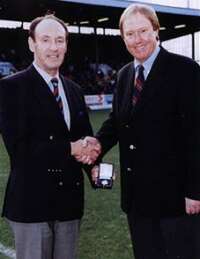 Bobby Seith finally receives his medal from Barry Kilby
In the 1959/60 season Bobby Seith played in 27 of the 42 games but was left out for the last eight games. His last appearance that season, a 3-3 home draw against Sheffield Wednesday at the beginning of April, proved to be his last ever game for the Clarets and he was sold to Dundee as the following season was about to start.
For some reason, it was known as falling out with Bob Lord, the club refused him a medal and he had to wait a few more years for a Championship medal when Dundee won the Scottish League.
Eventually it was all put right but it took nearly forty years. A request was made to the club just after Barry Kilby took over as Chairman and on 23rd October 1999 Seith returned to Turf Moor to receive his belated Championship medal.
He received a wonderful ovation from the Turf Moor crowd, many of whom had never seen the wing half play, but once a Claret always a Claret and I am told that Seith was an exceptional Claret for over six years.
35. Get your tickets here
In one of the finest bits of spin, better than anything from Alastair Campbell, Andrew Watson announced the season ticket prices in March 2000 for the following season.
Prices held at last season's full prices it said but nothing was held at all. For those paying during the discount period the increases were over 10% on the previous year and for those that had always paid in May the increases were around 20% because of the new deadline of April.
Everyone had expected increases so why they couldn't just say they had gone up 10%, been honest and got on with it is difficult to believe. It was all made worse for CISA members on the day when Danny Reuben, thankfully no longer with the club, arrived at a meeting and got just about everything wrong and upset fans even further.
We have had an even bigger price increase since, the year after, but at least the club learned from its dreadful PR mistake the year before and came clean.
34. Uwe - even he couldn't win it
In one of the most incredible of games at Turf Moor Peter Noble scored four goals for the Clarets and even then couldn't finish on the winning side.
Uwe didn't wait long to get his first and put the Clarets in front in the very first minute of the game before adding a second from the penalty spot. There were to be two more penalties in the first half as Norwich pulled one back before Noble scored his second right on half time.
A hat-trick by half time and he had scored three in the previous home game a 4-1 win against Middlesbrough thus becoming the first Burnley player ever to achieve the feat. This game though it would not be plain sailing and with just quarter of an hour left Norwich had pulled it all back to 3-3.
As the game looked to be heading for a draw we went back in front with just three minutes left and it was Noble again. Surely he had won it for us now but as the clock ticked down the seconds of the last minute Norwich made it 4-4.
The great man just shook his head in disbelief, there was nothing even he could do to win it then.
33. Who's that on the pitch?
It was all new to Burnley, playing a competitive game against a team from another country. That's how it was in 1960/61 when we became only the third side to represent England in the European Cup.
Our first opponents were Reims one of the favourites for the cup and we ha beaten them 2-0 at the Turf. The second leg was to prove difficult and we found out that the game was not always just as it should be.
In a hostile atmosphere both on and off the field we had problems getting fair play as the French champions constantly pushed the referee to the limits. Free kicks were taken from wherever they fancied and seemed to have nothing to do with where supposed offences had taken place.
It went on for so long before someone decided enough was enough. Reims won another free kick and immediately moved it forward some considerable distance when someone run onto the pitch and threw the ball back to where it should be. Initially nobody seemed to realise who it was in the old raincoat but the irate gentleman was Burnley manager Harry Potts who was not going to let his players be cheated out of it.
He was escorted away and had to run the gauntlet of upset French supporters and was subsequently fined 100 guineas but the authorities. For those too young to know about guineas Harry's fine was £105.
Last year I spoke to Harry's wife Margaret about the incident and she told me that later in the evening she was visited by the press at her home who said their colleagues in Paris were looking for Harry around the night spots. She told them they would be better looking somewhere there were a set of goal posts.
32. Charity Shield Winners
The FA Charity Shield has always been the season's curtain opener between the League Champions and the FA Cup Winners although they have even managed to ruin that by changing its name. This year it is called the FA Community Shield in association with McDonalds.
We twice played in it as League Champions, in 1921 we lost 2-0 to Spurs and then in 1960 shared it with Wolves after a 2-2 draw. It wasn't held in 1914 so robbing us of a chance to play as FA Cup Winners.
By the 1970s teams were electing to give it a miss. In 1973 Liverpool had won the league and the FA Cup was won by 2nd Division Sunderland with a 1-0 win against Leeds. Both sides declined the invitation to play in the Charity Shield and so the search started for two worthy teams.
Eventually Manchester City, the 1972 winners, were invited to host it and Burnley as 2nd Division Champions also received an invitation. So it was we went to Maine Road and won it for the first time with a 1-0 win, Colin Waldron scoring the goal from a free kick move that was to become a source of many Burnley goals.
It was the same the year after with Leeds and Liverpool declining the invitation but just as holders Burnley were about to say yes it was moved to Wembley for the first time and Leeds and Liverpool both reconsidered. That was the day Bremner and Keegan both threw their shirts down after being sent off.
31. Plymouth go down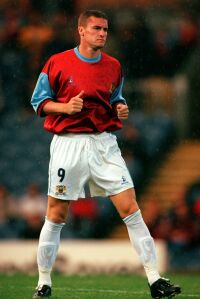 Andy Cooke - got the goals
I'm sure Plymouth must have been sick to the back teeth of us for a time during the 1990s. Having seen them off in the play offs in 1994 (see 38) we met again on the last day of the 1997/98 season at the Turf.
Whatever happened one of us was going to be relegated and quite possibly both of us. There was no doubt though that we had to win to have a chance. Weeks earlier we had been points and points behind and it was hard to believe that we had got to the last match with still a chance of staying up.
Whatever happened in 1994 the fact is that relegation deciders are much more tense than promotion matches and this was no exception. Twice Andy Cooke gave us the lead and then it seemed at times it was a case of hanging on. There were scares and none more so than when Mark Winstanley miskicked right in front of his own goal.
The news on Brentford, playing at Bristol Rovers, was good and that spurred both of us on but hang on we did to fight another day. Not for manager Waddle though and he left shortly afterwards to be replaced by some bloke from Bury called Stan Ternent.