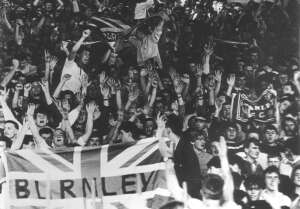 The Longside
Quite simply had this gone the wrong way it would not have featured in any great moments of our great club, in fact we probably would not have been looking back at any great moments today as it could well have brought an end to Burnley Football Club.
The Orient Game on 9th May 1987 was without doubt the most important game ever played by Burnley Football Club, it is inconceivable to think that any other was more, so even Championship winning games. This could so easily have been not just the club's last game in the Football League but the club's last ever game.
It was though the most important and for that reason it demands a high position in the 100 greatest moments but this was not a great success by our club, more a great escape. In fact it was a greater escape than Steve McQueen could have ever hoped to achieve on the big screen.
The club had been allowed to rot but how on earth it ever came to this was ridiculous, we shouldn't ever have been playing in the bottom division of the Football League but we were there on merit, we basically had a bloody bad team.
The crowds hadn't dropped at Turf Moor, they had just about disappeared and to see the Turf with less than 1,700 for one game and less than 2,000 on a number of occasions that season was hard to take. There was just no interest in the club around town any longer, nobody seemed to care whether we won or lost any more.
We've all heard about the old joke about following the crowd to get to the ground and ending up at the bingo. That was certainly the case then and even when things were desperate the attendances only went up to around 4,000 for the two home games before Orient.
Something must have stirred though in the days leading up to the game and by 1:30 p.m. on that most important of days Brunshaw Road was looking almost back to its old self with fans all over the place, although all of them quiet and tense. Suddenly many who had turned their backs (and who could blame them) were realising the importance of Burnley Football Club and somehow between us, the crowd, the players and management, we saved the day in THE most emotional day ever.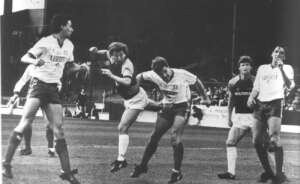 Ian Britton scores - where would we be now without that crucial second goal?
When that final whistle of George Courtney's blew it was without doubt one of the greatest moments but we hadn't half been put through some hell waiting for it.
Some of that big crowd from the day disappeared again but they will always go with my thanks for the help and support they gave the lads but others did remain. Some have been regulars ever since to help make sure it never happened.
Leighton James, a veteran of over 300 games for the Clarets and a Welsh international, described it as the most important game of football he ever played in. With the game just 24 hours away former Clarets Brian Flynn, Andy Lochhead and a tearful Willie Irvine offered their support in television interviews.
Once a Clarets always a Claret.
Everton clinched the League Championship that day but the team photos taken immediately afterwards were taken without Trevor Steven. He had rushed off to get news from Turf Moor.
Martin Dobson and Frank Casper, sat in the dug out at Gigg Lane as Bury beat Blackpool 4-1, were glued to the radio as news came through.
Yes, once a Claret always a Claret.
No matter what the situation at Turf Moor right now, there is no doubt that we are a million miles away from the Burnley of 1987. It must always remain that way.
There is much more on this game in our special THE ORIENT GAME section which was launched on its 15th anniversary. This section includes views of the day from the fans, and we would be delighted to add to this. Just EMAIL us your memories and we will add them to the section.