20. Swanky Pants
Burnley Football Club have done some pretty embarrassing things over the years, and still do, but nothing could compete with the goings on in Spring 1999.
During that period the half time entertainment was the 'Swanky Pants Dog Troupe' we were told and so we prepared ourselves for an entertaining dog act, hopeful of course that none of them would leave any deposits on the pitch.
No such luck, in fact we were treated to a handful or so of Barbara Woodhouse style dog handlers walking around the pitch perimeter with their dressed up dogs on leads. That was it, they just took them for a walk.
Not quite sure what to make of it the crowd tried to ignore them but worse was to come, we invited them back on at least two more occasions but by this time the crowd had had enough of it and the poor dogs received more abuse than anything Kurt Nogan had ever faced.
In fact things got so bad on the last occasion that one or two coins were thrown and after one struck one of the dogs (or was it Ms. Woodhouse) they threatened to sue the Football Club.
The cheerleaders get quite a lot of stick but nothing will ever compare to the embarrassment of those dogs. We are still waiting for someone to own up and accept the responsibility for having invited them.
19. Six goal Louis
We have made earlier references to players scoring five goals in a game but only once has a Burnley player netted six in one game and that was Louis Page.
It all happened over 76 years ago and the Clarets were staring relegation in the face with just five games to go. We were bottom of the league and had just been beaten at home by next to bottom Manchester City.
Page was a high scoring left-winger but in an attempt to get more goals manager Albert Pickles decided to play him at centre-forward in the next match away to Birmingham City. It was a gamble but not one that many thought would bring about great success but Page was to re-write the record books.
The player himself was not happy about the positional switch but was confident he could do the job and said before the game, "I will score six and stop at that number". By half time he was half way there with a first half hat-trick and the Clarets led 3-0.
It took him less time in the second half and with 28 minutes of the game still remaining he had hit a second half hat-trick too and the Clarets led 6-0. True to his word he stopped and that was it until a late consolation from the home side reduced the score to 6-1.
Two more wins and a draw from the last four games, with three more goals from Louis Page, kept Burnley in the First Division by one point and one place. Notts County finished bottom and went down with Manchester City.
18. Team of the 70s
When Jimmy Adamson replaced Harry Potts as manger of Burnley Football Club in February 1970 it stunned the football world. Harry had been an institution at Turf Moor, a very successful institution, but it was decided that it was time to move on.
As Jimmy prepared for his first full season in the summer he proudly and bravely boasted that Burnley would become the 'Team of the 70s' so confident was he that we would have a successful time.
The fans couldn't wait to get started but were in for a shock as just four points were picked up from the first ten games and we found ourselves routed to the bottom of the league. Eventually we did win, beating Crystal Palace 2-1 on 31st October but there was to be no escape and we were relegated and out of the top division for the first time in twenty-four years.
Adamson was beginning to look foolish and when there was no chance of a quick return the fans turned on him. Just as it looked as though there could be a second relegation it all turned round with six successive wins to start the season and for the next three years it was to be almost like living in dreamland.
Promotion followed with only four defeats all season and then two seasons in the First Division that saw us reach an FA Cup Semi-Final, miss out on Europe by one point and at one time miss out on top place only on goal difference.
Adamson's boast looked to be coming good and in the end the only thing that stopped it was finance. As the bigger clubs strengthened Burnley had to sell. Dave Thomas, Martin Dobson, Geoff Nulty and Leighton James all went along with highly promising players such as Alan West and Eric Probert.
To add to that Mick Docherty and Frank Casper picked up long term injuries, Frank's ultimately ending his career.
The record books will say we didn't come close to Adamson's boast, reality says we came a hell of a lot closer than we could have ever hoped.
17. The 2000 Promotion
There had been a hint of things to come when the 1998/99 season ended with an eleven game unbeaten run and manager Stan Ternent, too canny to promise, suggested that we might be in the running for a promotion place.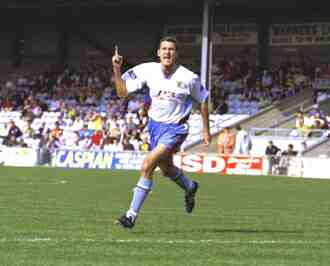 We're up - Glen scores the winner
The season started well and we were one of the front runners despite Burnley's usual failing of being unable to win away from home. There was a little slump around Christmas and early in the New Year, when isn't there, but a play off place still looked a good bet.
There was a wonderful win against leaders Bristol Rovers on the Turf after Andy Payton had been sent off and that seemed to give the season another kick start. We made a couple of good signings in Cox and Wright (more on one of those later) and we even started to win away from home.
I recall looking at the league table with around eight games to go and decided that as long as nothing went seriously wrong we would struggle to miss out on a play off place. A top two finish looked out of the question with Preston and Wigan clearly the favourites with Bristol Rovers set to run them close.
Somehow though Stan Ternent's Claret and Blue Army found another gear and what was to happen next is still difficult to believe. We won three successive games 2-1 (a home win against Notts County squeezed between wins at Cardiff and Oxford).
It was so tight a win at home to Gillingham would see us go second, anything else and any last hope of automatic promotion would be out of the window. We lost 3-0 in a game Gillingham tried to draw 0-0.
Accepting a play off place we then beat Millwall 4-3 after leading 4-0 (the actions of the visiting fans contributing to the comeback) and then went to Brentford and came back from 1-0 down to win 3-2.
With results going for us we began to dream but we would still need to win the last two and that would mean seven wins out of the last eight. The first of the two was easy, 2-0 at home to Cambridge, and off we went to Scunthorpe knowing a win might not be enough.
On a day of swaying emotions we finally secured the win and then waited for news of Gillingham at Wrexham. They lost 1-0 with the goal scored by some defender by the name of Mark McGregor and the party began.
Would we be able to stay up this time? That's another exciting chapter.
16. Ginger Pele
It's not often that a player earns himself a nickname based on the events of one game but that happened to Clarets' midfielder Billy Ingham.
A midfielder but Billy played full back, midfield or up front for the Clarets and he also became the first player to become super sub for us. During the 1972/73 promotion season he was on the bench for many games and was always the one called upon to fill in for an injured player no matter what the position.
He finally won himself a regular place but it was 1977 when the ginger haired Ingham won himself the nickname. It was a home game against Chelsea that he lit up with a stunning strike for the only goal of the game.
I'm sure it must have been a newspaper that afforded him the title of 'Ginger Pele' and the goal would still be talked about now if Pele had scored it. The fans liked it though and Billy was to be known as the Ginger Pele for the rest of his Burnley career.
The player who was previously known as the super sub did make 30 league appearances for Burnley as a sub but by the time he moved on to Bradford City he had added a total of 181 starts. There were 22 goals too but the one against Chelsea will always be the one that everyone remembers.
15. Seventeen away goals in a fortnight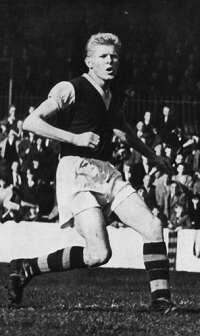 Ray Pointer - scored in all three games
Teams can sometimes have difficulties scoring goals and teams can sometimes have difficulties winning away games.
These were two problems the Clarets certainly didn't have during the 1961/62 season when we came so close to winning the double.
Here though we will not focus on the entire season but a couple of weeks in September 1961 when we simply couldn't stop scoring goals away from home.
On Saturday 16th September we travelled to St. Andrews to take on Birmingham City and came away with a brilliant 6-2 win. Ray Pointer scored a hat-trick and there were also goals from Jimmy McIlroy, Jimmy Robson and Gordon Harris.
This was Burnley at their best said the press but not quite, just four days later we were to tun in an even better show at Leicester. The scoreline was the same again, 6-2, and this time there were a brace each for John Connelly and Jimmy Robson and one each from Ray Pointer and Gordon Harris.
Pointer's goal was so well struck it broke the netting and this was the night Burnley peaked. Those who were there will tell you that it was the finest performance they had ever seen from a Burnley side with every single player playing at his absolute best.
After a narrow 2-1 home win we were back on the road and this time to Fulham on the last day of the month, A John Connelly hat-trick together with goals from Jimmy McIlroy and Ray Pointer saw the Clarets through to a 5-3 win at Craven Cottage to complete the most amazing sequence of away results.
It also brought to an end a run of seven consecutive wins that had also included a 3-1 win at Manchester City.
Seventeen goals in three away matches in a fortnight – this really was a great Burnley team and the line up for all of the games was: Adam Blacklaw, John Angus, Alex Elder, Jimmy Adamson, Tommy Cummings, Brian Miller, John Connelly, Jimmy McIlroy, Ray Pointer, Jimmy Robson, Gordon Harris.
14. Fourth Division Champions
This wonderful event was seven years in the making. When the Clarets were relegated in 1985 everyone just assumed we would only be in the bottom division for a year, we would be too big and too good for it.
One year became two and then thankfully became three. Time went on and we went into our seventh season as a Fourth Division club in 1991/92. Within no time manager Frank Casper had gone to be replaced by his assistant Jimmy Mullen. "It won't work", many said, "Never does when you promote the number two."
The prophets of doom were wrong again as the Clarets just kept on winning and winning with probably the most passionate, if not the best, manager the club has ever had. Mullen kicked every ball and lived every good and bad moment and 'Jimmy Mullen's and Blue Army' could be heard around the lesser grounds of English league football.
For the second half of the season promotion was never really in doubt, it was just a matter of which of the top three positions we would finish in. Finally on a Tuesday night at York that nobody will ever forget the seven year misery was over.
"They came to York in their thousands, they are going home as Champions", said ITV's Clive Tyldsley. It is a piece of television that I never tire of hearing. The video has just had another play before writing this.
Many will tell you that Bob Paisley would never have achieved what he did at Anfield but for the earlier work of the great Bill Shankly, it was he who got the Anfield ball rolling. Love him or loathe him there is no doubt that it was Jimmy Mullen who got it moving at Burnley and for that every Claret should remain eternally grateful to the man from Jarrow.
13. That white suit
In the white suit with former Man City Chairman Peter swales
Being knocked out of a cup competition is no laughing matter. I've always found going out of the FA Cup one of the hardest things to take each season. There is no consolation, no second chance and it should be glum faces all around.
It was not quite like that in 1983 though when Division Four side Crewe knocked us out of the League (then Milk) Cup. They had even had the nerve to beat us over two legs. This was particularly hard to take coming the season after two great cup runs but the Clarets, having made the semi-final last time round, were now out in the First Round.
Crewe's new young manager, a guy called Dario Gradi and I wonder what happened to him, moved across to shake hands with the defeated manager John Bond but the Burnley boss didn't want to know.
Was this the experienced top manager snubbing the young upstart? Not quite, Bond was wearing one of his Armani suit collection, it was white and he had matching white shoes. Foolishly he had decided to avoid the abuse from the Bob Lord Stand and Cricket Field Stand by walking back across the pitch. However after a night of rain it was probably not the best route to take when wearing expensive and light coloured clothing.
Dressing room leaks told us that the suit and shoes were a mess and Bond was furious although not too concerned with the result of the match. The cost of cleaning and repair was high but he avoided buying any brassy overpriced jewellery for a month to pay for it.
12. I-I-Irvine Irvine-I
This was the occasion when the Clarets Mad editor was severely reprimanded for pitch encroachment by the Birmingham police but I still offer a plea of not guilty and put the blame fairly and squarely on the shoulders of Willie Irvine.
The Clarets were still pushing for the First Division Championship and were in second place behind Liverpool when they took on Aston Villa at Villa Park with just five games left.
The game was only a few minutes old when Willie Irvine gave us the lead with a goal at the Holt End, and this was no ordinary goal. It was Willie's 28th league goal and in scoring it he had broken Ray Pointer's post-war record.
There seemed only one thing appropriate at the time and that was to get over the wall and celebrate with Irvine. The police had other ideas and quickly moved in to usher us all back over the wall, no I wasn't on my own – not that brave.
We got a wave from the goalscorer and were happy at that. We did eventually lose the game and we finished the season in third place and Irvine ended with 29 goals, still a record today.
I do though hold the Irish goalscoring genius responsible for my one offence of football hooliganism.
11. A Remarkable Record
When you start a season with three defeats the omens are not good and supporters will be immediately thinking of a relegation struggle.
That must have been the case in 1920 (although my granddad did tell me that fans were not as impatient then) when we started with defeats against Bradford City (twice) and Huddersfield and found ourselves bottom of the league.
On 6th September 1920 the losing sequence came to an end when Huddersfield were beaten 3-0 on the Turf with goals from Tommy Boyle, William Nesbitt and the legendary Bob Kelly, was he really better than Jimmy Mac?
Wins and draws followed, but mainly wins, and it is worth mentioning that in successive weeks in January our local rivals were beaten 4-1 on the Turf and 3-1 at Ewood.
On 26th March 1921 we played Manchester City at Maine Road and were beaten 3-0, our first league defeat for over six months and after 30 games without defeat.
It was without doubt a remarkable record by the Clarets and one that to this day remains. No other club has ever, within one season, put together a run of 30 games without defeat. Those Clarets remain to this day the holders of a league record.
A plaque commemorating the achievement was placed inside the old Brunshaw Road Stand and it remains today at the top of the players' tunnel. A remarkable achievement by remarkable Clarets.