It was a game we won 3-2 after twice trailing and came courtesy of Natural Born Claret Andy Payton. This was no ordinary day, this was the day Turf Moor again paid homage to its greatest ever team. They were there for the official opening of the Jimmy McIlroy Stand.
Jimmy Mac came out to the strains of Martha and the Vandellas singing 'Jimmy Mac, when are you coming back' as Turf Moor rose as one. His arrival on the Turf Moor pitch had been preceded with the introduction of his former colleagues Adam Blacklaw, Alex Elder, Tommy Cummings, Brian Miller, John Connelly, Ray Pointer, Jimmy Robson, Brian Pilkington, Trevor Meredith and Bill 'Chalky' White.
The week after (Friday 7th January 2000) Frank Keating from the Guardian wrote the following excellent article that we reproduce here in full.
Raise a glass to vintage Claret
Memorial to McIlroy recalls Burnley's successful early 60s
Frank Keating
Only greybeards now would nominate the Burnley sides of the late 1950s and early 60s as one of the Football League's top 10 teams of the 20th century. But they were. Ditto if you named the executive designer and architect of those teams, Jimmy McIlroy, as one of the century's top 10 inside-forwards. And he was. Only Johnny Haynes of England was as beguiling a presenter of a bespoke pass, short or long, as the man who played 500 league games for Burnley, 100 for Stoke City, and 55 for Northern Ireland which took in the 1958 World Cup.
Sixty-eight last autumn, McIlroy still lives in the town he arrived at from Glentoran in 1950. Last week, on his evocative old stage at Turf Moor, the old hero opened the suitably handsome and gleaming Jimmy McIlroy stand. He said he would do so only if the rest of Burnley's championship-winning side of 1960 - also FA Cup finalists in 1962 - were rounded up for the celebrations. They were. Laps of honour all round in front of 15,000, by far the largest throng of the season. Thousands will travel to Coventry for the Cup tomorrow, just as they did for the giantkilling at Derby in the last round.
Still in the soft Celtic brogue of his homeland, the ever-modest McIlroy remains as articulate, as liltingly romantic, as poetic as his football used to be as he recalls last week's ceremony. "Of course there were tears. I was overwhelmed with emotion. I think we all were.
"From the day I arrived I was Claret all through. My beloved old mentor Danny [Blanchflower] used to scoff and say, 'Jeepers, how can you stay in a place like Burnley when the world's your oyster?' I just never wanted to leave. When Bob Lord [the chairman] sold me to Stoke, I still lived in Burnley. When you see a sepia photo of me in Stoke's stripes it just doesn't seem right, it's me as an alien; crazy, but I feel only authentically 'proper' if my jersey's claret and blue.
"I lost touch with the club. So many regimes came and went, if I rang up for a ticket they'd think me a cadger, a scrounger. All the old tradition seemed gone. Suddenly it's different, there's organisation and optimism all over now. Like we had, permanently, all those 40 years ago - and there we were, unbelievably, together again the other night... my lovely lads, Blacklaw, Elder, Cummings, Miller, Connelly, Pointer, Robson, Pilkington... only John Angus and Jimmy Adamson couldn't make it... and they each paraded in front of me for an individual reception... and the waves of acclaim poured down... it was unbelievable, especially as only a minority could have ever seen us actually play.
"Finally, it was my turn, and now I was treading my old field again... and I was bathed in the arc lights once more. Oh, the emotion - soppy, really - and just about every square yard of the pitch brought back a distinct memory to me in vivid imagery and recall... a shot from here, a tackle precisely there, a particular pass from this precise spot, a goal or two, or just a little wee shuffle I once made exactly here... it was uncanny, so intense, an almost indescribable sort of ecstacy, I sup pose. I looked around and suddenly there were my four lads from the forward line, us five together again, waving up to the throng, drinking in the applause, embracing each other, old men now, but old men transported back, magically, to be 40 years younger... and, jeepers, oh what deeds we did together...
And I hugged my right-winger John [Connelly], our hare down the line who could cut in and belt a sudden net-bursting tracer with his left foot... and dear Jimmy [Robson], instinctive inside-left, right-place, right-time poacher supreme; Danny said if it hadn't been for Greaves, Robson would have been a British household name... and outside Jimmy our great Pilky, one cap for England was an utter insult; Pilkington was no size but, jeepers, what heart, and what a talent to take on every full-back and whip over cross after cross... sometimes to me, but usually to No9 Ray [Pointer], our pocket blond bombshell, there's no other three words. What courage and verve Ray had, what a non-stop engine. He was all oomph, and nous with it. I saw Alan Shearer play only once, at Blackburn in his full glory and pomp - wow, he was ravishingly good - and coming off the ground with the crowd all abuzz I thought to myself, 'Given the chance, who would you have chosen to play alongside at their peak, R Pointer or A Shearer?' and do you know, I still can't decide. For sure, Ray was utterly exceptional for his size; and only three caps for England, another idiocy of those times.
"Oddly, it was not at Turf Moor that us five transcended everything, it was under the floodlights at Leicester's Filbert Street towards the end of the championship season. Although we were only two points above Danny's marvellous Spurs at the finish, perhaps we realised that night that nobody could stop us being champions. A sort of purity, an utter untouchable magnificence, possessed us and we blended into one, each truly on song as in a single melody. I think it finished 6-3. None of us wanted it to end. Nor did the crowd. Nor the Leicester team. They were as stunned as us at the, sort-of, word-perfect drama of it. It was like the opera, when the whole arena stood to applaud us off, as a way of saying they couldn't bear us to go.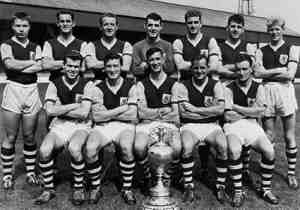 Jimmy Mac with his Championship team mates
"That's why, last week at Turf Moor as I embraced my beloved four lads, I found myself fervently wishing I hadn't been a player myself in those days but a fan, a fan who was passionate about good football. When you're part of it you don't obviously see the whole panorama - and, honestly, for four or five years and about half a dozen times a season our Burnley side clicked in unison, and when it clicked it must have been utterly breathtaking to watch. I can't tell you why exactly, but we found ourselves caught up in excitement and charm and elegance and flow. Everything pinpoint exact, and all of us rapier sharp and on the very top of our game. I know it's ridiculous but, oh, how I wish I could have been on the terraces actually watching us play." Or up in the Jimmy McIlroy stand.