On the morning of the game the Sunday Times included the following article by Jonathan Northcroft. Despite the usual factual errors that can always be found in national newspaper articles it is an excellent feature on the Clarets which we are delighted to reproduce in full.
Burnley: 'Villagers' are talk of the town
Jonathan Northcroft
Burnley play champagne football on a beer budget and it might get them back to the top flight.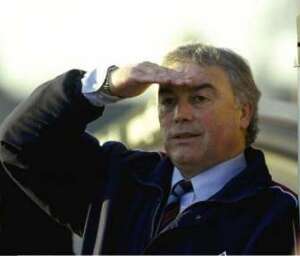 Stan providing champagne football on beer money
It hangs in the reception hall of Turf Moor's Bob Lord Stand, a portrait of the man himself, the local butcher who made mincemeat of anyone who stood in the way of making Burnley England's best football club. Lord's face is broad and ruddy, a smirk tugs at his mouth, but most striking are his eyes. "Watch this," says Andrew Watson, Burnley's chief executive, leading the way across the room. He is right. "The eyes follow wherever you go."
Watson and his staff will never escape the gaze of Burnley's past but at least they can look it straight back in the eye. The same could not always be said of those at Turf Moor. In 1987, 26 years after Burnley were English champions under Lord's chairmanship, and launched a journey that took them to the FA Cup final and the last eight of the European Cup, they had to beat Orient on the last day of the season to stay in the Football League. Now they are in their highest league position in 25 years and, for the first time since relegation in 1976 can entertain real hope of returning to England's top division.
Burnley can lead the First Division by four points by beating Preston in today's lunchtime Lancashire derby, a fixture that just three years ago was a relegation clash in Division Two. Bill Shankly called them "the village team". The smallest place to sustain top division football for any long period, in Burnley's heyday more than one quarter of its inhabitants would regularly pack Turf Moor. Even now, average crowds of 16,000 in a town of 90,000 makes Burnley, in percentage of population, England's fourth-best supported club. "We've got a 22,500 capacity," says Watson, "and if we reach the Premiership it won't be enough."
Jimmy Greaves said when you drove in your team coach down the hill into Burnley and saw Turf Moor, surrounded by red brick and licked by factory smoke, you knew you were in for a hard afternoon.
Now, more than ever, with the cotton mills removed from the skyline, the ground dominates Burnley. It is half-modern, half-ancient with two new spanking stands and two still filled with wooden seats on iron mounts, a swanky leisure centre and café but inside brick dug-outs and throwback advertising boards for local bakeries and builders' yards.
Old and new was Lord's way too. In views (Manchester United were "Teddy Boys" who over-sentimentalised Munich) and behaviour (he transfer-listed Jimmy McIlroy, Burnley's greatest player, for being friends with a boardroom rival) he could seem reactionary. In ideas — Burnley had their own training ground and gymnasium by 1962 and would fly to away games — he was a pioneer. The blend underpins Burnley's current revival. Watson's board, led by chairman Barry Kilby, a local magnate whose company produces lottery games, inspire the new.
The club website is among the best in the country, Burnley have an international footballer, the former Tunisia Under-21 player Nourredine Maamaria, as ethnic minorities development officer, and a current initiative involving boldly pricing season tickets for children at £35. The old comes from Stan Ternent, the manager, whose simple, true principles were learnt as an apprentice under the great coaching team of Harry Potts and Jimmy Adamson. Ternent joined Burnley aged 16, plucked from his native Tyneside in 1961.
Now he stands in Turf Moor's laundry room, conducting our interview between banter with cleaning ladies, draws of a fag and sips of coffee. Combustible and straight-talking, his reign is ever eventful. Last week Paul Cook, until recently Burnley's pivot, was sent to Wigan after agitating over a contract extension while Andy Payton, top scorer for two seasons, went to Blackpool on loan after being convicted of a drink-driving offence. Two main assets, left-winger Glen Little and defender Arthur Gnohere signed new long-term deals and he admitted interest in Bradford's Robbie Blake.
Gnohere (yes, he is bald) has been among the First Division's best defenders since a Bosman move from French club Caen while Little, tracked by Sunderland and rated as a £2m player, arrived from Glentoran for £100,000. A Londoner once released by Crystal Palace, he was even watched against Chelsea by Sven-Göran Eriksson. Burnley fans now shout "Little for England" though the player admits it is more likely Eriksson was checking on Frank Lampard. Little was signed by Adrian Heath but Gnohere is testimony to Ternent's shrewdness. Defender Ian Cox (Trinidad), striker Gareth Taylor (Wales) and goalkeeper Nik Michopoulos (Greece) are internationals acquired on the cheap and other bargains include Tony Grant, the former Everton midfielder, who is enjoying a fine season, and Lee Briscoe, who gained Premiership experience at Sheffield Wednesday.
"Stan has spent £3.5m net since 1998 and works with a £6m wage bill," says Watson. "Blackburn and Fulham had wage bills of £20m in this division and even clubs in the bottom half spend as much as £14m." Ternent puts it more colourfully. "I'm trying to provide champagne football on beer money". The manager believes in maintaining a small, tight squad where every player shares his work ethic. He has nine players over 30 including Kevin Ball, Mitchell Thomas and Tony Ellis who are 37, but is trying to infuse it with young blood and recently paid £500,000 for Greece Under-21 striker Dimitrios Papadopoulos. Burnley's great years were founded on youth development (all but two of the 1961 side were homegrown) and Ternent recently re-appointed Jack Hixon, the legendary scout now in his 80s.
"Burnley was a fantastic place in the 1960s, where you learnt your football properly. We're trying to build a real football club here again," says Ternent. "Even if you don't have the same money as other teams you can eliminate certain variables. For example, you can work your players in training to ensure they will never be beaten for fitness. Team shape is important but more so is players going out and playing with a chuckle in their boots. I think you have to play a certain way at Burnley: the crowds like you to pass, they like individual flair and they want goals."
One of British football's great unsung figures, having in a 30-year coaching career raised Bury from the third to first division and helped Crystal Palace reach the Premiership as assistant to Steve Coppell, Ternent has arrived in his perfect job. Married to a Burnley girl, he still lives in the town. "I'm proud of this club's past. Society's changed but football's still football. It's 69 hours a year, 46 games times 90 minutes, and the most points wins. It's not too much to get players fit and ready to play for 69 hours a year." Burnley have come a long way from the club Ternent returned to in 1998, who had just finished one place off relegation to Division Three and in his first season lost consecutive games 5-0 and 6-0 to Gillingham and Manchester City. His arrival coincided with Kilby's who invested £5m when Burnley were heavily in debt and has expanded turnover from £3m to £10m.
"There wouldn't be a football club but for our chairman," says Ternent. "A lot of the big employers in this area are closing down and the club's very important to the town."
Preston are not as hated as Blackburn. Animosity towards Rovers dates back to towns being on opposite sides in the English Civil War and the 1970s incident, when Burnley fans tore the corrugated roof off the away end at Ewood Park. Preston, low budget, high endeavour, embody similar values to his own club, says Ternent, "though they are ahead of us in development".
David Moyes' dilemma is whether to recall his £5m striker Jon Macken to partner David Healy or stay with Richard Cresswell. Ternent will pick former England Under-21 striker Ian Moore up front, Burnley's record £1m signing having scored twice against Palace last week to end a 13-game goalless run. Ternent believes himself better placed to avoid the kind of slump last winter of five consecutive defeats, when injuries and suspensions caught up, that cost Burnley a play-off place. "I'm 57, I think this is my last job and it would be wonderful to finish in the Premiership," says Ternent. "Things are going well but I'm only the custodian for a short time of a great football club." Sandy Gow, a lifetime Burnley fan, says "there's always been a special feeling of togetherness in the crowd at Turf Moor". Supporters' club chairman Bill Mellor observes his team sit just 12 league places behind Manchester United. "Not bad," says Gow, "for a village team."