What's the weather doing?
Feature by Tony Scholes
Updated Friday, 14th April 2006
I've stood in sub-zero temperatures at Hull as we fell to defeat, suffered a similar result in soaring summer heat and been drenched when we last won there, but nothing can erase the memory of our last visit.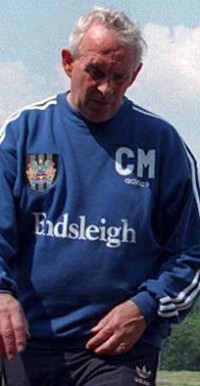 Clive Middlemass - in charge when we lost 3-0 at Hull in 1996
I don't think the weather was too severe on our last ever visit to Boothferry Park, but for those Burnley fans there it will always be remembered as a miserable day. Only in the last few days some have described it as our worst ever performance and it is certainly in the top few.
It was the second of three games we played under the management of Clive Middlemass following the sacking of Jimmy Mullen. Clive was using this game as one to back up his claims for the job, but in truth he was never in the running and this performance confirmed that the board got that particular decision right.


We wouldn't even wish to go into detail but suffice to say we fell to a heavy 3-0 defeat against a side already looking doomed to relegation despite still having sixteen games to play. It was February and only their third win of the season, and it proved to be their biggest win of the season for the Tigers.


Some of the Burnley players left the ground at the end of the game and told waiting fans that things could get a lot worse, they had just heard the news that Adrian Heath was likely to get the job. They were far from happy.


Now to the days and the extreme weather – and firstly the incredibly cold day in February 1985. This time we were the strugglers, hovering just above the bottom four in the old Division Three whilst Hull were riding high in the promotion places.


John Benson's Burnley weren't a good side but we'd been lifted by two good results in the previous few days, a 5-1 win at Stockport in the Leyland Daf Trophy followed by a 7-0 home league win against Rotherham.


The upturn in form came to an end and the 2-0 victory hardly flattered Hull who were easy winners. Although there was some good news for us that day injury wise there was also some devastating news that I believe had a major effect on us over the next few years.


A late substitution saw Derek Scott come on for his first game since breaking a leg at Rotherham earlier in the season but the player going off with an injury was young central defender Steve Kennedy, a player with great potential.


Steve's knee injury was serious, very serious, and he never regained full fitness. He did come back and play three games two seasons later before having to hang up his boots. He was just 19 that day at Hull but a fit Kennedy would have been a massive influence in the side over the next few years, years when Burnley FC dropped as low as it ever has.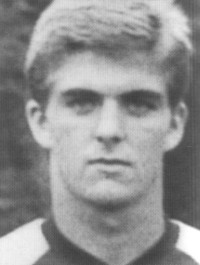 Steve Kennedy - never recovered from the serious knee injury sustained at Hull in 1985
It wasn't quite so cold the season before that 2-0 defeat, it was shorts weather as we left Burnley for the opening day of a new season and a new chapter in the club's history with John Bond in charge. We all had high hopes, and no matter how you view Bond's time at Burnley, this was not the start we were looking for.
There was a glimpse of what was to come up front with Kevin Reeves scoring on his home debut, but thankfully the defending was not a glimpse of future games as we conceded no fewer than four goals as the season started in the worst way possible.


It was Bond's first Burnley line up and Roger Hansbury, Joe Gallagher, Kevin Reeves and Tommy Hutchison were the four to make their debuts. Gallagher didn't play another league game for Bond and neither did Lee Dixon who had a nightmare at full back, whilst Kevin Young played only once more.


We'll end on a positive note – and our last win at Hull which came on New Year's Day Bank Holiday during our 1993/94 promotion season. It rained, and it rained and it rained and on arrival at Boothferry Park I discovered I had the option of standing in the open (and it threw it down throughout the entire 90 minutes) or I could take a seat in the stand. I opted for the seat but unfortunately mine was directly below a hole in the roof and I would not have been any wetter had I stood on the terracing.


We were on a good run but we had to come from behind to win this one, and in the end it was a good performance from the Clarets. The goals came from Steve Davis and a late winner from John Deary. It took us into fourth place just one point behind both Plymouth and Stockport (and I think we remember those two clubs from that season).


There was something very familiar in the league table, just like this season,
Reading
were well clear at the top of the league.
Over the years we had a reasonable record at Boothferry Park, hopefully we can start a good one at the new KC Stadium.
Interact with us