Time to end the eleven year wait
Feature by Tony Scholes
Updated Friday, 28th April 2006
It's been a while since Luton last suffered defeat at the Turf, just over eleven years to be precise when we won a vital game as we were fighting against relegation.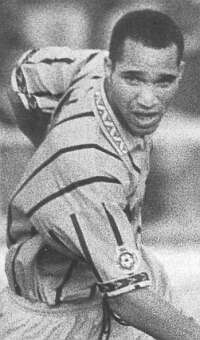 Gerry Harrison - got the winner in 1995
The previous home game had seen us win for the first time in eleven games and after a couple of away games we were back at the Turf for a midweek game against the Hatters.
We went into the game bottom of the league and even though we'd played just 35 games things were already looking bleak. John Mullin gave us the lead with his first home goal for the Clarets and we ended it winning the game 2-1 with Gerry Harrison getting the winner after Dwight Marshall had scored for Luton.


Since then, it has hardly been good news, and we have drawn one and lost three from four games, the first of these coming just as an influential figure had left Turf Moor. Move on two seasons and we were looking odds on for a play off place at least and were in our best form of the season having just won two away games at
Brentford
and
Walsall
with two superb performances.
We were fifth and all the four clubs above us had just one point more, one of them was Luton who were top on goal difference. But in the week leading up to the game our assistant manager John Ward left to become manager of
Bristol City
and that left Adrian Heath in charge on his own. Quite simply the season collapsed and the poor results started with Luton.
Luton, who included former Claret Steve Davis in their line up, were too good for us on the day and two goals from Tony Thorpe before half time ended our chances of getting anything from a game. To be fair the result was just, and in the end we finished down in ninth place.


Luton didn't go up either, they ended the season in third place but went out in the play off semi-finals to Crewe who went on to win at Wembley and claim the last promotion place.


We were battling against relegation a year later under the management of Chris Waddle but we looked to be heading for a win when Andy Payton gave us the lead in front of American businessman Ray Ingleby who had made an offer to buy the club.


He never did get that opportunity and we didn't win that game either, Luton grabbed a late equaliser through a defender who was to make quite an impact at Turf Moor a couple of years later – none other than Mitchell Thomas.


Things were no better one year on, we'd changed manager again and it was now Stan Ternent in charge, but it was another frantic fight against relegation when Luton arrived in February.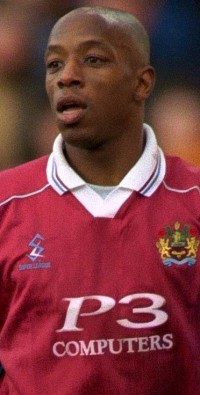 Ian Wright - his last start for the Clarets
Again Burnley went in front, Micky Mellon scoring his first Burnley goal, but the visitors were soon level through Andrew Fotiadis. We had to battle for most of the second half with ten men when Neil Moore was sent off and came within three minutes of holding out for a draw when Gary Doherty netted a late winner.
Our last Turf Moor meeting was played on one of those Turf Moor nights when the pitch struggled to cope with the rain and to be honest referee Danson should really have called it off.


The good news for Burnley ahead of the game was that Andy Payton was available again after completing his three match suspension following his sending off against
Bristol Rovers
, however he was left on the bench with Andy Cooke and Ian Wright starting.
It was to be Wright's fourth and last start for Burnley and by the time Payts joined the front two the game was all but over. Defender Alan White gave them the lead midway through the first half and early in the second half another player who would later join Burnley, Phil Gray, doubled their advantage.


We never looked like getting back into it to be honest on what was by now a flooded pitch and Luton recorded their third win in four visits.


We went up at the end of that season and a year later Luton dropped into the bottom division but two promotions have followed which brings them back to the Turf and a chance for us to bring their good run here to an end.
Interact with us
Sponsored links