Thomas leads us to the top
Feature by Tony Scholes
Updated Friday, 1st September 2006
Back home from Italy and into August and we were all ready for the new season and a first game against Queens Park Rangers – starting the season at home for the fourth time in five years.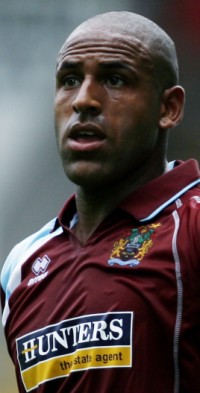 Wayne Thomas - appointed captain on the eve of the new season
There had been some debate about the captaincy after Wayne Thomas wore the arm band at
Bury
rather than Frank Sinclair but it looked as though things had reverted back to Frank in subsequent games. That was not the case and as the month of August got underway the news came that Thomas was to be our new club captain.
He led us out against QPR in a game that provided one of our two new signings Steve Jones with his Burnley league debut and what a debut it proved to be. Probably the biggest surprise was that Jones started in a wide position with young Irish striker Kyle Lafferty, who was to have a wonderful month, starting up front alongside Andy Gray.


As for the four players on the transfer list – it was no surprise that three of them were nowhere to be seen, but Micah
Hyde
, who rumour had it would be staying, made it onto the bench.
Jones though took star billing and scored the two goals that gave us our first winning start since that 2-0 win on a Sunday tea-time at Hillsborough in 2001, a game watched by a massive audience of about a dozen on the ITV Sport channel. So much for seeing off Dame Thora who was then fronting Songs of Praise.


Warren Joyce is the only other post war Claret to score twice on his debut, also on the Turf against
Port Vale
in 1993, so one hell of a start for the Jones boy who became an instant hero.
It left us top of the league, taking into account goal difference, goals scored and alphabetical order, but who cared we were top of the league and if that wasn't enough then just a day later Clarets Mad celebrated with its first ever golf day. It was a huge success at Royal Rishton, even though the site editor knows precious little about golf course etiquette.


Before we got to Leicester on the Tuesday the squad was in effect increased with the news that Micah was off the transfer list. We travelled to Leicester in our thousands, well not quite but there were a good few of us there and we were making plenty of noise. "We are top of the league," we cried whilst also informing the natives that their crisps weren't very good. It was all educational for me, I never knew they tasted like that.


Micah celebrated his news by getting a start, playing superbly in a midfield that dominated the game, and right on half time, just after those in need of a drink had disappeared to the concourse, we took the lead through Andy Gray. Don't believe those who rushed for a pint when they tell you they saw the goal, they didn't, they all missed it.


What wasn't fair was being knocked off the top despite winning but what was good at the end was the Leicester fans wanting to shake our hands at the end telling us how good we were.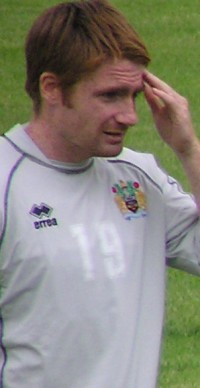 James O'Connor - scored a rare goal to earn us a point at Hillsborough
As we prepared for
Sheffield Wednesday
we heard that our divisional rivals Derby had signed Mo Camara on a three year deal. I pondered on that one and then remembered what those Wolves fans had told us when we signed him. They said he couldn't defend, could move quickly but often without the ball, and his crossing wasn't too good, but despite all that he'd be popular. Still he might sort Billy Davies out.
Hillsborough wasn't very good to be honest, but we got a point in a 1-1 draw when the prolific James O'Connor grabbed us a late equaliser. His goals come around only slightly more often than Preston Guild so they need to be savoured, this one most certainly was because it took us back to the top of the league.


Jimmy McIlroy, Alex Elder, Willie Irvine, Sammy Todd, Terry Cochrane, Tommy Cassidy and Billy Hamilton. They have all represented Northern Ireland whilst I've been watching the Clarets and it was brilliant to see three more in Jones, Lafferty and Michael Duff all turn out in their friendly against Finland.


It was a very special night for Kyle too – in his third international appearance he scored his first goal, heading in at the far post from a Jones cross. We hope it is the first of many for his country and it can only be a matter of time before he's starting games.


Steve Cotterill decided to do something about his transfer listed players during that week and a day either side of Kyle's goal he took some action. First he cancelled Danny Karbassiyoon's contract and two days later he followed that up by ending Duane Courtney's time at Turf Moor in similar manner.


Neither of them were ever going to be close to the first team, poor Danny had suffered with injuries and inadvertently made a difficult situation worse by allowing himself to be quoted, or was that misquoted, by some small town American web site. He's back over in the States now whilst Duane, who turned down Kiddie, was playing for Bury reserves this week.


To ensure it wasn't a brilliant month we had something of a crap few days. We managed to lose to Wolves again, something that just about always happens, and then three days later we incredibly succeeded in getting ourselves knocked out of the Carling Cup to an inept Hartlepool whilst Thomas was sent off as he gave away the penalty that decided the game.


The doom mongers were out, our season was going down the pan, John McGreal was on his way to Ipswich and to listen to some you would have thought we were heading for relegation.


I travelled to Selhurst Park last Saturday, I'm not sure why because those doom merchants had already told me it was going to be a heavy defeat. Well, I'm so glad I was there because, with the apparently Portman Road bound McGreal back in the side, we turned in an excellent performance, and for the first half an hour the football was breathtaking.


Yes this is Burnley I'm talking about, a Burnley side that played so well it was damned unfair that we didn't get all three points. It's hardly a level playing field, Palace have about three times as many players to choose from than us, mind you it is balanced out by them having a Legend in the dug out.


It was a fantastic way to end the month, a month that ended yesterday with no new late signings, not as though we expected any. We're sixth in the league, West Brom losing at
Sunderland
last Sunday lifted us a place. Where we will be at the end of September I don't know but sixth is fine for now and if we'd not had to play Wolves we might just have remained unbeaten in the league during August.
Interact with us
Sponsored links