The buses kept on coming
Feature by Tony Scholes
Updated Saturday, 5th May 2007
December, January, February, March - as the monthly reviews were written there wasn't a single victory to boast about. Then suddenly it was like the X43 bus service, after waiting for an age one came, then another and then another.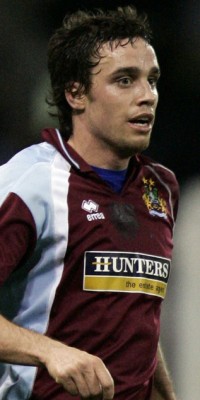 Michael Duff - scored the all important first goal against Plymouth
This was the month when everything changed back again, when we started to win again, and when we started to score goals again with no fewer than eight players finding the net in the seven games we played, from Michael Duff's opener against Plymouth to Wade Elliott's wonder strike at the Stadium of Light last Friday.
But at the beginning of the month, the tempers were frayed, the patience had gone, nails were bitten and the Clarets looked to be facing a real battle just to stay in the division after a shocking run that had seen us go eighteen league games without a single win. The month even ended with a sorry 0-0 draw in what most considered a 'must win' home game against Luton.


So on April Fools Day, as fans contemplated playing in green next season, most Burnley fans were on a real downer as we saw the Clarets hovering just two points above the relegation places and on a worse run than any of the other teams around us. The only saving grace was that four of the seven games to be played in April would be at home.

On the third day of the month we had a visit from Plymouth. This game had been previously been called off because of their interest in the FA Cup leading to a nice long midweek trip for the Argyle supporters who don't seem to like us very much. Maybe it had something to do with the two goals John Francis got in the play offs in 1994, or possibly the two Andy Cooke goals that ensured our safety and relegated them four years later.


We have an ability to beat them in important games, and make no mistake this was an important game coming up. Plymouth had precious little to play for so we were hoping they might have the end of season approach to the game. Whatever approach they had didn't matter, we went out and blitzed them.


In that awful long run without a win we'd only three times been in front during games, and we'd struggled to score goals beyond belief with only four (yes that is four) goals scored in the previous fifteen (yes that is fifteen) games. Then it happened. Michael Duff got on the end of a Wade Elliott cross 1-0, Paul McVeigh took it round the keeper and slotted home 2-0, and Steve Jones hammered home after the ball rebounded to him 3-0, and that was all before half time.


The weight had been lifted and a Wade Elliott goal in the second half. Elliott had been left out of the previous games because of his lack of goals. This was to be a very good month for him. This gave us our biggest win since the 4-0 victory over Coventry in August 2005 and suddenly supporters were believing we could escape the drop as Easter approached with two tough fixtures at Birmingham and at home to Cardiff.


That Easter Saturday journey to St Andrew's was a sad one. Just before leaving home I received the awful news that Brian Miller, former player, captain, coach, manager and scout had passed away after a short illness at the age of seventy. I knew Dusty well, I knew he had been seriously ill but this news shook me, I always thought the big man was indestructible.


He was a Claret for his entire life, and had enjoyed something that I'm sure all of us dream about. I know he would have wanted us to go out and win at Birmingham and we did just that. This was probably as good a result as any all season. We conceded a lot of possession, but they didn't hurt us and I hardly ever felt they might score. Then, with not long left substitute, and forgotten man, John Spicer capitalised on a mistake. He went one-on-one with keeper Doyle and lifted the ball into the net right in front of the contingent of Burnley fans.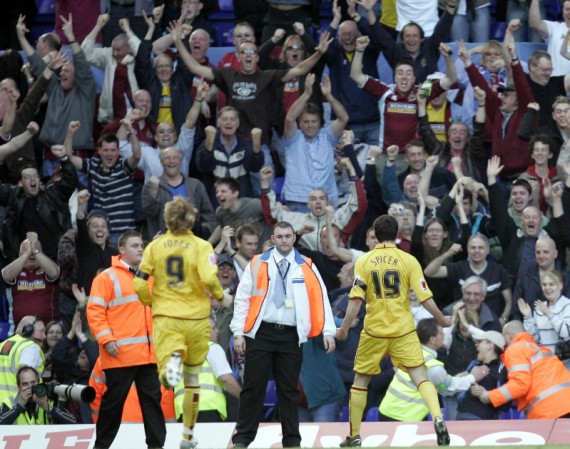 The Burnley fans celebrate John Spicer's goal at Birmingham
Not only had we started winning, but we'd started winning away from home as well. Suddenly the gap above the bottom three was six points and there was more to come. Steve Jones scored again to give us an early lead against Cardiff and Paul McVeigh added a second early in the second half. This was a fantastic team goal with the loan man volleying home from close range after an Elliott cross, but virtually every one of our outfield players had been involved in the move.
Three out of three, but my lasting memory of that game will be of the minute's silence. Current players, past players, staff and fans joined in the most impeccably observed tribute to Brian. It was presented so well by the club, and I don't think we'll ever forget the contribution of the Cardiff fans who stood in absolute silence throughout the minute, a fitting tribute to one of our finest.


April wasn't a perfect month, and we certainly demonstrated that on the following Saturday as we packed one corner of Elland Road. This was a real opportunity to make our position in the Championship mathematically secure, and a real opportunity to virtually condemn Leeds to a life in League One.


We did neither on a day when we turned in our only bad performance of the month. It really was a shocker and once behind to a bad goal from a corner we were never going to get back into it. Very few of our players came out of it with any credit.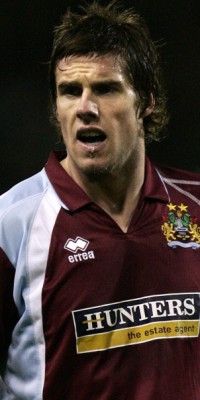 Andy Gray - scored his first goal since returning from injury
We needed to show that we were not returning to the poor form of the previous months, and a home game against Norwich gave us that chance as well as giving us one last chance to do the double over someone. And we did it and without any problems at all.
Ade Akinbiyi scored only his second league goal since his return with a good header from a Duff cross. We looked comfortable from then on, and the only thing missing was a second goal. It just didn't come, we waited and waited, and then with four minutes to go came the goal we'd all been waiting for, Andy Gray's first since he suffered his injury in November.


Jimmy O'Connor's shot rebounded off the keeper and there was Andy Gray to turn in the rebound before joyously turning to celebrate the goal with all of his team mates, even Jensen running the full length of the pitch to join in. Elliott added a third, another good goal from the in form wide man, but there was to be better from him before the month was out.


During our early season good form we'd twice appeared live on Sky, winning 4-1 at Norwich and then beating Preston 3-2 in a classic on the Turf. Now we were faced with two televised games in five days. The cameras weren't there for us, but for promotion chasing West Brom and RK
Sunderland
. Surely we couldn't give Sky two more five goal thrillers.
The away game at West Brom had seen us go 2-0 down in the first seven minutes, this time it took them a minute longer as the same scorers Koumas and Ellington found the net. Two goals down so quickly and in front of the cameras, not what we wanted.


We pulled one back through Gray, we were getting ourselves back into the game, and then right on half time West Brom had Paul McShane sent off for an incident that left James O'Connor unconscious and out for the season. It was a pure accident and the referee got it wrong, but for once the bad decision had gone in our favour.


Gray added a second just after the restart and for much of that second half we were on top, and then in the last few minutes Chris McCann (on for O'Connor) headed in a wonderful winner from a Duff cross. Chris himself said it had come off his shoulder, but who cares. It went in, we won and we'd given Sky another superb game.


By this time the distance from the bottom of the league was so great we could hardly see them, but we faced probably the toughest game of the season, in form RK Sunderland at a Stadium of Light that was close to capacity.


If football is all about points then this was a poor night for us, we came home with nothing, but after struggling in the opening stages against a rampant home side we turned on another show for the television viewers and were so unlucky not to get something from the game.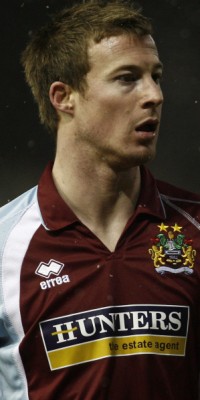 Wade Elliott - stunning striker to give us the lead against RK Sunderland
We conceded an early goal and then conceded the most ridiculous of penalties. Only the totally incompetent referee Trevor Kettle could possibly have known what it was for but his blushes were spared when Brian Jensen saved well from David Connolly.
Why is it we don't get dodgy penalties? In fact, why is it we don't even get penalties? We do now, on both counts. It was another Kettle howler when he adjudged that goalkeeper Ward had brought down Wade when he clearly played the ball. The last time Burnley won a penalty Andy Gray was a Sunderland player. This time he stepped up to stroke the ball home against his former club.


Level at half time but the Stadium of Light had seen nothing yet and when the Clarets went in front it was an absolute stunner. In a month of goals, some of them good goals, and one or two goal of the season contenders, Wade blew them all out of the water with a stunning strike from distance. It curled away from the keeper and gave him no chance as it rocketed into the back of the net.


Unfortunately we didn't hold the lead for long enough. Another penalty and this time Kettle probably got it right and then this time a late winner against us as Carlos Edwards hit a sensational winner that went through the legs of Joey Gudjonsson.


We'd been beaten, we'd ended the month with a defeat, but our heads were held high. We'd given them a fright, and the home fans knew that and stood to applaud us as we left. Mutual respect from two sets of fans, the Cardiff fans earlier in the month. That's how it should be.


And winning five out of seven is how it should be. It wasn't enough to get Steve Cotterill nominated for manager of the month although I bet he's not bothered. Strangely though, a manager with six less points in the month was nominated.


Who cares? April was the month when Burnley finally made sure they would still be playing Championship football next season and finally started to play goalscoring, winning football again.
Interact with us
Sponsored links