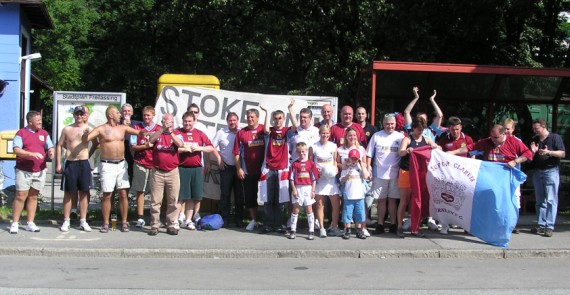 We're off to Austria again and here are Burnley fans on our first trip there in 2004
April had ended with a defeat at the Stadium of Light against RK Sunderland, but it was a defeat being talked about after the Clarets had turned in a superb performance in a game that proved to be their game of the season.
We'd one game left but in the week leading up to it came more news of our pre-season programme. A home game against Middlesbrough had already been pencilled in but the club confirmed the news that, as was the case in 2004 and 2005, they would be spending a week in Austria with two games to be confirmed.
That led to a rush of flight and hotel bookings in the Salzburg area for supporters, and the Clarets Mad team were quickly booked in to bring you the news of the games from the area more noted for Mozart and the Sound of Music. We'll be out there for the full week, in Germany and Austria, covering the two games.
The first weekend in May was a big one for Clarets Mad, the Last supper which was intended to bring the Year of the Youth to an end. That's been stretched now into June and our Mad Ryder Cup which will be held at the Royal Rishton course that proved so popular last year for our golf tournament.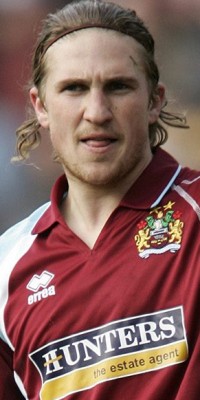 Paul McVeigh - scored our last goal of the season
The Last Supper proved to be yet another successful Clarets Mad evening, with over £1,600 set to be added to the Year of the Youth Fund. It was certainly more successful than our last home game of the season. That ended in disappointment both in terms of performance and result as we lost 2-1 to a badly out of form Coventry side.
Loanee Paul McVeigh scored our goal after coming on as a substitute for Ade Akinbiyi. It was his third goal for the Clarets and his spell at the club had brought about those better results that we had so desperately needed to get us away from the relegation zone.
All that was left was to say goodbye to longest serving player Graham Branch who had his testimonial the day after. It proved to be a successful day for an emotional Branchy who scored for his own team against the Clarets who had manager Steve Cotterill in the line up.
It was thought that would signal the end of his Burnley career, and that was confirmed during the week when the manager announced his retained list. Branchy was released along with Danny Coyne, John McGreal and Frank Sinclair who had been on loan at Huddersfield. Garreth O'Connor was placed on the transfer list after a frustrating season when he failed to start a game.
It was the first of two weeks when we were able to look back at significant events. The first of them was the 20
th
anniversary of the Orient game. In some ways it seems a lifetime away now after six successive years in this division, but really I found it hard to believe that twenty year had passed since that emotional day that was for many of us totally unbearable. We can only hope that no Burnley supporter ever has to go through anything like that again.
As the first week in May came to an end, Steve McClaren names his squad for the England B game at the Turf. With such names as Owen Hargreaves, Ledley King and Aaron Lennon, and particularly Michael Owen, it led to a rush for tickets as the Turf headed for a complete sell out.
When Frank Sinclair went to Huddersfield it was with a view to a permanent signing, but there had been a change of manager at the Galpharm since he'd moved there. It made no difference, his performances had impressed new boss Andy Ritchie and Frank duly put his name to a one year deal.
Steve Cotterill has really decided to pack the games in this year prior to the start of the season. To add to the home game with Middlesbrough came trips to League Two clubs Accrington, Wrexham and Bradford City and then a second home game against League One Leeds was added, and all of them in the two weeks prior to flying out to Austria. It all starts on Saturday 14
th
July and we then play each Saturday and Tuesday up to and including Saturday 4
th
August, one week before the start of the season.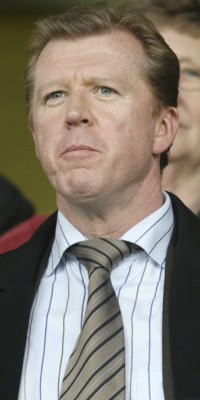 Steve McClaren - spoke highly of Burnley's staging of the B international
It will be a different looking set up at Turf Moor too for the new season. Chief Executive Dave Edmundson has moved into a new role as Head of Strategic Development and the club will now be run by chairman Barry Kilby and the club's newest director Brendan Flood. Almost immediately Edmundson was in front of the Radio microphones telling us all about an exciting future for the club.
But it was the past the club celebrated on the 18
th
, our 125
th
anniversary, and for those that could afford it a £100 corporate dinner with Ian Wright as guest. The club chose the night to reveal a sky blue and white striped anniversary shirt. Yes, we remain confused.
England at the Turf. We've had women's, we've had junior teams as high as Under-21, but this was the biggest international game played at the Turf since a full international against Wales in 1927. Barry Kilby spoke of his pride at us staging the game and there's no doubt at all that Burnley Football Club came out of this very well indeed.
There was a full house to see England's 3-1 win against Albania and the words spoken since by the FA, by McClaren and the media has meant one very big feather in our cap. Well done to all concerned.
The last few days of the month promised to be relatively quiet but it didn't quite work out like that. Director Brendan Flood, who along with Kilby will soon be a guest of Clarets Mad, outlined his plans for the club. It all sounds exciting and has started to create a massive amount of interest.
New signings were promised with an increased budget and the first duly arrived with the capture of Hungarian goalkeeper Gabor Kiraly. Some extensive research has been done since to confirm the correct pronunciation is Ga-bor Ki-rye but however you say it we've signed the pyjama bottoms wearing goalkeeper from Crystal Palace.
That's one in with more to come. I somehow don't think June is going to be a quiet month either.