Good days at the Windy City
Feature by Tony Scholes
Updated Friday, 17th March 2006
When the Clarets first played a league game at Stoke's Britannia Stadium it had been over thirty years since we had last won an away league game against them.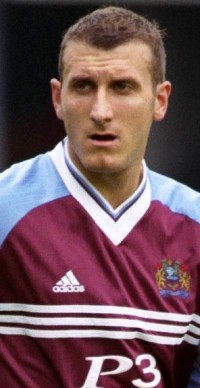 Glen Little - two goals in the 4-1 win in 1999
A 3-1 success during the run of eight successive wins in the 1968/69 season, with goals from Ralph Coates, Colin Blant and John Murray, had been followed by a number of less than impressive performances.
They included a 4-0 hammering just a week after our FA Cup semi-final defeat in 1974, a 3-1 defeat five seasons later that was memorable only for Malcolm Smith turning in one of the worst individual performances I can recall, and a miserable defeat in 1994 when David Eyres was sent off.


When we strode up to the windiest ground in football in 1999, with relegation still a real concern with four games to go, our fortunes in Stoke were set to change. We really needed a win and in no time at all we were two goals up and heading for the win that was vital to keep us in Division Two.


The first was a goal of the season contender from full back Ally Pickering, who just four months earlier had been playing his football for Stoke. He hit an unstoppable shot from distance that silenced the home crowd with just five minutes gone and that was quickly followed by a second from Andy Payton.


It was to be Paytsí last kick of the season, he came off immediately after the goal with an injury and wasnít able to play in any of the remaining fixtures but looked to have helped secure the points for the Clarets.


Not as though it was that easy, definitely not when the home side pulled one back on the half hour. They put us under some pressure but we survived it and with just over twenty minutes to go we restored our two goal advantage with a bizarre goal.


The ball was played down our right hand side for Glen Little but he run the ball out of play. The linesman (they didnít call them assistant referees in 1999) had his view blocked by Ronnie Jepson warming up and although well positioned referee Crick allowed play to continue. Glen cut inside, beat a couple of defenders and slotted in number three and just to rub their noses in it, he added his second and our fourth right at the end to complete the scoring.


There were no relegation fears a season later, this time we were in fifth place, just one place above Stoke on goal difference. For the first 68 minutes of the game it looked set to end in a goalless draw but then it all changed.


Peter Thorne, he was always one in our side, gave Stoke the lead and three minutes later Steve Davis put through his own goal and it looked all over for us. Thatís when Payts stepped in. He pulled one back from the penalty spot after John Mullin, how can we put it, had gone down in the box and then with seven minutes to go he got his second with what for me was one of his best goals for Burnley.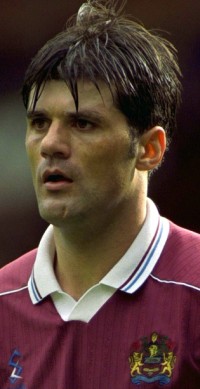 Andy Payton - two goals to earn us a point
He picked the ball up just outside the box, created some space for himself, and then placed his shot into the bottom corner giving our former keeper Gavin Ward no chance. Even then we nearly lost it when Stoke themselves got a penalty but Graham Kavanagh failed to score.
We went up that season and it was to be another three seasons before we met again. We were in some good form and looking forward to an FA Cup 6
th
round tie at
Watford
the week after.
There was just one goal in it and again a goal of the season contender from a full back. This time it was Dean West just ten minutes into the second half. Former
Blackpool
keeper Steve Banks could only watch as Fredís shot swerved and flew into the net.
In 2003/04 season we were just recovering from a poor start to the season. The new fandangled transfer window had just closed for Premiership clubs so Stan Ternent made his move and brought in three players on loan. Delroy Facey and Gareth Farrelly had arrived from Bolton whilst more controversially we had brought in Andy Todd from near neighbours
Blackburn Rovers
.
All three of them played and certainly Todd and Farrelly had good games. We strode confidently into a two goal lead with both David May and Luke Chadwick, now with Stoke, scoring their first Burnley goals.


We really were playing well but not long after half time Stoke pulled one back through Carl Asaba and it looked as though we were going to have a nervous last half hour. We neednít have worried, referee Cooperman wrongly sent off Asaba to leave the home side with ten men and we held on with few problems.


Last seasonís game was our first game of 2005, if you donít included a few minutes in the water against Leicester, and it was something of a needle clash. For some reason the Stoke fans are not too struck on our manager and gave him a hostile reception when he came out.


It didnít bother us, it wasnít the best of games and even the winning goal was a bit scrappy. It came from a left wing corner and the ball eventually dropped kindly for Gary Cahill who stabbed home his only Burnley goal.


Stoke tried to throw everything at us but the defence had played well all afternoon and the home forwards, Ade Akinbiyi and Gifton Noel-Williams had hardly threatened.


Whatever happens on Saturday Ė if you are going wrap up well, I can guarantee it will be cold and windy.
Interact with us