Desperate December
Feature by Tony Scholes
Updated Tuesday, 2nd January 2007
We all knew November would be difficult but the month didn't look too bad at all when we ended it with a comfortable win against relegation threatened Leeds just two days before the end of the month.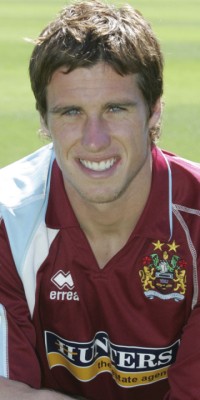 Andy Gray - injury will keep him out for a couple of months
Andy Gray was injured in that win, and on the very first day of the last month of the year it was confirmed that he'd broken three metatarsals and would be out for a couple of months. It left us short up front and must have left the club rueing the fact that the loan window had closed a week earlier leaving us with no chance of finding a short term replacement.
It was a major blow, Andy was in such good form, and had just scored his tenth league goal of the season, the winner against his former club Leeds. It all meant a big opportunity for Kyle Lafferty and how he made the most of it on the first Saturday of the month, scoring our goal in a draw at Ipswich.


We'd dominated the first half, been pushed onto the back foot in the second, and it was when we reshuffled, and moved Kyle onto the right hand side of midfield, that he struck with a sweetly hit left foot shot from just outside the box with only a few minutes to go.


It looked as though December was going to get off to a great start but it wasn't to be, this was Portman Road after all, and we succumbed to a stoppage time penalty after Gifton had handled following a corner.


We hardly got a lift the day after, following the long disappointing journey home from Suffolk, a couple of boxers drafted in for the draw paired us with
Reading
in the third round of the FA Cup. I could hardly think of a worse draw than this, but I thought that when we were paired with
Fulham
four seasons ago two rounds further on, and look what happened then.
With the Turf Moor pitch by now facing its annual problems, the FA Youth Cup tie was moved to Padiham but even their pitch was deemed unplayable and the tie was called off in the first week of the month. Two pitches flooded and there were more Floods to come just a day later when the club revealed that Brendan Flood had become the club's tenth director.


It sparked off all sorts of wild rumours, but Flood is a Claret, he proudly proclaims that on his own company's web site, and the Rossendale born businessman spoke positively in an interview on local radio.


I bet he didn't enjoy his first game as a director. We lost 1-0 at Coventry and this was down to a large extent to two shocking decisions by referee Mike Thorpe. What on earth he saw when he pointed to the spot during the first half is anyone's guess. It was apparently a foul by John McGreal but he was the only one to see it and after Coventry converted for the only goal of the game he then turned down a clear penalty at the other end when Gifton Noel-Williams was fouled.


One week on, the youth team finally got their tie played, and beat Franchise on what could only be described as a wild night at the Arbories. The game was badly affected by the gale force winds as balls flew out of the ground onto the nearby bypass. We won it though, just, by 3-2 after leading 3-0 during a wind assisted first half.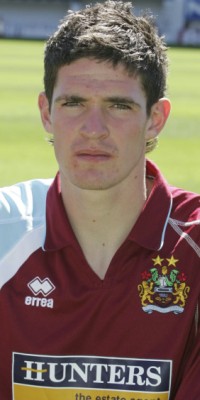 Kyle Lafferty - two goals against RK
Sunderland
to add to the one he got against Ipswich
That set us up with a tie against Luton that will be played during January, and now almost certain to be played away from Turf Moor given the continued poor state of the pitch.
As for the first team, we were very much in need of getting back to winning ways, but a visit from RK Sunderland was always going to be a tough ask. We just don't beat them, it was the 1972/73 season last time we recorded a league victory against them.


That all looked set to change when Kyle scored early in each half. Roy Keane's outfit didn't look capable of getting back into the game, but after substitutions by both sides they hit us with two goals in the last ten minutes or so to claim a point from a 2-2 draw.


It was hard to take, we'd been the better side, but we had to lick our wounds and wait for Billy Davies' and his Derby team the week after. Now this on paper was a tough game, they were the form team in the division, but after struggling in the opening ten minutes we were the better side.


We should have won it but couldn't find the net and once again had to settle for a point as we went into Christmas and prepared for possibly the two easiest away games of the season at
Barnsley
and Hull, two clubs with caretaker managers.
Barnsley first, on Boxing Day, and what a disaster. We defender so poorly the home side could have run up a cricket score in the first half, although to be fair we were creating chances against a very poor side at the other end.


A goal down at half time, it could have been 5-4 never mind 1-0, we came out and totally dominated the second half. But we couldn't put one of the chances away, not one, although once again we were done by an incompetent official who couldn't spot a handball on the line from ten yards away with a clear view.


That could well have brought us level, we don't know whether we can score from penalties or not because we don't get them, and Barnsley would have been down to ten men for over half an hour. It wasn't to be, we didn't score and we moved on to Hull.


If Barnsley wasn't good enough then I can assure you Hull was a hell of a lot worse. This really was a dreadful performance, the worst of the season for me. We were beaten early in the game when they scored twice, and just to rub it in the second came from a penalty and the sixth we've conceded this season.


The only good news as we saw the old year out was that we didn't concede any more but that was down to Brian Jensen in goal as much as anything else. He'd had a good week and deserved a lot more than to be on the losing side twice.


As we prepared to bring in the New Year there were daft rumours circulating that if it rained again the game against Stoke might be off. What a ridiculous suggestion, we've got everything needed to ensure games will never be off again at Burnley other than for fog. It isn't possible for a postponement.


Just before Auld Lang Syne there was even speculation that there could be an early signing once the transfer window opened for big money.


Game off against Stoke – a big signing – get real.


We'll see what January brings.
Interact with us