Clarets have a Gray month
Feature by Tony Scholes
Updated Thursday, 2nd November 2006
I think it is fair to say that it has been a cracking month to be a Claret, we were unbeaten, we got two more away wins and ended the month in third place in the league table.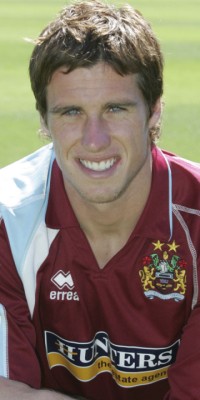 Andy Gray - scored twice in the first and last games of the month
We could hardly have expected any more. We'd started the month with Gifton back in the side and playing well, the captain set to disappear in disgrace after another red card, and we were worrying about the future of our manager.
As September came to an end, I reported: So what happens in October? Will Gifton still be the new hero? Will Wayne Thomas still be captain, and will he get back in the side when his suspension finally allows it? And will we still have our manager?


It was yes to all four, as the month got off to a winning start away from home on the first day and ended with another win on our travels on the last day, and just thrown in for good measure were a couple more wins, one of them against local rivals Preston.


The month got off to an early start, a really early start, with the alarm clock disturbing my sleep at just after 4:45 a.m. on the Sunday morning. We were off to Delia's for Sunday lunch at Carrow Road, and the Sky cameras were there to watch us.


Not really, the Sky cameras were there to watch Delia, and to see whether Nigel Worthington would get the sack or not. To hell with who they were playing, they weren't interested in that. So if you are listening - it was us Sky, it was us Delia, and didn't we go and spoil your day with a fantastic away performance?


I bet Delia's Norfolk turkey wasn't tasting too good after that, as the Clarets provided her with a stuffing she didn't quite like the taste of. James O'Connor, who was to have a terrific month, scored the first in a 4-1 win, Alan Mahon got the last, but in between Andy Gray netted twice and it really was going to be his month as far as goals were concerned.


Poor Alan Mahon, he was back from injury via the subs bench. Our jewel in the crown would still be a sub by the time the month came to an end, unable to break back into the side that was playing so well.


The last thing we needed was an international break after that, but that's exactly what we got, and the only cloud on the horizon was the future of manager Steve Cotterill who was still favourite for the West Brom job.


The Irish trio went off on their travels, a new director Mike Garlick arrived at the club but by the end of the first week in the month we had the best news possible, that Steve Cotterill would not be going to West Brom.


Back in action, we faced two of the strugglers at home, and we all know that faced with fixtures like that we don't often come out on top, so we should have been delighted with a win and a draw, the win over Hull bringing Michael Duff his first league goal since joining the Clarets.


The end of that week brought with it two blows, firstly John McGreal was ruled out for six weeks with a medial ligament injury and
Sheffield Wednesday
decided to sack Paul Sturrock. Within 24 hours they had approached us for permission to speak to Steve Cotterill, and Chairman Barry Kilby gave them a firm answer of no.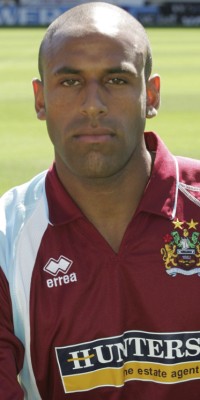 Wayne Thomas - was back for the Preston game but injury has now ruled him out
A draw at Plymouth was followed by an award for Clarets Mad, the League Paper's Website of the Week, as Sheffield Wednesday went banging on a few more doors looking for a manager.
We tried to strengthen the squad, after being linked with a number of players, the club confirmed that Chris Lucketti had turned down the chance of a loan move. It's his own fault, he might just have found himself lining up against his former club Preston.


As it turned out we didn't need him, we sorted out the North End in front of the Sky cameras who had now witnessed two excellent Burnley performances in the month, they might even feel the need to come back we are providing them with so much excitement.


Injuries were on the increase, Wayne Thomas did come back immediately, he did retain the captain's armband, but he got injured and was ruled out of the trip to Luton, as were Gifton and Garreth O'Connor who were both suffering from flu.


The game became almost insignificant for us here at Clarets Mad as we heard of the death of our friend Eli but we went to Luton and won and dedicated it to him. There were no Scottish wingers I'm afraid but he would have been delighted to hear that one of the goals came from a Wade Elliott cross. Andy Gray got them both, ending the month as he started it with two goals in an away win.


So Steve is still with us, he's Manager of the Month now, we are third in the table, and he wants to increase the size of the squad. Wayne's been back in the side and out again, and Gifton's in need of some flu strength Anadin ahead of Saturday's game against Ipswich.


That's a new month, with different coloured balls, it's a tough month, but we'll crack on and I wonder where it will take us.
Interact with us
Sponsored links