Back to winning ways as month ends
Feature by Tony Scholes
Updated Friday, 1st December 2006
October had been a hell of a month for the Clarets, it came to an end with a 2-0 win at Luton but we were now preparing for what had always been the toughest month of all on the fixture list.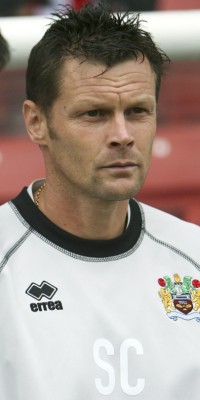 Steve Cotterill - his first Manager of the Month award as Burnley manager
Before the season kicked off we saw such as West Brom, Birmingham and Leeds on there, at the time not realising that Cardiff were going to be amongst the front runners by the time we reached he delights of Ninian Park and the Heddlu.
Clarets Mad was very much in mourning as we went into November, following the very sad and untimely death of our dear friend David Evans, known to everyone on the message board as eli. David passed away on the last day of October and on the following day news reached us of the death of former Claret Doug 'Jock' Winton.


If good can come out of such sadness, it came with the news that members of this message board raised £595 for cancer research in memory of eli, money that we all know will be put to great use.


Our form in October was recognised when Steve Cotterill picked up his first Manager of the Month award as Burnley manager, reward for four wins and two draws with two of those wins coming on the road at Norwich and Luton.


We feared the worst as we got the November action underway, let's face it that award usually brings with it an immediate defeat. Not though for Burnley or Steve, we left it late, we left it very late, but deep into stoppage time Chris McCann got on the end of a cross from Alan Mahon following a corner to head home and take us just two points behind leaders Cardiff with a trip there the week after.


In the following week we heard of the calling cards the Preston fans had left for us, over 350 seats in the Cricket Field Stand damaged for a starter. Apparently it went undetected but a Burnley fan was caught swearing at the celebrating Simon Whaley and was ejected. I think someone on ground safety needs to start getting their act together at Turf Moor. The damage was extensive, the worst seen at Turf Moor, Facilities Manager Doug Metcalfe told us.

Rumours were breaking that there could be new faces ahead of the Cardiff game but they were squashed by the manager who said there would be no loans coming in, and we turned up at Ninian Park with the same squad minus the suspended Micah
Hyde
.
Quite how we ended that game with nothing is anyone's guess. Dave Jones incredibly thought we were bullying them but we were the better side. For the second game in succession we had a late change of referee, and this change was even worse than the previous week. Premiership ref Peter Walton turned in a performance that you would have considered a joke had it not been serious.


We lost the game 1-0, our run of seven games without defeat was at an end, but the long journey home from South Wales was not a subdued journey at all, I don't think we had a supporter there that day who honestly believed we deserved to lose that game.


Now the same couldn't be said a week later when we visited West Brom. It's difficult when you go a goal behind early away form home, it's very difficult when you are 2-0 down after just seven minutes. We played some half decent football in the first half but we were always fighting a losing battle after that start.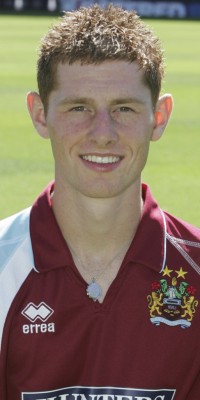 Chris McCann - goals in successive home games against Ipswich and Birmingham
It wasn't a battle, but Frank Sinclair got on the wrong side of referee Beeby and was sent off. That's 27 cards in his last three Burnley games for Beeby, 21 yellow and no fewer than 6 red. Maybe he should be working for Clintons.
The fight to get Jimmy Mullen back to Turf Moor suffered a set back in the following week. A very appropriate game was chosen for the former manager, but he's still not too sure of returning and there is going to have to be some real persuasion. We are playing our part, but right now it is just a matter of fingers crossed that he will say yes.


The youth team got a boost with a home time in the FA Youth Cup, and it will be the League Two pariahs Franchise who we play. The game has been scheduled for Turf Moor but as we go into December it is the only third round tie still to get a date. One way or the other it has to be played in the next two weeks.
The Club held its AGM, with the news on the current losses. It all passed over peacefully, apart from the ridiculous former mill owner from Halifax who once more tried to hijack the meeting with his inane nonsense. He gets away with it year after year, but this time following calls from the floor he was forced to sit down.


A special resolution was passed to remove the ceiling on directors. It has previously been a maximum of nine, it's current number, but that has been removed and replaced with a ruling that there must be a minimum of three.

This will now allow for any new investor to be offered a place on the board, that wasn't possible with it at its maximum. From that I can only suggest that people watch this space in the near future.


We needed to get back to winning ways, and when another one of the top clubs Birmingham came to the Turf we got off to the best possible start with another McCann goal. Sometimes you need a bit of luck, we certainly didn't get that, and Birmingham must not have been able to believe they went on to win it with two of the most fortunate goals they will get all season.


But they did, they beat us, and now we'd lost three out of three. We needed to get back to winning ways and it was Leeds at the Turf. Play Off Finalists just last May they are not having as good a season this time round, in fact they are to date having a very poor season. We found out why on Tuesday, they are crap.


Don't bother with the Yorkshire Post or any of the other pro-Leeds journals, there was only one decent team out there the other night and that was us. That Leeds side don't even have the energy and commitment to go round kicking people as the manager would like. They are in for a real battle for the rest of the season.


We're fifth though going into December, and although it was two wins and three defeats in November I don't think too many can be unhappy with the current situation. We've had a major blow with the Andy Gray injury, and we can only wish him well and look forward to seeing him play again in February.


There could be some really exciting times ahead at Turf Moor. Steve Cotterill tried to strengthen his squad last week on the loan transfer deadline. He missed out then but I'm sure he'll be looking to pursue his targets again in January.


Get on board, the Turf Moor roller coaster is a far more enjoyable ride just now than it has been for about five years and hopefully this month will bring us more to celebrate than just Christmas.
Interact with us
Sponsored links