Another winless month
Feature by Tony Scholes
Updated Monday, 2nd April 2007
We were disappointed not to have won a game in December, concerned when we didn't win one in January and worried when February too didn't bring a solitary victory, and another month has almost seen panic set in.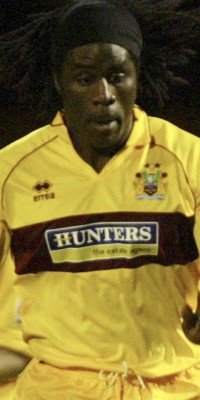 Ade Akinbiyi - our only goalscorer in March
It is difficult to believe that a side that recorded its tenth league win in November is still looking for the eleventh into the last full month of the season but that's the case as most Burnley fans now sense we could be coming to the end of our stay in the Championship after seven years.
The month got underway with a home game against
Crystal Palace
and although the much needed victory didn't arrive it was an improved performance against the Legend's lot and not only that we had Ade scoring his first league goal since his return and captain Steve Caldwell getting into the Championship Team of the Week.
There's no doubt it has been mostly bad news recently and there was more to come with confirmation that Wayne Thomas' injury sustained against Colchester on the last Saturday of February needed surgery and manager Steve Cotterill quickly began his search for a replacement defender.


That first week in the month brought news of planned work to be carried out at the cricket field end of the ground and a sensational season ticket package that promised anyone who bought one ahead of the 2007/08 season would get a free one for the following season if we made it to the Premiership.


It was a genuine offer, certainly it was retaliation to the news that the cash happy Premiership clubs in the area were reducing prices, and it was met positively by some and with ridicule by others.


Back on the pitch we needed a game after the previous home game but the home fixture was called off because our opponents Plymouth had got themselves into the quarter finals of the FA Cup so we had a further three days to wait for our next game at Southend.


Enough has been said about our trip to Southend, but no matter how badly we played in that game we didn't deserve the cruel stoppage time winner they got. It was in some ways the most devastating result of the season against fellow strugglers and was even worse with two more defenders replaced after suffering injury. John McGreal went off early and his replacement Stephen Foster didn't last.


Two days after the Southend game news reached us that former manager Tommy Cavanagh had passed away after an illness, Cavanagh had been our second manager in the dark days of Division Four football and was with the club for just under a year.


Preston came and with the injuries we were down to just sixteen players with five others on the injured or sick list. There was very little confidence in the stands ahead of the game and that lack of confidence was perhaps justified given that we lost the game 2-0, the highlight being a cameo from Graham Branch which included a right foot volley against the bar.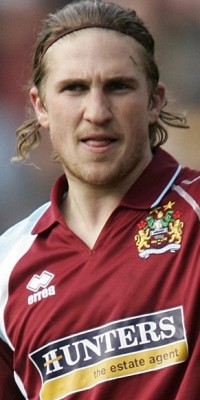 Paul McVeigh - one of two deadline day signings
We'd another blank week now, internationals this time, and it wasn't helping matters. We'd five players away, but our last ditch efforts on the loan deadline brought in two more players in
Sheffield Wednesday
centre half Graham Coughlan and Norwich's Paul McVeigh.
Whilst the internationals were picking up caps, the Clarets prepared for the vital game against Luton who just days ahead of the game appointed Kevin Blackwell as manager. Blackwell had been out of work since leaving Leeds in September and there was almost a return to work for his old sparring partner behind the dressing room door Stan Ternent. The former Burnley boss was approached by
Bury
to go in and help Chris Casper but he turned it down.
And so to the Luton game, and a game that created a new club record of eighteen successive league games without a win in one season, a record that had stood since the 1889/90 season. Preventing that was never on the cards, we never threatened to score, and neither did Luton for that matter. It was a shocker.


So let's look back at that Ade Akinbiyi goal that got us all out of our seats on the third day of the month. We should do, we didn't score a single goal again and the only positive thing to be said about March was that it did yield twice as many points as January.


Put simply, if we have yet another month without a win, and many Burnley fans are now predicting it, then we WILL be playing League One football next season.
Interact with us