Burnley had their pockets picked by a 83rd minute Leroy Fer goal despite having much the better of the second half's opening Premier League encounter at Turf Moor.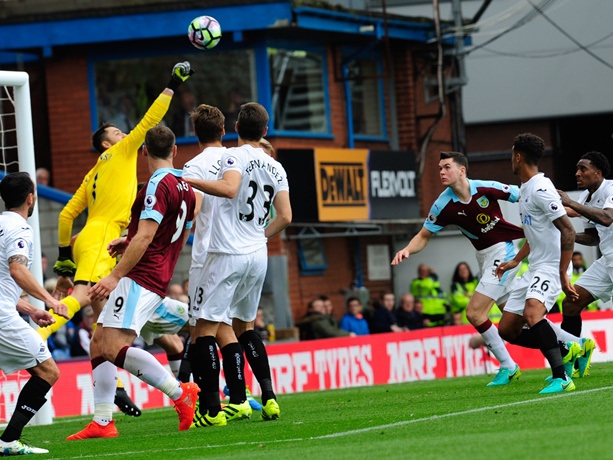 Photo source: Burnley Football Club.
Reflecting on the Swans winning performance, Burnley gaffer Sean Dyche commented," I thought we deserved something from the game, I thought it was 'welcome back to the reality of the Premier League'.
"I thought we played well, we were solid, our performance, particularly second half, was very strong, and we had them on the back foot for long enough periods in the second half.
"But you can get your pocket pinched with some good quality, a breakaway, some good play out wide, a cross, the centre forward gets in between your centre halves and all of a sudden they've scored against the run of the game.
"It is the Premier League, I've just said to the lads, those who have played in it before, newcomers, you have to be on the detail all the time, and I thought generally they were.
"They had a really good chance first half from some good play, not our bad play, when the lad slashes it across goal, and one second half from a header, but overall we were pretty resolute, the shape was good, the energy was good, so a lot of good things, but we know the outcome and that's the disappointing thing.
Burnley did not win a game in their first ten games in the Barclays Premier League in the 2014/15 season, a disastrous start to which Dyche alluded, "We've got to learn from that from last time."
He added: "I thought we gave a good account of ourselves, but we've got to turn that into wins.
"We want to play well, you can't luck your way through this league, and we want to play our way - I thought we did that well, we knew they'd have five in midfield and could play in behind them.
"We played into the frontline quite quickly, designed to do that, more so than we normally would, and I thought we were effective with that - Andre and Vokesy were effective, especially second half.
"But we want to be in the Premier League and be in it ongoing. That is a challenge, of course, but respect and all that, great - we want to be in the Premier League, and know these games are tight and important.
"We're disappointed with the outcome but not the performance. That gives us something to build on."
The picture clearly shows Keane's shirt being tugged. The Clarets relegation in 2015 would quite possibly have been avoided if the match officials could actually spot an offence.
Little old Burnley just do not seem to get the "big decisions". I hope it is not going to be another season of myopic deja vu? (TEC).