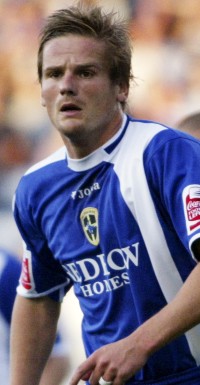 Neal Ardley
Hammam, one of the destroyers of Wimbledon, has been at Cardiff for some time, full of big ideas and taking the club forward whilst running up debts. His solution has been to bring in Mr. Goldfish himself, Peter Ridsdale, formerly of Leeds and Barnsley.
The whole Cardiff mess became public knowledge last March when Graham Kavanagh was suddenly sold to Wigan to bring in some much needed money and also to reduce the wage bill. What happened next was just ridiculous but as the PFA helped them out with loans they incredibly took a lead over other clubs and brought in new signings.
Neal Ardley arrived from Watford whilst Junichi Inamoto and Michael Boulding on loan deals from West Brom and Barnsley respectively. Clubs who were not benefiting from PFA handouts were in many cases unable to bring in new players.
There have been a lot of changes at Ninian Park since the end of last season, most notably the change of manager with Dave Jones, the former Stockport, Southampton and Wolves boss, taking over from Lennie Lawrence.
Jones has, despite the restrictions, been able to sign ten new players (three of them on loan) and incredibly spent three quarters of a million on one player. Darren Purse was the one that cost the money, arriving from West Brom and the other signings have been striker Andrea Ferretti from Parma, Jermaine Darlington and Neil Cox who were both from Watford, Kevin Cooper from Jones' old club Wolves and the two Northern Ireland bad boys Jeff Whitley and Phil Mulryne who signed from Sunderland and Norwich respectively.
To add to that they have been boosted with three loan signings who are Dutch defender Glenn Loovens from Feyenoord, West Brom's Jason Koumas and more recently striker Michael Ricketts from Leeds.
To accommodate them there have been outgoings, most notably Peter Thorne, Danny Gabbidon and James Collins.
They currently sit just one place behind the Clarets, due to their worse goal difference and to date their only win in the league was a surprise one at home to Leeds. They did secure a point in their last game against Wolves and also won through to the 2nd round of the Carling Cup with a win at Colchester.
Click HERE to see all Cardiff's results this season.
Team News
Cardiff boss Jones is expecting a tough game. "We are facing a Burnley side on Saturday who have been re-building like ourselves," he said. "I know their manager Steve Cotterill very well and I'm expecting another tough game."
He added, "I watched Burnley recently, they're a good side playing good football, so we have to be at our best. We are coming off the back of a couple of good Carling Cup and Championship results and our aim is to keep that going."
Jones can do that with two additions to the squad from that which drew with Wolves on Bank Holiday Monday. He welcomes the return of defender Chris Barker who missed the Wolves game with a hamstring injury and will also include Michael Ricketts who has arrived on loan from Leeds.
He is expected to select from: Neil Alexander, Jermaine Darlington, Darren Purse, Neil Cox, Chris Barker, Neal Ardley, Jeff Whitley, Jason Koumas, Kevin Cooper, Cameron Jerome, Paul Parry, Martyn Margetson, Glenn Loovens, Willie Boland, Phil Mulryne, Alan Lee, Michael Ricketts, Rhys Weston, Joe Ledley, Andrea Ferretti.
Click HERE to see the full Cardiff squad.
Burnley will definitely have to make two changes from the side that lost at Reading almost two weeks ago following the serious injury sustained by Wayne Thomas that afternoon and Garreth O'Connor's red card.
Thomas is ruled out for the season whilst O'Connor will now sit out three games and will not be available again until we play Barnsley in the Carling Cup.
There is good news for manager Steve Cotterill though. Micah Hyde was withdrawn from that game with a hamstring problem but it has proved to be nothing serious and he is 100% fit whilst both Frank Sinclair and Wade Elliott came through most of a reserve game on Wednesday following their spells out with injury.
To add to that Duane Courtney has signed since the last game and although I wouldn't expect him to start he'll certainly be in the squad of players Steve has to choose from.
Other than Thomas the only other player out is Danny Karbassiyoon whose Burnley career is still to get off the ground and the bad news is that he is now to be referred to a specialist after not responding to rest and treatment.
One decision has just about been made, Danny Coyne has pushed ahead of Brian Jensen and will be in goal ahead of the Dane. It will be Danny's sixth game since he replaced the injured Beast at Watford, including his two appearances for Wales in the last week.
I expect the team to be: Danny Coyne, Michael Duff, Frank Sinclair, John McGreal, Jon Harley, Wade Elliott, Micah Hyde, James O'Connor, Graham Branch, Gifton Noel-Williams, Ade Akinbiyi. Subs from: Brian Jensen, Duane Courtney, Keith Lowe, Chris McCann, John Spicer, Kyle Lafferty, Karl Bermingham.
Last Time
As reported in our Look Back section last season's game resulted in a 1-0 win for the Clarets with a late goal from Richard Chaplow.
It was a night when Richard Duffy came into the side for his first start after joining us from Portsmouth on loan. He came in for Michael Duff who had somewhat unfortunately been sent off in the home draw with Stoke three days earlier.
In what was a scrappy affair the deadlock was broken when Robbie Blake played Chappy in down the right hand side and his shot across the keeper found the bottom corner. Even then it was not all over and Danny Coyne had to make a superb save to deny Graham Kavanagh an equaliser in the closing seconds.
The win meant Burnley had gone through September unbeaten and it left us 9th in the table whilst Cardiff were languishing in 23rd.
The teams were,
Burnley: Danny Coyne, Richard Duffy, Frank Sinclair, John McGreal, Mo Camara, Jean-Louis Valois (Amadou Sanokho 87), Richard Chaplow, Tony Grant (Micah Hyde 70), Graham Branch, Ian Moore, Robbie Blake. Subs not used: Brian Jensen, Joel Pilkington, Matt O'Neill.
Cardiff: Tony Warner, Darren Williams, Danny Gabbidon, Tony Vidmar, Chris Barker, Jobi McAnuff, Graham Kavanagh, Gary O'Neil, Paul Parry, Peter Thorne, Alan Lee (Lee Bullock 80). Subs not used: Neil Alexander, James Collins, Willie Boland, John Robinson.
Previous 20 Seasons

Season

Div

Ven

Result

Att

Scorers

1986/87

4

h

1-3

1,717

Hoskin

.
.

a

0-1

2,003

.

1987/88

4

a

1-2

3,401

SP Davis

.
.

h

1-2

8,421

Oghani

1990/91

4

h

2-1

6,348

Deary Francis

.

.

a

0-3

3,591

.

1991/92

4

a

2-0

16,030

Randall Conroy

.
.

h

3-1

12,408

Painter Farrell Conroy

1993/94

1

h

2-0

11,276

Philliskirk Francis

.
.

a

1-2

5,469

Davis

1999/2000

2

h

2-1

9,753

Armstrong Johnrose

.

.

a

2-1

6,487

SM Davis Payton

2003/04

1

h

1-1

10,866

Chaplow

.

.

a

0-2

13,525

.

2004/05

C

h

1-0

11,200

Chaplow

.

.

a

0-2

11,562

.
Click HERE
to see all our results against Cardiff since we drew 1-1 with them in our first meeting back in 1922.