Tony Pulis brings his Stoke side to the Turf to take on a Burnley side that are going to look somewhat different in a special anniversary kit that will have us looking more like Argentina than any Burnley side past or present.
We'll also be under new management following the departure of Steve Cotterill just over two weeks ago whilst Pulis is now incredibly the seventh longest serving Championship manager and he's only been back at Stoke since the summer of last year.
He's done well too. Last season they finished just two places and two points off the play offs and this season they are currently in ninth place with just a couple of points more than the Clarets.
Last season they were the loan rangers of the division with no fewer than eleven different players joining them on temporary moves at one time or another, and it is much the same this season with Pulis having used six loan players already although one of them, Jody Craddock, has since moved back to Wolves.
He's needed to operate that way having only been able to bring two new players in during the summer, both of them strikers. Jon Parkin had been there on loan during 2006/07 whilst he went bargain hunting at League One Leeds to capture Richard Cresswell. The full additions to the squad since the end of last season are:
Jon Parkin from Hull
Richard Cresswell from League One Leeds
Stephen Wright from RK Sunderland (loan)
Ryan Shawcross from Manchester United (loan)
Jody Craddock from Wolves (loan) - since returned
Gabriel Zakuani from Fulham (loan)
Leon Cort from Crystal Palace (loan)
Danny Pugh from Preston (loan)
Stoke have previously been considered to be a dour team, not scoring or conceding too many goals. That's not been the case this season and although they've kept three clean sheets and been involved in two 0-0 draws they have still both scored and conceded 22 goals in their 16 games.
Click HERE to see Stoke's results this season
Burnley will be looking for a return to form at home. The last two were lost, the second of them ultimately costing manager Steve Cotterill his job. We've won only two of our seven home league games to date, and we need to start winning our home games.
One to Watch
Jon Parkin was one of Stoke's two summer signings. He was signed from Hull after a successful loan spell at the Britannia Stadium in the 2006/07 season and could cost Stoke up to £450,000.
The Barnsley born striker started his career with his home town club as a defender but didn't feature too often in the first team. He had a short loan spell with Hartlepool and then with York before joining the Minstermen on a permanent transfer.
York were relegated to the Conference at the end of the 2003/04 season but just a couple of months before they did Parkin was on the move again, this time to Macclesfield Town. In almost two years at Moss Rose he became one of League Two's top scorers but with the Silkmen in a desperate financial situation they were forced to sell him after he'd been with them for just under two years.
The fee they received from Hull was a life saver for them and he didn't miss a single game in the second half of the season for Hull under the management of Legend Peter Taylor. A change of management brought with it a change of style and Parkin was no longer considered a regular. He also missed part of the 2006/07 season with injury.
He jumped at the chance to join Stoke last March and proved effective as they just missed out on the play offs and that led to them making the move a permanent one.
He's not been a regular this season. He's started just three games but has been used in most of their other games as a substitute. He could just play against the Clarets this weekend.
Team News
The big decision for Stoke boss is who to play up front in the absence of Ricardo Fuller. The former Preston striker, who has often upset Burnley fans, is ruled out with a one match suspension after collecting his fifth yellow card two and a half weeks ago.
Pulis has Jon Parkin, Mamady Sidibe, Richard Cresswell and Vincent Pericard to choose from although Parkin is currently fighting off a flu bug.
Stoke do have some good news with the return of Dominic Matteo who has missed the last four games with a torn hamstring and he's expected to return to the starting line up which could be:
Steve Simonsen, Stephen Wright, Leon Cort, Ryan Shawcross, Andy Wilkinson, Liam Lawrence, Rory Delap, Dominic Matteo, Danny Pugh, Richard Cresswell, Mamady Sidibe. Subs from: Russell Hoult, Carl Dickinson, Gabriel Zakuani, John Eustace, Jon Parkin, Demar Phillips, Vincent Pericard.
Click HERE to see the full Stoke squad
Steve Davis has done the preparation for this game and he'll have had the major influence on the team selection with Owen Coyle only meeting the players for the first time on Monday morning.
Coyle has said that we all start again on a level playing field and all the players will be given an opportunity. He's also given Garreth O'Connor the squad number 21. However, he did suggest that those players who had been out of favour under Steve Cotterill would have to wait for their opportunity.
We have our long term injury victims in Besart Berisha and Michael Duff. Captain Steven Caldwell is also still a few weeks away from being fit. To add to that both Stephen Jordan and John Spicer were substituted at Leicester two weeks ago and although both have been back in training they may not be risked.
The good news is that David Unsworth returns after serving a one match suspension following his sending off against Hull and I would expect him to come straight back into the side to partner Clarke Carlisle in the centre of defence.
Should Jordan and Spicer miss out then we could line up: Gabor Kiraly, Graham Alexander, Clarke Carlisle, David Unsworth, Jon Harley, Wade Elliott, Alan Mahon, Chris McCann, Kyle Lafferty, Robbie Blake, Andy Gray. Subs from: Brian Jensen, James O'Connor, Joey Gudjonsson, Garreth O'Connor, Steve Jones, Ade Akinbiyi.
Last Time Round
Do you really want reminding of Stoke's last visit to Turf Moor, the first home game of 2007. It had been called off on New Year's Day and the subsequent home game against Norwich had also fallen victim to our pitch.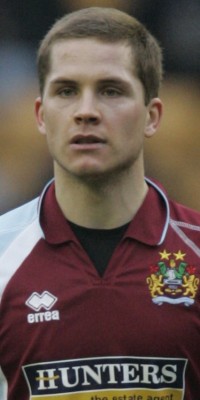 Joey Gudjonsson - on as a substitute for his Burnley debut
We were all looking forward to it. Ade Akinbiyi was back and set to play his first home game. Mike Pollitt and Eric Djemba-Djemba had made debuts at Southampton and were set to play at home for the first time, whilst Joey Gudjonsson was in the Burnley squad for the first time.
Burnley actually started quite brightly and were the better side. That was until Stoke took the lead through Mamady Sidibe midway through the first half. It was strange to see the fans go up at the Jimmy Mac end of the ground but on what was to be a miserable night the Stoke fans had been housed there with the cricket field stand closed due to safety reasons.
If we were the better side up to that goal then we were definitely the second best team for the rest of the game. I described it as a tale of disappointment and the only consolation was that Stoke were content for much of the time to sit on their lead, otherwise we could have been beaten by considerably more than the one goal.
Football doesn't always favour the better side and incredibly we nearly grabbed ourselves an equaliser and a hardly deserved point in the last minute. Goalkeeper Simonsen failed to hold a Kyle Lafferty shot but just about recovered to smother the ball as Akinbiyi tried to get on the end of it after Gifton Noel-Williams had got in a header. In the end the points went exactly where they deserved to go, back to the Potteries.
The game also signalled the end of Frank Sinclair's Burnley career. He had a nightmare at right back in the first half, and after switching with Michael Duff at half time he continued to struggle. Frank deserved better than to go out on that game.
The teams were;
Burnley:
Mike Pollitt, Frank Sinclair, Wayne Thomas, Michael Duff, Jon Harley, Wade Elliott (Garreth O'Connor 71), Eric Djemba-Djemba (Joey Gudjonsson 66), James O'Connor, Chris McCann (Kyle Lafferty 45), Ade Akinbiyi, Gifton Noel-Williams. Subs not used: Danny Coyne, Stephen Foster.
Stoke:
Steve Simonsen, Andy Wilkinson, Michael Duberry, Danny Higginbotham, Andy Griffin, Carl Hoefkens, Dominic Matteo, Darel Russell, Liam Lawrence, Ricardo Fuller, Mamady Sidibe. Subs not used: Carl Dickinson, John Eustace, Anthony Sweeney, Adam Rooney, Vincent Pericard.
Previous results against Stoke
Previous 20 Seasons

Season

Div

Ven

Result

Att

Scorers

1990/91

FAC

h

2-0

12,949

Francis White

1992/93

2

h

0-2

16,667

.

.
.

a

1-1

21,840

Randall

1994/95

1

h

1-1

15,331

Davis

.

.

a

0-2

13,040

.

1997/98

LC

h

0-4

4,175

.

.
.

a

0-2

6,041

.

1998/99

2

h

0-2

10,575

.

.
.

a

4-1

10,965

Pickering Payton Little(2)

1999/2000

2

h

1-0

11,328

Payton

.
.

a

2-2

15,354

Payton(2 1pen)

2002/03

1

h

2-1

14,244

Gnohere Papadopoulos

.

.

a

1-0

12,874

West

2003/04

1

a

2-1

14,876

May Chadwick

.
.

h

0-1

12,812

.

2004/05

C

h

2-2

12,981

Moore Blake(pen)

.

.

a

1-0

15,689

Cahill

2005/06

C

h

1-0

17,912

Akinbiyi

.
.

a

0-1

12,082

.

2006/07

C

a

1-0

12,247

Gray

.

.

a

0-1

12,109

.
Click HERE to see all our results against Stoke