We're just two wins behind last season's final total at home but we've picked up only one point from the last two league games at Turf Moor against Charlton and Blackburn.
We were so unfortunate to lose the Charlton game despite having to play so long with only ten men after the ridiculous red card for Kieran Trippier, and I remain convinced that we'd have beaten Shabby Shebby's lot had we got our noses in front during the first half domination.
Tomorrow's task is a difficult and very different one against a side that has been in outstanding form so far this season and we will have to go into the game without both Michael Duff and Chris McCann.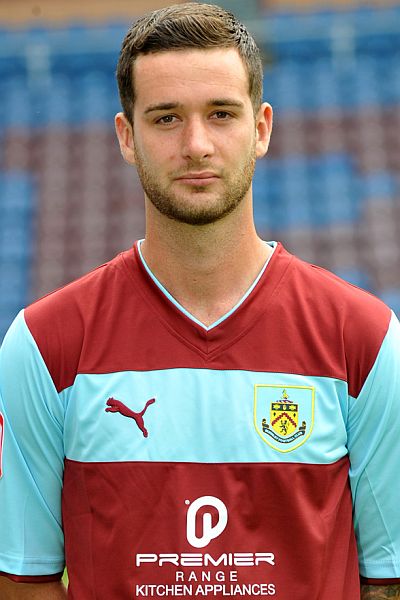 David Edgar will come in for the suspended Michael Duff
No Championship club has as many yellow cards as we have this season and inevitably that has brought us more than a fair share of suspensions. Trippier's was due to the red card but we've already seen Ben Mee (v Cardiff), Ross Wallace (v Charlton) and Dean Marney (v Barnsley) serve one match suspensions with Duff and McCann now following suit.
It will force Sean Dyche, therefore, into at least two changes from the team that lost at Nott'm Forest last week and while it might be easy to predict one of the changes the other one is not quite so straight forward.
I expect David Edgar to step in alongside captain Jason Shackell at the back. He hasn't started a game in the centre of defence since the 4-3 defeat at Crystal Palace, the game that proved to be Eddie Howe's last in charge of Burnley.
Caretaker Terry Pashley opted for a pairing of Duff and Shackell and Dyche has continued with that during his eight games in charge and will make his first central defensive change tomorrow.
Edgar has not been without first team football during that period. He played in midfield in Dyche's first game in charge, the win against Wolves, and was also in the team that won at Hull, deputising for Trippier at right back.
Now, further up the pitch and who comes in for McCann. Just over two weeks ago I'd have thought Marvin Bartley might be the likely replacement but I'm not so sure he will be after his performance at Barnsley.
Coming in that night for Marney he turned in a very poor first half performance and Danny Ings replaced him at half time and if Bartley is not selected then I would think Ings is one of three potential candidates to come in.
The others are Sam Vokes and Junior Stanislas although I would have thought that Vokes, given that Watford will play their favoured 3-5-2 formation, is the least likely of the three to come in.
Dyche might opt to place one of the younger players on the bench. Having worked at Watford over the last few years, a club where bringing players through to the first team was paramount, it is fair to say he'll know how to manage that.
This week he said: "Like anything, it's time appropriate with young players, when do you put them in and give them a chance? Some of them have already trained with the first team, and I definitely believe in exposing them to the first team.
"It's very important to get a feel for what it is like, tempo, the demands, the way they go about it. Part of it is the transition into the first team. It's important they have a pathway into the first team and also the technical and tactical and the physical demands of it. That's a big part of their development."
What will the team be tomorrow? Maybe: Lee Grant, Kieran Trippier, David Edgar, Jason Shackell, Danny Lafferty, Brian Stock, Dean Marney, Ross Wallace, Junior Stanislas or Danny Ings, Martin Paterson, Charlie Austin. Subs from: Brian Jensen, Luke O'Neill, Kevin Long, Joseph Mills, Marvin Bartley, Junior Stanislas or Danny Ings, Cameron Stewart, Keith Treacy, Sam Vokes.
What a change at Watford since the end of last season. When we went there at the end of February they were just about starting to climb the table. They'd lost their previous two games by scores of 4-0 and 3-0 against Crystal Palace and Southampton and were heading for another defeat when we went 2-0 up.
They turned that round and beat us 3-2 and lost only one more game all season, finishing in 11th place in the league.
It brought to an end Sean Dyche's first season as manager. He'd over achieved but it was also the end of his time at Watford as the Italian Pozzo family came in bought the club. The owners of Udinese, who also own La Liga club Granada in Spain, added the Hertfordshire club to their portfolio.
Watford are now to Udinese what Royal Antwerp are to Manchester United club. You can call them a franchise or a feeder club but no doubt everything is geared to the success of parent club Udinese.
To say things have changed is an understatement. Under new manager Gianfranco Zola, the former Chelsea star, they made sixteen signings during the summer window. Manuel Almunia from Arsenal and Fitz Hall from QPR were the only permanent deals.
The rest, twelve of them, were loans. One, Nathaniel Chalobah, came in from Chelsea and Geoffrey Mujangi Bia arrived from Standard Liege. The rest of them have come from within the franchise, two from Granada and ten from Udinese.
Before anyone starts rushing for the rule books on how many loan players can feature, the answer is five but any loans from outside of England are not included as they are considered short term transfers, or whatever the wording is.
Last week an unbeaten run of seven games came to an end when Hull won 2-1 at Vicarage Road. In that game four of those loan players started the game with another five of them named as substitutes.
The Watford goal came in stoppage time and was nothing more than a consolation, but it was an important goal for scorer Troy Deeney who scored for the sixth game in succession. It has equalled a club record alongside Danny Graham and two pre-war players.
They've certainly been scoring goals for fun, and in the seven game run they scored twenty goals and that included a shut out in a 0-0 draw against Millwall.
The run has seen them move up the league into the top six and they'll prove a difficult team to play tomorrow, of that there is no doubt. Deeney is now the leading goalscorer with nine league goals but another to keep an eye on is Matej Vydra, one of the loanees from Udinese, who has scored eight.
Long serving John Eustace is fit again but tomorrow's game probably comes to early for him after recovering from a back injury. Prince Buaben is not expected to be involved and Fernando Forestieri is doubtful with a hamstring injury.
Their team last week was: 1. Manuel Almunia, 40. Joel Ekstrand, 31. Tommie Hoban,27. Marco Cassetti, 8. Jonathan Hogg, 39. Nathaniel Chalobah, 7. Mark Yeates, 18. Daniel Pudil, 20. Matej Vydra, 9. Troy Deeney. Subs: 34: Jack Bonham, 21. Ikechi Anya, 22. Almen Abdi, 29. Adam Thompson, 36. Alexandre Geijo, 37. Geoffrey Mujangi Bia, 38. Cristian Battocchio.
I think there are mixed views amongst the fans at Watford but they are delighted to be pushing up towards the top of the league with the promise that the intention is for them to become a Premier League club.
All I'll say is that if Burnley ever did anything like this then I'd pack it in. I really don't want my club to have no identity of their own. I want to see my club producing footballers through the youth system as Watford used to, I would never want to see us used for the purpose of giving game time to Udinese players.
Last Time They Were Here
Watford's last visit to Burnley is, I'm sure, a fixture that our manager will easily recall, it was his first as a manager after he'd replaced Cardiff bound Malky Mackay at Watford.
It was the opening day of the 2011/12 season and it was a bit of a special day at Turf Moor with the great Jimmy McIlroy receiving his MBE on the pitch ahead of kick off.
Once the game started we settled really well. Kieran Trippier, one of two debutants at kick off along with Ben Mee, started well as did both Ross Wallace and Wade Elliott. It was Trippier who provided us with our best chance of the first half, one that Jay Rodriguez couldn't get on target.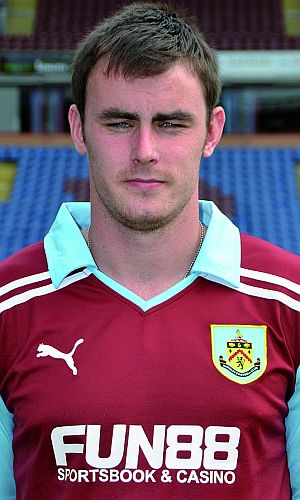 Keith Treacy headed home the equaliser
It took Watford more than half an hour to get into the game at all but even then we were the better side, so it came as a shock when they took the lead in the very last minute of the half. Marvin Sordell beat the newly named Andre Amougou down their right. Trippier moved inside to cover the cross and that left Craig Forsyth unmarked to head home.
Martin Paterson, back after a long term injury, was substituted at half time. Manager Eddie Howe said he hadn't felt 100 per cent but there was no recurrence of any injury. As it turned out, Paterson didn't play again until December.
In his place was Charlie Austin who himself was getting his first league action since a shoulder injury had ruled him out just after he signed for us earlier in the year. He should have equalised too, again from a Trippier delivery, but put his effort wide.
Keith Treacy was introduced for his debut and almost immediately equalised. Scott Loach couldn't hold the shot but they scrambled the ball away. We hadn't started the half as brightly but it was still a shock when Watford doubled their lead. Mee tried to get in a challenge but Mark Yeates got onto it and doubled the visitors' lead.
Defeat was now on the cards, but we came back. A free kick with 13 minutes to go was taken by Wallace. He found Treacy whose shot was twice deflected, the second of them by Austin who was delighted to claim his first Burnley goal.
By now Treacy was running the show. He forced another save from Loach and then, with six minutes remaining, headed home a Wallace cross to draw us level and win us our first point of the season.
The Longside were now in full voice, suggesting that the latest debutant used to play in white while also giving a reason for him leaving.
So the first point of the season. Eddie Howe lauded the performance of Treacy and otherwise was pleased with the first half performance. Dyche was also pleased, just disappointed that his side allowed those two late goals that cost his side two points.
The teams were;
Burnley: Lee Grant, Kieran Trippier, Andre Amougou, Ben Mee, Danny Fox, Wade Elliott (Keith Treacy 64), Dean Marney, Chris McCann, Ross Wallace, Martin Paterson (Charlie Austin 45), Jay Rodriguez. Subs not used: Brian Jensen, David Edgar, Marvin Bartley.
Watford: Scott Loach, Lloyd Doyley, Adrian Mariappa, Martin Taylor, Carl Dickinson, Mark Yeates, John Eustace, Ross Jenkins, Craig Forsyth, Marvin Sordell, Chris Iwelumo (Troy Deeney 68). Subs not used: Rene Gilmartin, Gavin Massey, David Mirfin, Piero Mingoia.
Previous Games against Watford
Last 20 Years
Season
Comp
Ven
Res
Att
Scorers

1996/97

Division 2

a

2-2

6,450

Gleghorn, Smith

h

4-1

8,269

Cooke(3), Parkinson

1997/98

Division 2

a

0-1

11,155

h

2-0

9,551

Cooke(2)

2000/01

Division 1

a

1-0

13,653

Taylor

h

2-0

18,283

Payton, Mullin

2001/02

Division 1

h

1-0

13,162

Little

a

2-1

12,160

Cox, Weller

2002/03

Division 1

a

1-2

13,977

Taylor

FA Cup

a

0-2

20,336

Division 1

h

4-7

10,208

Taylor(3), Davis

2003/04

Division 1

a

1-1

11,573

Chadwick

h

2-3

11,413

McGregor, Adebola

2004/05

Championship

a

1-0

12,043

Moore

h

3-1

11,507

Bowditch, O'Connor, Valois

2005/06

Championship

a

1-3

16,802

G O'Connor(pen)

h

4-1

13,815

Branch, Harley(2 1pen), J O'Connor

2007/08

Championship

a

2-1

15,021

Gray, Gudjonsson

h

2-2

13,677

Blake(2)

2008/09

Championship

h

3-2

10,033

Alexander(pen), Paterson, Elliott

a

0-3

13,193

2010/11

Championship

h

3-2

14,160

Iwelumo, Wallace, Alexander(pen)

a

3-1

13,103

Bennett(og), Eagles, Iwelumo

2011/12

Championship

h

2-2

14,617

Austin, Treacy

a

2-3

11,612

Rodriguez, Nosworthy(og)
Click HERE to see all previous results against Watford