Welcome to Plymouth, and I suppose there couldn't be better visitors given our recent run of disappointing results at home.
It has been a strange season for them in some ways. Manager Ian Holloway pledged his loyalty to them and then walked out for Leicester and that brought about the return of manager Paul Sturrock, known as Luggy to them for some reason or other. At least the two managers will be able to speak today and understand each other.
This year had already seen one striker leave with Barry Hayles joining Holloway again whilst this week leading scorer Sylvan Ebanks-Blake has upped sticks and gone to Wolves for a million and a half after they triggered a release clause by offering that amount.
Sturrock has made one move into the transfer market with the capture of Yoann Folly from Sheffield Wednesday. It was Sturrock who took him to Hillsborough in the first place for £250,000 from Southampton in the summer of 2006.
Despite all the turn around they are having a good season and are currently seventh in the league just a point behind the play offs although they haven't won either of their last two home games. They were winners though last week in the FA Cup, beating Hull City 3-2 at Home Park.
Click HERE to see Plymouth's results this season
There is an urgent need for a home win and there's no better time than today with Plymouth here. We have won significant games against them in the past and they were the visitors last season when we finally got that much awaited win.
Team News
Both managers have team selection problems today with injuries and suspensions and we'll start with Plymouth.
Sturrock has already lost Ebanks-Blake and it looks as though David Norris could also be on his way out of Home Park. He hasn't gone yet but he won't play today having received a one match suspension for accumulating five yellow cards.
Lee Martin was similarly ruled out but the loanee from Manchester United is another to have left the club, he'll not sit out his suspension with Sheffield United after signing for that miserable bloke they got to replace Neil Warnock. Another set to leave the club and not featuring is Dan Gosling, he's expected to complete a move to Everton.
Hungarian defender Krisztian Timar is very doubtful with a hamstring injury and Matthias Doumbe is expected to stand in for him although he himself has an ankle injury.
Plymouth could line up: Romain Larrieu, Paul Connolly, Matthias Doumbe, Marcel Seip, Lee Hodges, Peter Halmosi, Lilian Nalis, Yoann Folly, Nick Chadwick, Jermaine Easter. Subs: Alan McCormick, Luke Summerfield, Lukas Jutkiewicz, Nadjim Abdou, Rory Fallon.
Click HERE to see the full Plymouth squad
Again Owen Coyle will have to name his side around injuries and suspensions. David Unsworth is back in contention after serving his one match ban but we'll be without both Kyle Lafferty and Chris McCann. Lafferty starts a four match suspension whilst McCann will serve just this one game after collecting five yellow cards.
Clarke Carlisle is out and there doesn't appear to be much chance of Alan Mahon returning from injury and it is looking unlikely that Robbie Blake will play. He is struggling with a groin injury and his place is expected to go to Ade Akinbiyi up front.
The big question is who will replace Lafferty - and given that Coyle has made extensive use of Steve Jones in recent weeks I would expect him to start.
The Burnley team might be: Gabor Kiraly, Graham Alexander, Stanislav Varga, Steven Caldwell, Jon Harley, Wade Elliott, Joey Gudjonsson, James O'Connor, Steve Jones, Ade Akinbiyi, Andy Gray. Subs: Brian Jensen, David Unsworth, Stephen Jordan, Garreth O'Connor, John Spicer.
Last Time Round
We'd waited, and waited, and waited, and finally after eighteen league games without a win the Clarets did it with a win over Plymouth.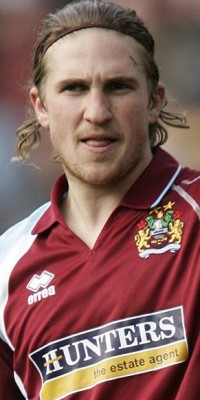 Paul McVeigh - put the Clarets 2-0 up
It wasn't the scrappy and fortunate 1-0 win that we'd expected either, the sort of result you usually get to end a bad run, but a comprehensive 4-0 win as we overpowered and out played Plymouth from start to finish.
For a side on such a poor run we came out with some confidence and literally went for Plymouth from the off and it took us just under a quarter of an hour to go in front. The very impressive Wade Elliott took a free kick on the left and it was met by the head of Michael Duff who planted his header in despite a desperate attempt from Luke McCormick to save.
Soon after Andy Gray flicked on a long kick from Brian Jensen for Paul McVeigh to run on to and the on loan striker made no mistake. Two up, both goals from Northern Ireland internationals and things got better before half time when Steve Jones made it an Irish trio by putting us three in front.
In the second half Elliott scored the goal of the game to complete the scoring on the hour and all that was left then was for Sylvan Ebanks-Blake to go down yet again in the box and this time con referee Andy Hall (Flood Warden) into giving a spot kick.
The striker should have been getting a yellow card for diving but instead was able to get up and put his penalty wide right in front of the handful of away supporters. He got exactly what he deserved.
Burnley were back at last, and we went on to win another four of the next five to banish any possible relegation fears.
The teams were;
Burnley:
Brian Jensen, Michael Duff, Wayne Thomas, Steven Caldwell, Jon Harley, Wade Elliott (Garreth O'Connor 76), Eric Djemba-Djemba, James O'Connor (Chris McCann 70), Steve Jones, Andy Gray (Ade Akinbiyi 85), Paul McVeigh. Subs not used: Danny Coyne, Graham Coughlan.
Plymouth:
Luke McCormick, Paul Connolly, Marcel Seip, Krisztian Timar, Tony Capaldi, Dan Gosling (Bojan Djordjic 72), Lee Hodges (Akos Buzsaky 35), Lilian Nalis, Scott Sinclair, Barry Hayles, Rory Fallon (Sylvan Ebanks-Blake 60). Subs not used: Peter Halmosi, Gary Sawyer.
Previous results against Plymouth
Previous 20 Seasons

Season

Div

Ven

Result

Att

Scorers

1992/93

2

h

0-0

8,676

.

.

.

a

2-1

5,905

Pender(2)

1993/94

2

h

4-2

10,488

Eyres Monington Peel(2)

.
.

a

2-3

10,595

Heath Philliskirk

.

PO

h

0-0

18,794

.

.
.

a

3-1

17,515

Francis(2) Joyce

1996/97

2

h

2-1

9,602

Nogan Eyres(pen)

.

.

a

0-0

6,289

.

1997/98

1

a

2-2

3,006

Eyres(pen) Creaney

.
.

h

2-1

18,811

Cooke(2)

2004/05

C

a

0-1

13,308

.

.

.

h

2-0

12,893

Valois(pen) O'Connor

2005/06

C

a

0-1

11,829

.

.
.

h

1-0

11,292

Ricketts

2006/07

C

a

0-0

12,817

.

.

.

h

4-0

9,793

Duff McVeigh Jones Elliott
Click HERE to see all our results against Plymouth