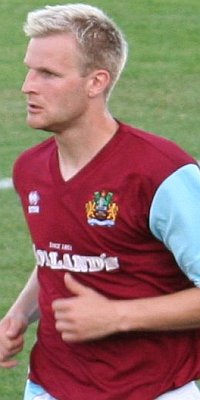 Christian Kalvenes - one of the new signings on view
Initially a reserve team warm up game, it has been very much the first team since 2002 but not since 2003 and the days of the Isle of Man has it come so far into the pre-season programme.
We play an Accrington side who are now looking forward to a third season in the Football League and last season was one when they never even came close to flirting with relegation, and no matter what happens this coming season it is likely to be the same with teams starting some distance behind on points.
Colin Murdock, a former Burnley target from the Adrian Heath days, has signed a one year deal at Stanley after being released by Shrewsbury, but despite manager John Coleman releasing ten players at the end of last season he remains the only confirmed summer signing.
If Murdock never became a Claret then there will be one familiar face on view in the opposition this afternoon, that of John Mullin. Released by Tranmere in May he has agreed to join Stanley and is expected to play this afternoon alongside brother Paul. Always popular with the Burnley fans in three spells at the club he is bound to get a good reception from the Clarets in the ground.
This will be Accrington's fourth pre-season game. They started with a 1-1 draw at Darwen and followed that up by beating Cammell Laird 1-0 with Ian Craney scoring the goal. In their most recent game ten days ago two trialists scored in a 2-0 win against Rossendale United at Dark Lane.
With John Coleman still looking to strengthen his squad we can expect to see some of those trialists on view today in their side. These could include Craig Read, a striker released by Cheltenham, midfielder Jimmy Ryan who was not offered a contract by Shrewsbury and full back Peter Moore who was let go by Wigan.
For Owen Coyle there are just two players to check on ahead of the game. Kevin McDonald missed out at St. Johnstone with a foot injury whilst Chris McCann came off early in the second half with a knock and remains a doubt. The good news is that Remco van der Schaaf is expected to play a part.
Coyle though will take his full squad to our closest Football League rivals and will select from: Diego Penny, Graham Alexander, Christian Kalvenes, Michael Duff, Clarke Carlisle, Steven Caldwell, Kevin McDonald, Joey Gudjonsson, Ade Akinbiyi, Martin Paterson, Wade Elliott, Brian Jensen, Steve Jones, Chris McCann, Gabor Kiraly, Alan Mahon, Jay Rodriguez, Robbie Blake, Bes Berisha, Stephen Jordan, Adam Kay, Remco van der Schaaf and Alex MacDonald.
Last Time Round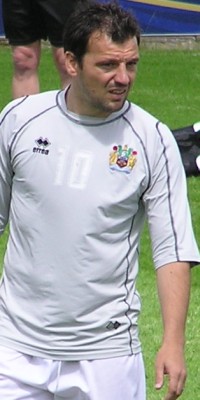 Robbie Blake - scored the equaliser the day after re-signing for the Clarets
A year ago it was the first of seven pre-season friendlies for Steve Cotterill's side and it ended 1-1 after the Clarets came back with a late goal from new signing Robbie Blake who had rejoined the club just the day before.
We were soon behind after a poor mistake by Jon Harley let the home side in and although Gabor Kiraly saved well there was little he could do to prevent them scoring at the second opportunity.
Despite dominating the first half at times we came in for the break behind and then the changes came. There were four substitutions at half time and more during the second half including trialist left back Abdilla Kanara who played the last twenty minutes. It was soon very evident that we were seeing him for the first and last time in Burnley colours.
Blake had gone off at half time, but he was reintroduced with thirteen minutes to go and he chipped in a late equaliser to earn us a draw.
Unfortunately the game ended on a sour note. With play stopped Ade Akinbiyi pushed an Accrington player in the back and he immediately fell to the ground as if he'd been shot and holding his face.
It was shocking from the home player and thankfully the eagle eyed assistant referee Neil Yates had clocked it. Referee Neil Swarbrick decided on leniency and just gave the Accrington player a stern talking to.
We'd four more games in England to follow that before a trip to Austria. This time we are preparing for our third trip out of the country and a date with Glentoran on Monday in Belfast.
The game last year was played in front of a crowd of 3,225 and our team was: Gabor Kiraly (Brian Jensen 45), Stephen Foster (Alan Mahon 77), Michael Duff, Steven Caldwell, Jon Harley (Abdilla Kanara 70), Wade Elliott (Ade Akinbiyi 85), Jon Spicer (Robbie Blake 77), Chris McCann (James O'Connor 21), Alan Mahon (Besart Berisha 45), Ade Akinbiyi (Kyle Lafferty 45), Robbie Blake (Andy Gray 45). Sub not used: Jay Rodriguez.