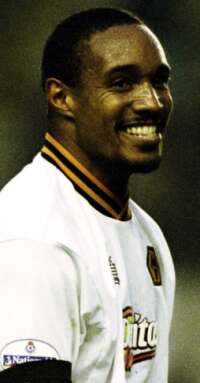 Paul Ince
We just don't beat Wolves on the Turf when it comes to a fight for league points and the last time we did was over 39 years ago. That was in November 1963 and a 1-0 win courtesy of a goal from John Connelly.
Since then there have been fifteen Turf Moor league meetings between the two clubs with five of them ending in draws and the other ten in away wins. The last of the draws and the last of the points was as far back as January 1977 with a 0-0 draw and since then there have been a run of six defeats.
We did get a break in the FA Cup though and beat them 3-0 in the 3rd round of 1969/70 although they returned a week later and beat us 3-1 in the league.
That particular league defeat was one that will be long remembered by those who were there because of the worst performance ever seen by a referee, a Mr. George Hartley of Wakefield. If you thought Barry Knight was bad last season it was nothing on Hartley's performance as he contrived a Wolves win with a series of diabolical decisions.
There have been lots of occasions when we really should have got a better result than we did and the New Year's Day game of two seasons ago was certainly one of them. 1-0 up through Graham Branch we were much the better side but allowed Wolves back into the game.
It really should have come as no surprise when they got a last minute winner as a cross sailed in past the stranded Michopoulos. It probably should not have come as a surprise either that it came after referee Roger Fernandez allowed the taker of a free kick to play the ball twice. That's how it goes against Wolves although there have been the odd good result away from home.
Even they have dried up and earlier in the season we went down 3-0 at Molineux after a poor performance that saw us play most of the game with ten men after Paul Cook was sent off.
Wolves, it was said, are having a bad season and that was probably due to the fact that in September and October they had a run of just one win in seven games, that a 4-0 success against Preston at home.
Since then though they have found better form and have lost just one of their last twelve league games and picked up twenty-three points, just about Championship form. It has seen them reach the top six although just now after one point in the last two games they have slipped to seventh although most pundits think they are a good bet to finish in the play offs.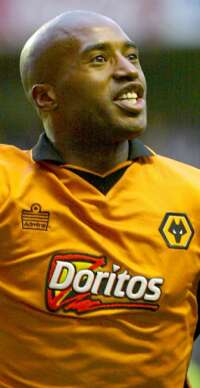 Dean Sturridge
They are one of the better off clubs financially in the division but as yet that finance has not been able to secure them a place in the Premiership and they have not been in the top division since 1984 after which they suffered three consecutive relegations.
The collapse of last season and the earlier poor run this season have brought about a number of changes both on and off the field. Assistant manager John Ward although retaining the title is now in charge of the reserves whilst players such as goalkeeper Michael Oakes and central defender Paul Butler can no longer command a place in the side.
Last Saturday, as the Clarets defensive door was opening wide again at Gillingham, they picked up a point from a 1-1 draw at Millwall although it was a game that should have been won with some ease.
They were in front after just five minutes through Mark Kennedy's first goal of the season and should have scored more goals but had one of those days when simple chances were missed.
Millwall grabbed an equaliser just before half time but the second half was one way traffic with the home side not having one real shot at goal. Chance after chance went begging at the other end and former Wolves boss, the less than popular Mark McGhee, admitted to being delighted with a point.
Wolves lined up: Matt Murray, Marc Edworthy, Mark Clyde, Joleon Lescott, Denis Irwin, Mark Kennedy, Alex Rae (Colin Cameron 86), Paul Ince, Kevin Cooper (Kenny Miller 75), Carlton Cole (George Ndah 58), Dean Sturridge. Subs not used: Michael Oakes, Paul Butler.
They have scored a total of 40 league goals to date this season with the currently injured Nathan Blake leading the way with nine. Behind him are Dean Sturridge with six and Kenny Miller with five.
All things must come to an end and during this year West Brom beat us on the Turf for the first time since 1965 and Birmingham for the first time since 1959. Surely it is time then for the Clarets to pick up maximum Turf Moor points against Wolves.
Click HERE to see our preview from the away game and HERE to see all Wolves' results this season.
He played for both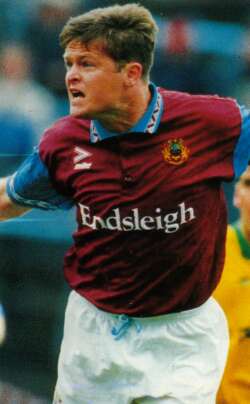 In action during the play off semi-final against Plymouth in 93/94
John Pender captained Burnley to two promotions in the first half of the last decade but then lost the captaincy as his place went to new signing Mark Winstanley.
He had though started his career with Wolves over ten years earlier and was in the side that picked up maximum points somewhat fortunately at Easter 1983 as the Clarets were heading to the old Division Three as Wolves were heading back to the top.
He played a total of 117 league games for the Molineux club but two years and two relegations after that game at Turf Moor he headed for London after being sold to Charlton Athletic for £35,000.
His stay was just over two years and that was followed by three years at Bristol City but in the summer of 1990 there were strong rumours in Burnley that Frank Casper was trying to bring him to Turf Moor.
It didn't happen and the season started with him still at Ashton Gate but in September he joined us on a month's loan making his debut in a 2-2 draw at Stockport. Before the month had come to an end Frank had parted with £70,000 to sign him on a permanent basis and he former a formidable central defensive partnership with Steve Davis as we won a place in the play offs.
For the following season he was appointed captain in place of the departed Davis whose place at the back was taken by a new signing, Steve Davis. The new Davis and Pender had outstanding seasons as the Clarets finally won promotion out of the Fourth Division, with both of them chipping in with important goals, and he became the first Burnley captain to lift a Championship trophy since Martin Dobson had ten years earlier with the Third Division.
He remained an important part of the side as we firstly established ourselves in the new Second Division and then in the second season won through to another play off series. This time it was to be successful and it was Pender who led the team up to the Royal Box and lifted the captain. He was, and still is, the only Burnley captain to win at Wembley.
Somewhat surprisingly manager Jimmy Mullen decided to replace him immediately and signed Mark Winstanley. Despite the struggle and subsequent relegation Pender played just five games in Division One at a time when his experience could have been vital.
At the end of that season Davis left for Luton but there was no reprieve and he was sold to Wigan just after the 1995/96 season got underway. He had played 171 league games for the Clarets.
There were to be two seasons at Wigan followed by two more at Rochdale before he retired although injury curtailed his appearances at Rochdale.
He played in just seven games short of 500 in the Football League scoring 15 goals, more than half of those goals were for the Clarets.
Hopefully his defensive partner for three years Steve Davis will be able to emulate him and Martin Dobson and captain two Burnley sides to promotion.

League results in the last 20 years
| | | | | | |
| --- | --- | --- | --- | --- | --- |
| Season | Div | Ven | Result | Att | Scorers |
| a | | | | | |
| 1982/83 | 2 | h | 0-1 | 9,643 | |
| | | a | 0-2 | 21,961 | |
| 1986/87 | 4 | h | 2-5 | 2,947 | Grewcock James |
| | | a | 1-0 | 5,786 | Grewcock |
| 1987/88 | 4 | h | 0-3 | 10,386 | |
| | | a | 0-3 | 10,002 | |
| 1994/95 | 1 | h | 0-1 | 17,766 | |
| | | a | 0-2 | 25,703 | |
| 2000/01 | 1 | h | 1-2 | 15,483 | Branch |
| | | a | 0-1 | 20,156 | |
| 2001/02 | 1 | h | 2-3 | 21,823 | I Moore Johnson |
| | | a | 0-3 | 24,893 | |
| 2002/03 | 1 | a | 0-3 | 25,031 | |
Click HERE to see all our results against Wolves that not surprisingly started with two heavy defeats in 1888.
Last Time in the League
Burnley 2 (I Moore 46 Johnson 85) Wolverhampton Wanderers 3 (Sturridge 8,26 Cameron 44) - Nationwide League Division 1, Saturday 30th March 2002
This game kicked off at 3:00 p.m. on a Saturday afternoon but for those Burnley fans who were there it will always be remembered as a Knight match.
We have seen some good referees over the years and some bad ones but then you get days, thankfully just occasionally, when the referee is so bad it is all you can recall. Barry Knight turned in one of the worst performances I have ever witnessed, it was on a par with Keith Hackett (Notts County away 1976/77) and Kevin Lynch (Barnsley away 1994/95).
In fact only a performance from Wakefield referee George Hartley in the same fixture 32 years earlier could be considered worse – see above. Yes Hartley was that bad.
Knight has a reputation for ruining games, previously you could have asked Sam Allardyce, David Moyes and many more, now Stan can be added to that list.
It was a game that should have been between two of the promotion favourites but turned out to be two stuttering sides trying to get back on track. But it was the Clarets who struck first although it was Wolves who went in front.
Gareth Taylor scored at the Cricket Field End with a header but saw it incredibly ruled out for a foul on the goalkeeper. It was, as TV evidence later proved, an astonishing decision by Knight and that was compounded less than a minute later when Wolves scored as the Clarets looked for an offside flag.
We should have been a goal up but found ourselves a goal down and that was soon to become two and by half time it was three.
To be fair Wolves were considerably better than us in the first half, were well worth a lead even though three did flatter them slightly, and we could see our play off place starting to slide away from us.
Stan made changes for the second half bringing on Ian Moore and Glen Little for Taylor and the ineffective Paul Gascoigne and it was to reap quick dividends as Moore scored in the first minute of the second half.
We were pushing forward towards the Wolves goal and although we needed another two anything was possible as the game had changed completely.
Then disaster struck as Gunnar Halle, Alex Rae and referee Knight turned the game on its head. Halle went down after being fouled by Alan Moore. But Moore caught his face with a boot and the theatricals started.
Knight looked disinterested until Wolves midfielder Rae started shouting the odds. At that point Knight promptly waved a red card at Moore. It really was another disgraceful decision from this most incompetent of officials.
Burnley kept going and we did pull another back from David Johnson but it was not to be and we went down 3-2.
Stan had words with Knight that subsequently brought about a two match touchline ban. Some managers have in the past accused this referee of being a cheat, I certainly would find it very difficult to disagree with them.
Our match reporter on the day Andy Robinson was so incensed by Knight's performance that on the weekend of the Burnley Blues Festival he penned his own Barry Knight Blues – click HERE to see Andy's report.
The teams were,
Burnley: Nik Michopoulos, Dean West, Mitchell Thomas, Arthur Gnohere, Lee Briscoe, Paul Weller (Tony Grant 73), Kevin Ball, Paul Gascoigne (Glen Little 45), Alan Moore, Gareth Taylor (Ian Moore 45), David Johnson. Subs not used: Gordon Armstrong, Andy Payton.
Wolves: Michael Oakes, Sean Connelly (Gunnar Halle 24), Joleon Lescott, Paul Butler, Mohamed Camara, Shaun Newton, Colin Cameron, Alex Rae, Kevin Cooper, Dean Sturridge (Kenny Miller 80), Nathan Blake (George Ndah 57). Subs not used: Matt Murray, Keith Andrews.
Referees: Barry Knight assisted by Alex Rae of Wolves.