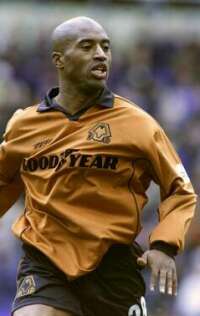 Dean Sturridge
The latest of these dates was the last time Burnley beat Wolves in a league game. It was a 1-0 win at Molineux and Neil Grewcock scored the winner. It was not only the last win but the last time we took a point off them and there have been eight consecutive league defeats since with the Sherpa Van Trophy Final to be added for good measure. That win at Wolves attracted a crowd of just 5,786 for a Fourth Division game and the return later in the season was watched by just 2,947. This season is going to see over 45,000 watch the two games.
Now to 9th November 1963 and a 1-0 win at home against them with the goal scored by John Connelly. That was, believe it or not the last time we beat them in a league game on the Turf. Since then there have been five draws and nine defeats. There was a cup win in 1970 to break up the bad run.
Wolves and ourselves are the two clubs to win all four divisions of the Football League and our opponents were three years ahead of us in achieving it. They collected the full set when they won the 3rd Division in 1988/89 season and the Clarets 4th Division Championship of 1991/92 saw us collect all four.
They have been in the Second (now First) Division ever since and have reached the play offs on two occasions in 1994/95 and 1996/97 seasons. Their worst season was the one between the two best in 1995/96 when they finished just two places above relegation.
Money at times has been no object and big signings have come and gone courtesy of Sir Jack Hayward with the prize of a Premiership place never being realised. Managers have come and gone too and in January last year they appointed former Stockport and Southampton boss David Jones. They had just beaten us, now there's a surprise, but were very much a very ordinary mid table side.
A lot of money was invested for the new season and when they beat us at Molineux in October they climbed to the top of the league as we slipped to fourth.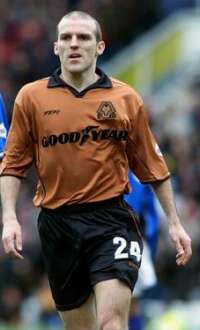 Alex Rae
They had won nine, drawn four and lost just two of their opening 15 games and since then they have won another fourteen, drawn six and lost six. They are currently in second place in the league and yet only recently they were some eight points clear at the top.
They have failed to win any of their last four games and that having won seven in succession. Suddenly the automatic promotion place that they looked to have sewn up is now up for grabs again with local and deadly black country rivals West Brom just three points behind them.
Those recent four games have seen them record 2-2 away draws against Nottingham Forest and Birmingham and then follow that up with a 1-0 home defeat against Grimsby and more points dropped at home in a 0-0 draw with Norwich.
Their away form is second to none and so far they have picked up 39 points on the road and that is five more than next best West Brom and Burnley who both have 34.
Prior to those four games not only had they won seven in succession but in fact ten out of eleven. They were beaten by Preston 3-2 on Boxing Day at Molineux but then won the next three games against Sheffield United (home) 1-0, Coventry (home) 3-1 and Portsmouth (away) 3-2. Then followed a surprise 1-0 defeat at Barnsley but they were soon back to winning ways.
There were then four home and three away wins, a run that saw them pull well clear at the top of the league. Those at home were against Rotherham 2-1, Bradford City 3-1, Walsall 3-0 and Gillingham 2-0 whilst the away wins were at Crystal Palace 2-0 and both Crewe and Stockport 4-1.
Full list of Wolves league results this season
Scoring goals has not been a problem this season, certainly not since they signed Dean Sturridge from Leicester. He leads the scoring chart with 18 league goals and is followed by Nathan Blake with 10. All in all they have netted 70 league goals.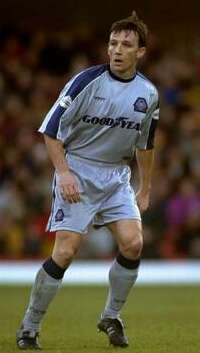 Ludovic Pollet
The last game was the 0-0 home draw with Norwich and it was a game where Wolves never really threatened, they clearly were missing Dean Sturridge and his replacement Kenny Miller had a disappointing game.
The team was: Michael Oakes, Kevin Muscat, Jolean Lescott, Ludovic Pollet (Sean Connelly 71), Mohamed Camara, Shaun Newton, Colin Cameron, Alex Rae, George Ndah, Kevin Miller, Nathan Blake. Subs not used: Carl Robinson, Keith Andrews, Cedric Roussel, Matt Murray.
Transfer activity hasn't ever seemed to come to a standstill this season and they have added three more players to the squad this week. Kevin Cooper arrived from Wimbledon earlier in the week and today two loan players were added to the squad in Leicester's Jacob Laursen and Gunnar Halle of Bradford City.
Since our visit to Molineux they have made Kenny Miller's move from Rangers a permanent one for £3 million and then after a successful month's loan they paid Leicester £350,000 for Dean Sturridge and that is surely the bargain of the season.
Two players have moved out on loan in the last few days. Firstly Adam Proudlock went to Nottingham Forest and then Michael Branch signed for Reading.
It looked as thought two players could be set to play against a former club but that has now been reduced to one with Marlon Beresford returning to Middlesbrough. Marlon was on loan at Wolves at the start of the season but didn't make a first team appearance.
Paul Cook will be hoping to win a place in the squad against not just a former club but a club where he was very much a fans favourite. He is always guaranteed a superb ovation when he plays against them.
On the other side though in the dug out will be our former assistant manager John Ward. Hugely popular at the Turf his departure signalled the end to our promotion hopes in 1997/97 as Adrian Heath brought in Colin Harvey as a replacement. A year later Ward brought his new club Bristol City to the Turf the day after they had won promotion and received an incredible reception from the Burnley supporters.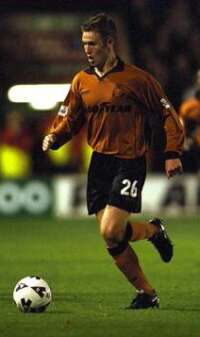 Kenny Miller
Probably the best known of former players of both clubs is Steve Kindon who played for the Clarets before a big money move to Wolves. After a successful and popular spell at Molineux he returned to the Turf to aid our rescue against relegation in 1977/78.
Steve Daley joined the Clarets for a small fee from a club in the USA but earlier in his career he was sold by Wolves to Manchester City for over £1.5 million. It may not seem a lot today but it was then a record transfer for a player who was simply not worth that sort of money. He was one of a number of strange signings made by Malcolm Allison at the time.
We played Wolves at home on Easter Saturday 19 years ago and there were two players in the Wolves side who were to become Clarets. Geoff Palmer signed a couple of seasons later and he scored the only goal of the game from a free kick. There was also a young central defender in the Wolves side called John Pender and it was to be more than seven years later before he wore the Claret and Blue of Burnley.
Looking back at past home games against them is no fun and as we have said is littered with defeats. That defeat at Easter 1983 will always be remembered because of the weather. The game started on a pleasant afternoon but by the end of the game the pitch was white with snow and Burnley player Terry Donovan was suffering from hypothermia.
Two goals from Ray Pointer and one each from John Connelly and Jimmy Robson helped the Clarets to a 4-1 win in the 1959/60 season when we pipped Wolves to the title although they certainly got their revenge later in the season at Molineux.
Our last home victory came against them in the 3rd Round of the FA Cup in 1970. Brian O'Neill, Martin Dobson and Frank Casper got the goals in an excellent 3-0 win that set us up for a 4th round tie at Chelsea. Even then though Wolves had to go and spoil it by coming back the following week in the league and beating us 3-1. That was the day of the worst performance I have ever seen from a referee, George Hartley of Wakefield. He cheated Burnley that afternoon and with a fair referee the Clarets would have run out winners.
I just hope that next time Wolves visit the Turf we have a more recent home win to look at.
League results in the last 20 years
| | | | | | |
| --- | --- | --- | --- | --- | --- |
| Season | Div | Ven | Result | Att | Scorers |
| 1982/83 | 2 | h | 0-1 | 9,643 | |
| | | a | 0-2 | 21,961 | |
| 1986/87 | 4 | h | 2-5 | 2,947 | Grewcock James |
| | | a | 1-0 | 5,786 | Grewcock |
| 1987/88 | 4 | h | 0-3 | 10,386 | |
| | 4 | a | 0-3 | 10,002 | |
| 1994/95 | 1 | h | 0-1 | 17,766 | |
| | | a | 0-2 | 25,703 | |
| 2000/01 | 1 | h | 1-2 | 15,483 | Branch |
| | 1 | a | 0-1 | 20,156 | |
| 2001/02 | 1 | a | 0-3 | 24,893 | |
Last Time in the League
Burnley 1 (Branch 9) Wolves 1 (Proudlock 28 Naylor 85) - Nationwide League Division 1, Monday 1st January 2001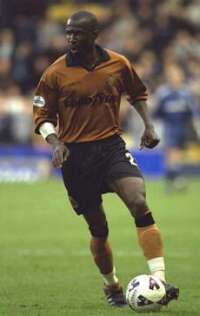 Mohamed Camara
The year 2000 had been a great year for the Clarets but had ended with four defeats. The New Year had been brought in and we all had to be at Turf Moor earlier than expected for a lunchtime kick off.
Wolves were nothing other than an ordinary First Division side and the sort of side that we had been beating with ease for the first half of the season but how would we fare going into the game on a bad run?
Things didn't look too good either with the list of players unavailable. Lee Briscoe and Glen Little were out injured and three players, Steve Davis, Kevin Ball and Paul Cook were all serving suspensions.
The way we started the game though suggested that the defeats had been forgotten and we were in front as early as the ninth minute with a cracking goal finished off by Graham Branch. We had further chances during the first half and could quite conceivably gone two or even three in front.
Then the game started to turn against us and that started with the Wolves equaliser through Adam Proudlock just before the half hour. By half time we had allowed Wolves right back into the game and they were on top. The second half followed a similar pattern as the Clarets struggled to find any sort of form.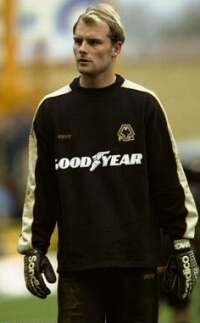 Michael Oakes
The one thing that you wouldn't have expected though was for this very poor Wolves side to score again. They did though in the most bizarre of circumstances. Wolves won a free kick on the right hand side and they played it straight at the referee. It bounced back to the taker and he played it again. The game stopped and should have been a Burnley free kick but the confused Mr. Furnandez allowed Wolves to take another kick despite the Clarets complaints. He crossed the ball from the right and not one single Wolves player was able to get on the end of it. Neither were any of the Burnley defenders either and the cross just went straight into the net for a winner.
Then we had one of those moments that so upsets Stan, when he makes a substitution the crowd don't like. You know the one, when the booing starts and then Stan complains afterwards suggesting that it was aimed at the player and not him. With the clock ticking down Stan substituted a very poor Lenny Johnrose and brought on Ronnie Jepson. The crowd really didn't like it and let him know it. We don't need to tell you what Stan had to say at the end.
The short appearance at the end though turned out to be Jeppo's last ever appearance for the Clarets. He disappeared from the bench after this and as the season neared its end he announced his retirement. Shortly afterwards he was given a job on the coaching staff.
Strange goals, bad decisions, they have all happened to us against Wolves. It is about time it stopped.
The teams were,
Burnley: Nik Michopoulos, Mitchell Thomas, Ian Cox, Gordon Armstrong, Paul Smith, Paul Weller, Micky Mellon, Lenny Johnrose (Ronnie Jepson 87), Ian Moore (John Mullin 76), Andy Payton (Brad Maylett 87), Graham Branch. Subs not used Paul Crichton, Chris Brass.
Wolves: Michael Oakes, Kevin Muscat, Lee Naylor, Ludovic Pollet (Ryan Green 65), Carl Robinson (Neil Emblen 88), Michael Branch, Keith Andrews, Adam Proudlock, Tony Dinning, George Ndah (Mohamed Camara 80), Jolean Lescott. Subs not used: Aaron Kerr, Simon Osborn.