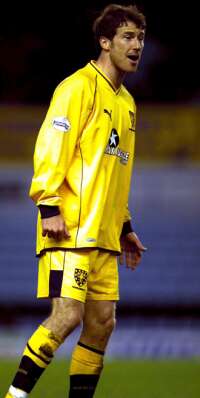 Kenny Cunningham
Wimbledon were the first league visitors to the Turf this season and that match was played just after the Football League said a defiant NO to Wimbledon's plans to move to Milton Keynes. Not as though that has deterred the Wimbledon board and this Saturday's match will be their last at home before the matter goes to arbitration.
It really is a wonder that they have been able to concentrate on the football at all and it is fair to say that they are not doing as well as many people thought they were going to. They were very much one of the outside bets for automatic promotion before the season got under way but are currently down in 15th place with 35 points 26 games.
It has been a difficult time for the club and at one point manager Terry Burton decided enough was enough although he was persuaded to carry on. Burton is the link with the past, the Premiership days which were only a season and a half ago but now seem to have been light years away as they go from one crisis to another.
Whatever we may have thought about them they made the top division on merit and surprised everyone by staying there for over a decade despite the suggestion that they would come straight back down. They paid the penalty for replacing Joe Kinnear with a foreign manager in a pair of wellies and by the time he (Egil Olsen) was sacked they were virtually down. Terry Burton was promoted to manager, a popular choice, and he has probably taken over at the most difficult time they have had since joining the league.
He has helped change the style of football too with the old up and at them style no longer quite so evident but he is going to have a major job on his hands in trying to bring Premiership football back for the Wimbledon fans at Selhurst Park, or is that Plough Lane or even Milton Keynes?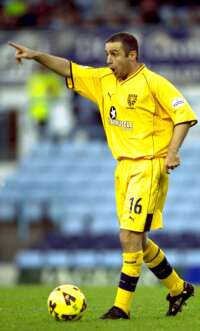 Michael Hughes
When they visited the Turf in August they had won the opening game of the season at home to Birmingham but in a game of crazy goalkeeping by Kelvin Davis the Clarets won 3-1 and started a run of six games without a win for the Dons.
They lost at home to Norwich 1-0 before drawing at Preston 1-1, losing 3-0 at Watford then getting a point in a 3-3 home draw against Portsmouth and another point in a 1-1 draw at Sheffield Wednesday. They followed that up with three away wins and a home draw. The draw was 2-2 against Millwall but a 1-0 win at West Brom came in between 4-0 victories at Crewe and Manchester City.
They are a very unpredictable side and after winning 4-0 at Maine Road they lost their very next game by the same scoreline in the away game at home against Crystal Palace. That was in mid October and there have been just five wins since, four of those coming at home. The solitary away win was at bottom club Stockport where they won 2-1 and the home wins have been against Gillingham 3-1, Grimsby 2-1, Forest 1-0 and Preston 2-0.
They have suffered two further home defeats, both 1-0, against Coventry and Wolves and during that period both Sheffield United, 1-1, and Walsall, 2-2, have picked up points at Selhurst Park. Their overall home record is five wins, five draws and three defeats.
Wimbledon haven't been too busy in the transfer market since our last meeting and the only newcomer to the squad is 30 year-old Swedish midfielder Hakan Mild who has played four games since signing in mid November. Ipswich defender Wayne Brown played 17 games for them on loan but he returned to Portman Road in December.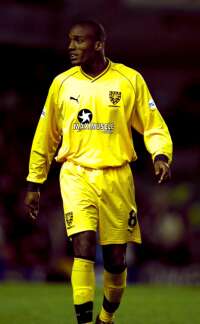 Damien Francis
A couple of players have left. Carl Leaburn joined QPR at the end of the year on a free transfer but the transfer of David Nielsen was astonishing. He joined Wimbledon last March from FC Copenhagen after having a loan spell at Grimsby. After a dispute with the club he was loaned out to Norwich where incredibly he was allowed to play against his own club. Needless to say Norwich won, 2-1, and Nielsen got the first and won the penalty for the second. He has since joined Norwich permanently for £200,000.
Wimbledon have found the net on 42 occasions in the league this season and David Connolly is their leading scorer with 13 of them. Kevin Cooper with 8 and Neil Shipperley 7 have contributed the most after Connolly.
Their last league game, like ours, was on 29th December and the 2-0 win against Preston and that was played in front of a crowd of just 6,051. The average is just above that at 6,701. They have played since the Clarets though. Their FA Cup 3rd round tie at home to Middlesbrough was postponed last Saturday and played Tuesday night. They drew 0-0 to win a replay and the team was: Ian Feuer, Kenny Cunningham, Darren Holloway, Neil Ardley, Damien Francis, Neil Shipperley (Patrick Agyemang 84), David Connolly, Kevin Cooper (Joel McAnuff 80), Trond Andersen, Michael Hughes, Peter Hawkins. Subs not used: Paul Heald, Chris Willmott, Lionel Morgan.
Nobody is expected to play against a former club on Saturday although former loan Claret Paul Robinson is still with them. Wimbledon paid £1.5 million to Newcastle for him in the summer of 2000 but he is still to start a game for them and one of his four sub appearances has been this season in October. It is unlikely that he will be involved on Saturday.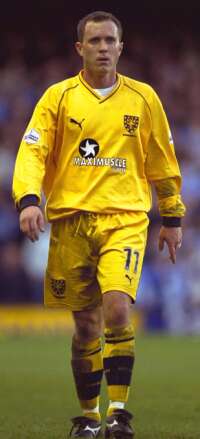 Kevin Cooper
There are only two other players to have appeared for both clubs and neither made too many appearances for either club. There was Wayne Entwistle who was with Burnley early in the 1986/87 season on loan. He had been with Wimbledon during the 1982/83 season.
The other is John Gayle who started his league career with Wimbledon and of course was at Burnley during the ill fated 1994/95 season although he left to join Stoke before the end of that season.
There haven't been a great number of past games at Wimbledon to take a look at either and apart from last season, which is featured below there are just two others.
The first was in 1981/82 as the Clarets were on their way to the 3rd Division Championship. We had been to Plough Lane earlier in the season but had been beaten 5-0 in the Group Cup although on that occasion we fielded a reserve team. On this occasion we were much the better side throughout but had to survive a physical onslaught in more ways than one.
The game saw an end to Micky Phelan's season as he went down after one typical challenge requiring treatment. Micky's cheekbone had been fractured and the player responsible got just a yellow card.
Two seasons later John Bond took the Clarets to Plough Lane and we well and truly stuffed them. That season saw Wimbledon down at 3rd Division level for the last time, they won promotion that season, but on this occasion the Clarets ran out easy winners 4-1. Strikers Kevin Reeves and Billy Hamilton both scored but the other two came from midfielder Derek Scott who could have had a perfect day with a hat-trick but missed a penalty right at the end of the game.
League results in the last 20 years
| | | | | | |
| --- | --- | --- | --- | --- | --- |
| Season | Div | Ven | Result | Att | Scorers |
| 1981/82 | 3 | h | 2-2 | 4,242 | Overson Hamilton |
| | | a | 0-0 | 2,641 | |
| 1983/84 | 3 | h | 0-2 | 3,382 | |
| | | a | 4-1 | 2,883 | Scott(2) Reeves Hamilton |
| 2000/01 | 1 | h | 1-0 | 15,124 | Weller |
| | | a | 2-0 | 6,132 | Taylor Moore |
| 2001/02 | 1 | h | 3-2 | 14,473 | A Moore Cook(pen) Armstrong |

Last Time in the League
Wimbledon 0 Burnley 2 (Taylor 1 Moore 45) – Nationwide League Division 1, Tuesday 10th April 2001.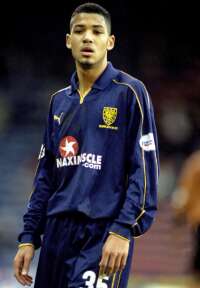 Joel McAnuff
This game I thought was our best away performance of the season last time around. It came just a few days after the superb 3-0 home win against Preston, a game that had restored the faith and the pride.
Wimbledon were on a good run but we were 1-0 before we had settled in our seats. It came from a Taylor header and set the pattern for the first half. It was a 45 minutes that we dominated. The only surprise was that it took us until the last minute of the half to double the lead. It almost came from Bally who had finally got off the mark for the Clarets against Preston but his effort was blocked and Ian Moore hit home the rebound.
We had expected some trouble from Wimbledon, especially with both Mitchell Thomas and Ian Cox out of the side through injury but Gordon Armstrong came in alongside Steve Davis and was excellent. That is until half time when Stretch also had to succumb with an injury.
Lee Briscoe came on and played in the centre of defence alongside Steve Davis who was Burnley's man of the match on the night. Having said that every single Claret played well. At one point as Wimbledon pushed forward Bally dropped into the defence to play alongside the captain and Brisser but I don't honestly recall them ever creating a chance though.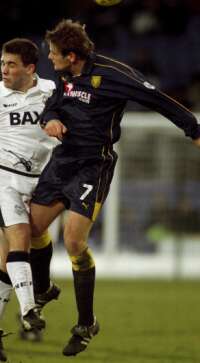 Neil Ardley
In the end we ran out convincing winners in a game that went towards the Clarets winning the League Managers Association Performance of the Week award. Over the previous three months or so there had been some pretty poor away performances but this win started a run that saw us win nine of eleven away league games in the league running through to the 3-2 win at Birmingham this season.
The teams were,
Wimbledon: Kelvin Davis (Paul Heald 68), Darren Holloway (Patrick Agyemang 63), Kenny Cunningham, Andy Roberts, Peter Hawkins, Neil Ardley, Trond Andersen (Gareth Ainsworth 45), Michael Hughes, Kevin Cooper, David Nielsen, Mark Williams. Subs not used: Alan Kimble, Robert Gier.
Burnley: Nik Michopoulos, Dean West, Steve Davis, Gordon Armstrong (Lee Briscoe 45), Paul Smith, Glen Little (Andy Payton 90), Paul Weller, Kevin Ball, Paul Cook, Gareth Taylor, Ian Moore (John Mullin 82). Subs not used: Paul Crichton, Brad Maylett.