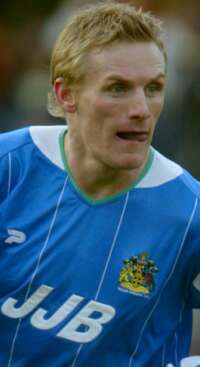 Gary Teale
We owe Wigan one without a doubt, they scored their first ever Division One victory against us back in August with a somewhat fortunate victory and we haven't beaten them since our first ever league meeting back in 1983.
That win at Turf Moor started a run of six successive victories for the Latics and they kept clean sheets in five of those as they went two points clear at the top of the league.
They haven't been able to maintain that sensational form though and have won just six more in the last twenty games in what has been little more than mid-table form. It is form that saw them drop out of the top six until a 4-2 win at against Preston at Deepdale in their last outing a couple of weeks ago.
They are one of the wealthier clubs in the league, if not the wealthiest, with the backing of former Blackburn full back Dave Whelan but his money has not always been enough to get manager Paul Jewell just what he wants.
He signed Geoff Horsfield from Birmingham just after the start of the season but has since seen him depart to West Brom whilst he was unable to convince Darren Huckerby that they were a big enough club for him with the disappointing crowds.
Jewell has been chasing a number of targets recently with his scout David Hamilton watching both Glen Little and Mark McGregor at Sunderland. He hasn't had the success he wanted but has been able to bring in a new striker to replace Horsfield in Jason Roberts who is well known to Burnley fans following his antics at the Memorial Ground in 1999 when with Bristol Rovers and then at Turf Moor two years ago with West Brom.
Roberts was on loan at Portsmouth but was bought for £1.4 million from West Brom with the transfer surrounded by a war of words between him and West Brom boss Gary Megson.
He has played just the one game for Wigan and that was the victory at Preston when he gave the Latics the lead after just 35 seconds. The 4-2 victory was even more convincing than the result suggests with wide man Gary Teale tormenting North End down the Wigan right flank. He had a hand in all of the goals, scoring one of them.
Preston's second was a ridiculous penalty decision for an offence that took place outside the box but Wigan were very much the better side on the day.
They lined up: John Filan, Leighton Baines, Ian Breckin, Jason De Vos, Nicky Eaden, Lee McCulloch (Michael Flynn 89), Jason Jarrett, Jimmy Bullard, Gary Teale, Nathan Ellington (Neil Roberts 84), Jason Roberts. Subs not used: Gary Walsh, Paul Mitchell, Matt Jackson.
Click HERE to see all Wigan's results this season.
Past Results in the last 20 years
| | | | | | |
| --- | --- | --- | --- | --- | --- |
| Season | Div | Ven | Result | Att | Scorers |
| a | | | | | |
| 1983/84 | 3 | h | 3-0 | 7,458 | Flynn Hutchison Reeves |
| | | a | 0-1 | 7,509 | |
| 1984/85 | 3 | h | 1-2 | 5,235 | Biggins |
| | | a | 0-2 | 3,517 | |
| 1991/92 | LC | a | 1-3 | 2,826 | Conroy |
| | | h | 2-3 | 3,876 | Patterson(og) Davis |
| 1992/93 | 2 | a | 1-1 | 4,032 | Deary |
| | | h | 0-1 | 9,154 | |
| 1997/98 | 2 | h | 0-2 | 9,520 | |
| | | a | 1-5 | 4,926 | Little |
| 1998/99 | 2 | h | 1-1 | 10,183 | Reid |
| | | a | 0-0 | 5,528 | |
| 1999/2000 | 2 | a | 1-1 | 11,986 | Payton |
| | | h | 0-0 | 20,435 | |
| 2003/04 | 1 | h | 0-2 | 13,231 | |