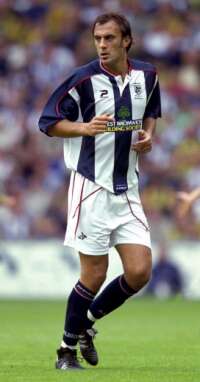 Danny Dichio
The Baggies are in the 5
th
round though after putting out two Premiership clubs so far in Sunderland and Leicester, the first of those away from home and they have now been rewarded with a home game against Cheltenham Town in that 5
th
round.
They are very much in form in the league as well and have climbed to third place with three points more than the Clarets although they have played three games more. A Burnley win though would put us back above them.
Many pundits thought they would struggle this season after making the play offs last time round and that was based on the fact that they lost Lee Hughes before the season started when he moved to Coventry for £1 over £5 million. It was the goals from Hughes and Jason Roberts that had pushed them into the play offs last season, in fact they scored 35 league goals between them.
When we visited the Hawthorns at the end of September we arrived as league leaders and West Brom were in sixth place. We lost a pretty poor game 1-0 and slipped to 2nd as West Brom came within a place of us in 3rd just three points behind.
They have been up and around the play off places all season so far and look to prove a lot of the tipsters wrong despite the fact that they have struggled to get the goals as everyone predicted they would. They have never been in the automatic promotion places and are currently in their highest position all season.
This clearly hasn't pleased everyone and only last week manager Gary Megson came in for some criticism from his own chairman Paul Thompson in the Abion's own match day programme. This was fuelled somewhat by rumours that Megson had been linked with the vacancies at both Villa and Derby. Megson has though denied any interest in either vacancy, one has since been filled, and told the Baggies fans that he is going nowhere.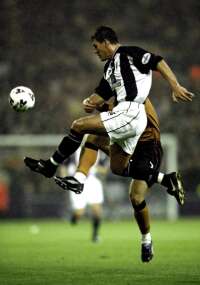 Phil Gilchrist
That current league position of third has been achieved with 54 points from 31 games with the 15 away games having brought 6 wins, 4 draws and 5 defeats whilst at home there have been 10 wins, 2 draws and 4 defeats.
The win against the Clarets was their tenth league game of the season and since that 1-0 win against us they have won 10, drawn 5 and lost 6 league games.
They had a 4-0 win at home to Stockport on New Year's Day, they beat and also won at Stockport in October. All the other eight wins have been by a 1-0 scoreline. These have been against Forest, Bradford, Coventry, Walsall and Birmingham at home and away against Palace, Birmingham and Wolves.
They have had draws against Wolves and Sheffield Wednesday at home, both 1-1, and away to Crewe and Manchester City 0-0 and Grimsby 1-1. The defeats have been against Millwall 2-0 and Sheffield United 1-0 at the Hawthorns and away at Norwich 2-0, Barnsley 3-2, Rotherham and Gillingham both 2-1. The 2-1 defeat at Gillingham on 29th December was in fact their last defeat.
The 3-2 loss at Barnsley is the only occasion this season they have conceded three goals in a game and in the 31 games have kept fifteen clean sheets and conceded just one on another ten occasions. They clearly have the meanest defence in the division with just 23 goals conceded although the goals scored is the lowest in the top half of the league.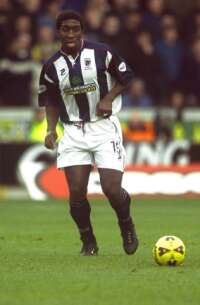 Darren Moore
Scott Dobie is the leading scorer with seven goals but amazingly they all came in the same month, September. He scored his first goal in the 4-0 home win against Manchester City on the eighth and hasn't scored since he grabbed the winner against the Clarets at the end of the month. He has though been out of the side recently.
The next is defender Neil Clement with six who has lifted his total with free kicks from just outside the box. Next are Andy Johnson and Danny Dichio both with four.
Unlike the Clarets they played in midweek, beating Birmingham at home 1-0 and the West Brom line up for this game was: Russell Hoult, Larus Sigurdsson, Darren Moore, Phil Gilchrist, Igor Balis (Des Lyttle 82), Derek McInnes, Andy Johnson, Adam Chambers (Ruel Fox 53), Neil Clement, Jason Roberts, Danny Dichio (Scott Dobie 53). Subs not used: Brian Jensen, Bob Taylor.
Just prior to our visit to the Hawthorns in September they had signed Darren Moore from Portsmouth and Forest's Andy Johnson although loan signing Danny Dichio had returned to Sunderland when the clubs couldn't agree a deal. Since then Dichio has returned to West Brom on a permanent basis, the only new signing. He finally cost them £1.25 million and he signed at the end of November.
Former Manchester City striker Uwe Rosler had a loan spell during October but returned and has since left English football. Other than that there have been no additions to the squad and no departures other than two players currently out on loan, Chris Adamson at Plymouth and James Quinn at Notts County.
There will be no former Clarets in the Albion squad but one Burnley player will be playing against some former colleagues. Tony Grant spent a month on loan with them in December last season.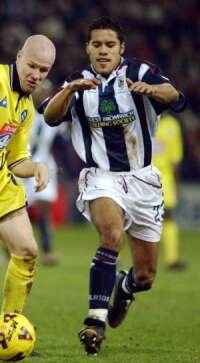 Andy Johnson
West Brom was also former Burnley midfielder Micky Mellon's second club. He joined them in February 1993 from Bristol City for £75,000 but stayed less than two years before moving to Blackpool in November 1994 for £50,000. He scored 6 goals in 45 league games for them and later scored 5 in 85 league games for the Clarets.
One former Claret of the 1960s was involved in a transfer between the two clubs and that was centre half John Talbut. Having played 138 league games for Burnley we sold him to West Brom for £32,000 for whom he went on to play 144 league games after a less than successful start for them. He won an FA Cup winners medal with them in 1968 and was released at the end of the 1970/71 season. He never scored a goal in league football and his last game ironically was at the Turf against us in a 1-1 draw in December 1970. He did score a League Cup goal though for the Clarets in a 5-0 replay win at home against Shrewsbury in September 1966.
Ronnie Fenton became well known as Brian Clough's assistant at Forest but he too was involved in a transfer between the two clubs, joining West Brom from the Clarets in 1962 for £15,000. Also Tony Morley played for them at the end of his career and in fact joined us on loan from West Brom for a month in the 1988/89 season.
Our two Turf Moor meetings in the 1990s were both significant. In 1992/93 season we beat them 2-1 in a superb performance that really got our season moving. Steve Harper and Mike Conroy got our goals but I am not prepared to even mention the Albion goal scorer. Two years later a run of defeats finally came to an end. With defeat number nine staring us in the face Liam Robinson scored in the very last minute to earn a 1-1 draw. Now who was it that put his house on him scoring?
Back to John Talbut's bad start at West Brom though and after signing for them he came straight back to the Turf to play for them against us on New Year's Eve 1966. With the game hardly started he put through his own goal at the Cricket Field End. Two each from Andy Lochhead and Willie Irvine won the Clarets a 5-1 win.
League results in the last 20 years

| | | | | | |
| --- | --- | --- | --- | --- | --- |
| Season | Div | Ven | Result | Att | Scorers |
| 1992/93 | 1 | h | 2-1 | 14,796 | Harper Conroy |
| | | a | 0-2 | 15,722 | |
| 1994/95 | 1 | h | 1-1 | 11,885 | Robinson |
| | | a | 0-1 | 13,539 | |
| 2000/01 | 1 | h | 1-1 | 18,199 | Little |
| | | a | 1-1 | 17,828 | Branch |
| 2001/02 | 1 | a | 0-1 | 21,422 | |


Last Time in the League

Burnley 1 (Little 46) West Bromwich Albion 1 (Taylor 84) – Nationwide League Division 1, Tuesday 14th April 2001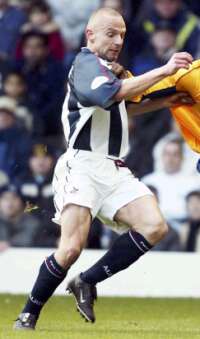 Larus Sigurdsson
Many will say it was West Brom that cost us a place in the play offs. Despite the fact that we had a run in the middle of the season where we picked up just four points from ten games it is the two games against Albion that everyone looks to.
At the Hawthorns, after leading for much of the game, we conceded a goal to Jason Roberts with just three minutes left and then in the home game there were just six minutes left on the clock when a Bob Taylor header found the net at the Bee Hole End to give them a point.
If either of those goals had not gone in then it would have been the Clarets facing Bolton in the play off semi-finals as opposed to West Brom.
This though was not fair result. It followed on from two excellent wins against Preston at home and Wimbledon away and was every bit as good a performance. Paul Weller starred as the Clarets dominated the first half without being able to find the net. The only time West Brom threatened was when the referee got in the way and pushed the ball through to Lee Hughes who fortunately failed to score.
We finally got the reward for our domination when Glen Little scored straight after half time and although we didn't dominate quite so much in the second 45 minutes we were still clearly the better side. It is fair to say that West Brom did not look as though they would score at any time other than one header wide from Bob Taylor.
Igor Balis
It was Taylor though in the end that grabbed the equaliser with a header from a right wing cross that followed a mistake by Nik Michopoulos. There were just six minutes left and despite all our efforts we weren't able to regain the lead.
Two points dropped but the Clarets left to a standing ovation from the Turf Moor crowd of over 18,000 (yes the crowds were higher last season), everyone had appreciated the performance if not the result.
It does make you just wonder where we could have been had Bob Taylor just put that header wide though.
The teams were,
Burnley: Nik Michopoulos, Dean West, Steve Davis, Gordon Armstrong (Mitchell Thomas), Paul Smith, Glen Little (John Mullin), Paul Weller, Kevin Ball, Paul Cook (Lee Briscoe), Ian Moore, Gareth Taylor. Subs not used: Paul Crichton, Andy Payton.
West Bromwich Albion: Russell Hoult, Des Lyttle, Tony Butler (Larus Sigurdsson 83), Phil Gilchrist, Neil Clement, Jason Van Blerk (Jason Roberts 51), Ruel Fox (James Quinn 90), Richard Sneekes, Michael Appleton, Lee Hughes, Bob Taylor. Subs not used: Brian Jensen, Adam Chambers.