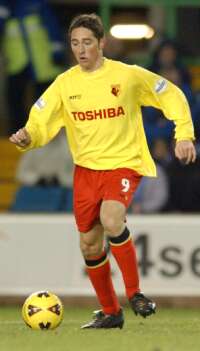 Tommy Smith
When you think of Watford two names spring to mind readily, those of Sir Elton John and Graham Taylor. Elton is the chairman and benefactor and Taylor was the manager during the club's most successful period.
Taylor though decided to retire at the end of last season, his last ever game as a football manager being at the Turf on the last day of the season which was marked by a presentation to him by Burnley made by Stan. So it must have come as a shock when Taylor almost immediately joined the board at Villa and even more so this week when he returned to full time management, replacing John Gregory at Villa Park for his second spell with them.
Taylor also explained his previous retirement by saying that he had taken Watford as far as he could and given that they were never going to sack him it was best that he made the decision to go. I think it is fair to say that nobody could have taken them further.
Taylor's return to management is a loss for our league because of all the claptrappers around on television these days I thought he was the best and was certainly prepared to say whatever needed to be said complimentary or not.
Watford were placed in the hands of Gianluca Vialli and his name has now been included in the club's name with most of the media, they no longer seem to be known as Elton John's Watford but Gianluca Vialli's Watford (GVW).
Vialli is ably assisted by Ray Wilkins and Ray Lewington but when they arrived at the Turf in mid November they were just 13th in the league with 24 points from 17 games and were seven points and eight places behind the Clarets.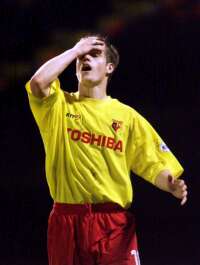 Heidar Helguson
Nothing has changed since really and today they are one place lower in 14
th
position with 41 points from 30 games and are currently on a run just as bad as ours. They have two home games this week, Grimsby visit them on Saturday, and Vialli has made it clear that they need six points from the two games to keep their season going.
After that Turf Moor game in November they went on a good run and in fact only conceded one more goal in 2001, that in a 1-1 home draw against Wolves on the Saturday before Christmas. That was from seven league games that brought four wins and three draws.
The wins came against Portsmouth 3-0 and Crystal Palace 1-0 at home with away wins at Coventry 2-0 and Walsall 3-0. The draws were 0-0 at Gillingham and Nottingham Forest and that 1-1 draw at home to Wolves.
A New Year though changed everything completely and the 3-0 win at Walsall on 29th December remains their last victory. The year got off to a bad start when they twice conceded four goals at Vicarage Road in the first week. Millwall won there 4-1 on New Year's Day and on the following Saturday a 4-2 scoreline saw them go out of the FA Cup to Arsenal.
There then followed a 1-1 draw at Rotherham before they lost again to Millwall, this time 1-0 at the New Den. Since then they have been beaten again at home to Manchester City 2-1 and drawn 1-1 at Preston. In both of these games they were second best in the first half before coming back into the games in the second half. They lost to an own goal against City and having equalised at Deepdale never looked in danger of losing.
Jermaine Pennant
Despite being seven places behind the Clarets with eleven points less from one more game the goals records of the two teams are similar. They have scored six less goals than the Clarets with 44 and have conceded six less with 36.
Tommy Smith is the leading scorer with eleven of those 36 goals and next is Heidar Helguson with five, and that doesn't include his own goal against City. A total of fifteen different players have scored league goals for them this season.
The Watford line up in their last game, the 1-1 draw at Preston last Thursday was: Alec Chamberlain, Patrick Blondeau, Filippo Galli, Ramon Vega, Allan Nielson (Lee Cook 64), Gifton Noel-Williams, David Noble (Marcus Gayle 83), Jermaine Pennant, Paul Okon, Lloyd Doyley (Wayne Brown 64), Jamie Hand. Subs not used: Espen Baardsen, Gary Fisken.
Since our meeting at the Turf the only permanent transfer they have been involved in is the sale of Allan Smart to Oldham for £225,000. Smart was the last player to score past Marlon Beresford in his first spell with the Clarets.
They have though been very busy in the loan market and that team that played at Preston included four loan players. David Noble is with them from Arsenal for the season but on 9th January they took Paul Okon from Middlesbrough on loan and the day after Arsenal's Jermaine Pennant joined on a temporary transfer. Ipswich Town's Wayne Brown was also recruited in a loan deal last Wednesday.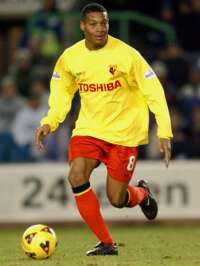 Micah Hyde
Nobody will be playing against a former club in this game but there is one former Watford player in the Burnley camp, assistant manager Sam Ellis. He was Graham Taylor's first ever signing for Watford in their Fourth Division days back in 1977. Sam eventually left to become manager of Blackpool in 1982, succeeding Allan Brown.
Past Burnley performances are nothing to write home about and last season saw our first ever victory there. We didn't play there until the 1971/72 season and we saved one of our worst performances of the season for that day and a 2-1 defeat with Frank Casper scoring right at the end. Young keeper Jeff Parton made his first team debut in that game and the next time we went there another player made his debut, this time right back Brian Laws. That was the last game of the 1979/80 season with the Clarets already relegated to the 3rd Division for the first time. We were beaten 4-0 that day.
There have been a couple of other defeats, one against Roeder's Watford and one when Waddle, with Roeder, took charge for the first time and in between them there was a 2-2 draw in 1996/97 season that saw Paul Smith score his first goal in the first team.
League results in the last 20 years
| | | | | | |
| --- | --- | --- | --- | --- | --- |
| Season | Div | Ven | Result | Att | Scorers |
| 1994/95 | 1 | h | 1-1 | 11,739 | Eyres |
| | | a | 0-2 | 9,297 | |
| 1976/97 | 2 | h | 4-1 | 8,269 | Cooke(3) Parkinson |
| | | a | 2-2 | 6,450 | Gleghorn Smith |
| 1997/98 | 2 | h | 2-0 | 9,551 | Cooke(2) |
| | | a | 0-1 | 11,155 | |
| 2000/01 | 1 | h | 2-0 | 18,283 | Payton Mullin |
| | | a | 1-0 | 13,653 | |
| 2001/02 | 1 | h | 1-0 | 13,162 | Little |
Last Time in the League
Watford 0 Burnley 1 (Taylor 73) - Nationwide League Division 1, Tuesday 13th March 2001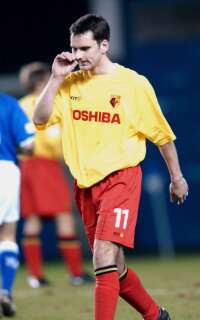 Stephen Glass
It was a strange sort of build up to this game as the Clarets looked to end a long run away from home without a win. On the morning of the game there were two rumours going around that were the talking point on the journey down to Hertfordshire.
The first was a suggestion that we had made a £500,000 offer for Bradford City striker Robbie Blake who, it was said, had fallen out with manager Jim Jefferies at Valley Parade. Nothing happened on that one, well not immediately, but as the fixture comes up again it looks as though he could be set for his first start for the Clarets.
The second rumour was that Stan had emptied his desk and resigned with Sam Ellis have been put in temporary charge, This was being touted by an employee of the club who thankfully is no longer at Turf Moor.
To the game though and in the first half the Clarets looked better than they had done away from home for months and for most of the first 45 minutes were much the better side as Watford were restricted to just the occasional sortie forward.
As they went off at half time though there were no goals to show for it all and in the second half it was much more even a contest although Watford were completely restricted to shots from long distance.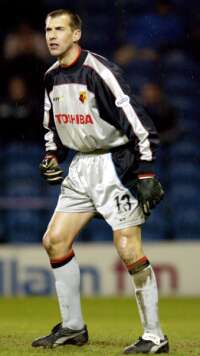 Alec Chamberlain
Burnley had the outstanding player on the field though in Paul Weller and he was to play his part in what proved to be the only goal of the game with just seventeen minutes left. It came from a thrown in to the Clarets on the right almost by the corner flag taken by Mitchell Thomas. A quick short throw to Weller and a cross that managed to get through a whole number of defenders to the back post where Gareth Taylor was waiting to score his first Burnley goal.
It wasn't a remarkable goal at all, in fact a scrappy sort of affair that the defenders really should have cleared with some ease. It should never have got through to Taylor. It might not have seen a remarkable goal at the time but that tap in was the last time he scored a goal for the Clarets in open play with anything other than a header.
Yes, those Clarets fans there that night so something that has not happened since, I just wonder whether he can repeat it again this season?
The win moved us back up into tenth place in the league climbing above Wimbledon and now just six points and three places below Watford in seventh place. We were though to climb above them on the very last day of the season as we beat them 2-0 on the Turf.
The teams for the 1-0 win were,
Watford: Espen Baardsen, Neil Cox, James Panayi, Darren Ward, Paul Robinson, Tommy Smith, Paolo Vernazza, Allan Nielsen, Clint Easton (Peter Kennedy 84), Heidar Helguson (Micah Hyde 69), Tommy Mooney. Subs not used: Alec Chamberlain, Robert Page, David Perpetuini.
Burnley: Nik Michopoulos, Mitchell Thomas, Steve Davis, Ian Cox, Lee Briscoe, Paul Weller, Kevin Ball, Paul Cook (Gordon Armstrong 76), Ian Moore (Andy Payton 88), Gareth Taylor, John Mullin (Brad Maylett 81). Subs not used: Paul Crichton, Dean West.