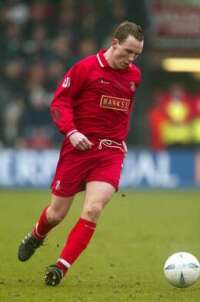 Darren Wrack
As chairman, manager and now captain have a go at the fans it must come as a major relief to them to be playing away from home, and perhaps a pitch that is fit to play on too. This week the fixture list has not only given us two away games but against the bottom two clubs in the division. The difference between the two fixtures is that one of the two does have a chance of avoiding relegation.
That's Walsall and it is there we start against a side without a win in the last six games and one that now finds itself five points away from the safety zone. They have struggled near the bottom of the league all season but until recently I think most football fans would have hoped they would win their fight. That's because manager Ray Graydon commands so much respect in the game.
Unfortunately despite his qualities they were unable to save Graydon from the axe and his job has now gone to former Wolves and Torquay boss Colin Lee. Assistant boss Chris Nicholl also went and one ex-Claret was replaced with another as Dave Merrington took over as number two having worked with Lee at Wolves.
Whether Lee can save them from the drop we'll have to wait and see but it is difficult to see how he can possibly improve things at Walsall after Graydon had given them probably the best football they have ever seen, twice winning promotion to the First Division. In fact so far Walsall have actually dropped in the league since the change of management.
The Clarets won the game at the Turf 5-2 back in September and Walsall arrived that day in 20th place to take on the then league leaders. It is interesting to note that 2nd and 3rd in the league at kick off were Bradford City and Grimsby Town whilst a look further down showed Preston in the bottom three.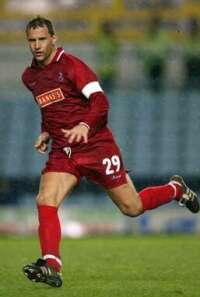 David Holdsworth
It always was going to be a season of struggle and a hope that they could this time maintain their First Division status but they are now dropping behind and although there is no danger of them falling below Stockport they are falling behind the other clubs.
Since we beat them 5-2 they have played another 31 league games. The sixteen home games have brought six wins and six defeats alongside four draws but away from the Bescot Stadium they have struggled with just the one win and four draws together with ten defeats.
Those home wins have come against Norwich and Nottingham Forest 2-0, Rotherham 3-2, Grimsby 4-0 and Crewe and Wimbledon both 2-1. They have failed to pick up any points in home defeats against Wolves, Watford and Sheffield Wednesday 3-0, Sheffield United and Preston 2-1 and Coventry 1-0. The home draws have been against Palace 2-2 and goalless draws against Portsmouth, Millwall and more recently Manchester City.
Their only away win of the season came back in October at Edgeley Park against Stockport by 2-0 and since playing the Clarets at the Turf their only other away points have been 2-2 draws at Wimbledon and Millwall and 1-1 results at Norwich and Portsmouth.
Amongst all those have been a run of ten defeats bringing them a total of thirteen away defeats throughout the season. The ten have been at Manchester City and Wolves 3-0, Sheffield Wednesday and Coventry 2-1, Gillingham, Bradford City and Rotherham 2-0, Barnsley 4-1 and 1-0 defeats at Birmingham and not surprisingly West Brom.
Their FA Cup campaign this season saw them become one of the giant killers. In the 3rd round they beat Bradford City 2-0 in a game that saw Robbie Blake play the first 34 minutes. This cup tied him but more than that it was the game in which he picked up the stomach injury that he still appears to be suffering from. Tom Bennett and Brett Angell scored the goals for Walsall.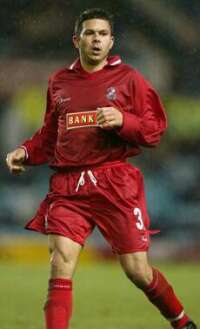 Steve Corica
It was the 4
th
round that brought them the attention though. With Lee having just taken over they took on and beat Premiership club Charlton at the Valley. The scorer of both goals in the 2-1 win was Jorge Leitao. The run came to an end in the 5
th
round as they went down 2-1 at home to Fulham in front of the Sky cameras. Having gone behind Darren Byfield equalised but a Hayles goal on the hour took Fulham through.
Last Saturday they won a point in a 1-1 draw against Portsmouth. Probably the Portsmouth players were too busy celebrating the fact that they had been paid. In front through Marty O'Connor they suffered the same fate as the Clarets against Pompey allowing the extremely long Peter Crouch to equalise.
The Walsall team on Saturday was: James Walker, Martyn O'Connor, Ian Roper, Darren Wrack, Fitzroy Simpson, Jorge Leitao (Brett Angell 66), Zigor Aranalde, David Holdsworth, Marcelo, Steve Corica, Greg Shields. Subs not used: Lee Harper, Tom Bennett, Tony Barras, Frederick Biancalani.
Goals have not come too easily this season and in 37 league games they have scored just 38 goals. Their leading scorer is Jorge Leitao with just five and Tony Barras, Pedro Matias and Darren Wrack all have four.
There has been some transfer activity and three players were all signed on the same day just a month ago all on free transfers. Marcelo and Martyn O'Connor arrived from Birmingham and Australian Steve Corica was signed from Sanfrecce Hiroshima. Two players have left on freer transfers, Paul Hall and Andy Tillson have joined Rushden and Diamonds.
Walsall also have three players currently with them on loan deals and they are Carlos Andre from Vitoria Guimaraes, David Holdsworth from Birmingham and Charlton's Greg Shields.
Nobody will be playing against a former club but three former colleagues will all be in the technical areas in Stan Ternent, Mick Docherty and Dave Merrington who were all at Turf Moor together in the 1960s. Mick Doc later moved to Sunderland as a player when Merrington was Assistant manager to Jimmy Adamson. Both Merrington and Docherty then managed Sunderland in a caretaker capacity.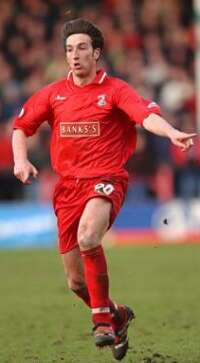 Frederick Biancalani
Looking at players who have played for both clubs almost comes to a standstill with nobody having made a massive contribution at Turf Moor. In fact the only one on the list to have reached double figures in first team league starts is David Wilson who joined the Clarets in late 1969 from Walsall for £12,000. The less than impressive list also includes such as Colin Anderson, John Gayle and loan players Louie Donowa, Dennis Peacock and Andy Saville none of whom exactly brought the house down at Turf Moor.
A look back at past games at Walsall starts with a visit to Fellows Park and the last game of the 1984/85 season. Only a win would be of any use as we fought to avoid relegation to the Fourth Division for the first time. We played well, did win 3-2 but in the end it wasn't enough and we went down. Alan Taylor scored twice and Kevin Hird go the third in a team that saw Roger Hansbury and Tommy Hutchison make their last Burnley appearances.
That was the last time we played at Fellows Park, by the time of our next visit in 1990 the Bescot Stadium had opened. Our game there in the 1991/92 Championship season saw us come from 2-0 down to snatch a point courtesy of goals from Roger Eli and Mike Conroy after we had really looked dead and buried.
Without doubt though our best performance at Walsall came in the 1996/97 season. We beat them 3-1, and the Walsall goal came in stoppage time, and we were in magnificent form. Andy Cooke scored almost from the half way line and he scored twice with Paul Barnes getting the third. We were pushing for the play offs but after that performance and with eight games left everyone was talking about going up automatically we were playing so well. Then disaster struck and John Ward left leaving Heath to sink or swim and he certainly didn't swim. We ended nowhere and John Ward's Bristol City came from nowhere to make the play offs.
League results in the last 20 years
| | | | | | |
| --- | --- | --- | --- | --- | --- |
| Season | Div | Ven | Result | Att | Scorers |
| 1983/84 | 3 | h | 0-2 | 3,948 | |
| | | a | 1-1 | 8,131 | Hamilton |
| 1984/85 | 3 | h | 1-2 | 3,350 | Hird |
| | | a | 3-2 | 3,396 | A.Taylor(2) Hird |
| 1990/91 | 4 | h | 2-0 | 7,883 | Eli Grewcock |
| | | a | 0-1 | 5,710 | |
| 1991/92 | 4 | h | 2-0 | 7,289 | Davis(pen) Lancashire |
| | | a | 2-2 | 5,287 | Eli Conroy |
| 1995/96 | 2 | h | 1-1 | 8,778 | Joyce |
| | | a | 1-3 | 3,411 | Nogan |
| 1996/97 | 2 | h | 2-1 | 10,322 | Eyres Nogan |
| | | a | 3-1 | 6,306 | Cooke(2) Barnes |
| 1997/98 | 2 | h | 2-1 | 9,293 | Barnes Cooke |
| | | a | 0-0 | 5,212 | |
| 1998/99 | 2 | h | 0-0 | 10,892 | |
| | | a | 1-3 | 4,599 | Armstrong |
| 2001/02 | 1 | h | 5-2 | 14,019 | Taylor I Moore Briscoe(2) Cook |


Last Time in the League

Walsall 3 (Brissett 34, Wrack 88, 89pen) Burnley 1 (Armstrong 68) – Nationwide League Division 2, Saturday 29th August 1998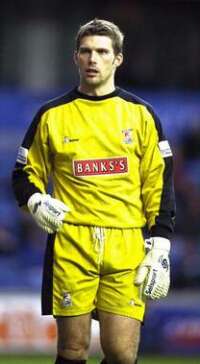 James Walker
The Clarets arrived at the Bescot minus four players who had been told they wouldn't be playing for the club again and they arrived plus two new signings from Stan Ternent's previous club Bury. They were former Sunderland midfielder Gordon Armstrong and ex-Claret Peter Swan who Ternent had said of a couple of weeks earlier, "I don't want Peter Swan".
Also in our line up was Paul Weller making his first appearance (and his last) of the season. He had been suffering from a stomach problem that it was thought had been resolved. I'll never forget Weller's performance in this game. Two season's earlier he had played wonderfully in a 3-1 win but on this occasion looked well out of it for the period he was on the pitch. We now know just how serious it was.
There was also news that a Scottish central defender was training with us who we were told by one of the players was far better than either Howey or Blatherwick, it was Brian Reid.
After a win on the opening day of the season the Clarets had suffered two defeats in the league and had gone out of the Worthington Cup to Bury and so were looking to get the season back on track.
We started well but fell behind, somewhat unfortunately, just after the half hour when Brissett gave Walsall the lead. It came when Walsall less than impressive striker Ricketts made a mess of things and after a couple of ricochets Brissett found the net.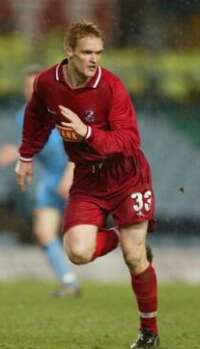 Greg Shields
The Clarets came more and more into it and with just over twenty minutes grabbed an equaliser. A ball into the box was headed on by Peter Swan and the other new signing Gordon Armstrong dived in at the far post to score on his debut. Only Phil Gray has scored a debut goal since.
With just a couple of minutes left it looked as though we were set for our first away point of the season when disaster struck. A mix up in defence allowed Walsall to go back in front and then just a minute later Mark Robertson gave away a needless penalty and it was 3-1.
That was it and a third consecutive defeat for the Clarets who were already facing another long hard season.
The teams were,
Walsall: James Walker, Chris Marsh, Neil Pointon, Dean Keates, Richard Green, Adrian Viveash, Darren Wrack, Jason Brissett, Andy Rammell, Gary Porter, Michael Ricketts. Subs not used: Andy Watson, Ian Roper, Wayne Dyer.
Burnley: Gavin Ward, Neil Moore, Gordon Armstrong, Paul Weller (Mark Robertson), Peter Swan, Chris Brass, Glen Little, Ronnie Jepson, Andy Cooke, Andy Payton, Paul Smith. Subs not used: Colin Carr-Lawton, Carl Smith.