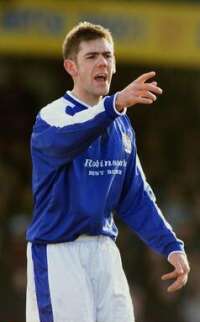 Dave Challinor
Yes the Clarets are set to visit the Land of the Unprofessionals to take on a club that is so far behind anyone else that Walsall couldn't even see them and thought they themselves had hit bottom spot.
If nothing else Mr. Hell-Wood and his men have given us all a good laugh all season as defeat has followed defeat. With them finding a rare three points on Tuesday in their second home win of the season against Bradford City it now means they will not be relegated on Saturday no matter what happens. That I find a disappointment, I really wanted it to be us that condemned this offensive man's side to relegation.
Having said that we are even capable of losing to them if we haven't managed to get rid of the home form although I think we would have to play even worse than Tuesday to do that. It really has been a wonderful season down at Edgeley Park with more laughs than an audience with Ken Dodd.
They started the season still in the First Division and to be honest that was no mean achievement given the fact that last season they had to sell Tony Dinning, Ian Moore and Kevin Cooper. Although I was at times mystified by Andy Kilner's tactics he certainly did extremely well to keep them up despite losing their best players.
You can't keep selling your best players and replacing them with worse and expect to stay where you are but Hell-Wood does. He is a very experienced player himself, one of the few chairmen to have played football. We believe his long distinguished career saw him play for Hallam FC. However he thinks that means he is a football expert.
Chairmen do some silly things. Milan Mandaric at Portsmouth tried to stop paying the players, Charles Koppel at Wimbledon is trying to move the club to Milton Keynes but Hell-Wood surpassed both of them, he appointed Carlton Palmer as manager.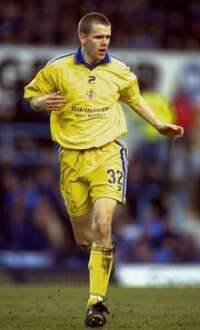 Rob Clare
Palmer was appointed on 9
th
November and got off to a great start with a 1-1 draw at Watford the day after. He then followed that up with a 2-1 home win against Norwich and Hell-Wood was already getting the contract extension written.
It hasn't quite worked out though and there have been a whole load of problems. The better players, yes they did have some left, have been desperate to get away. Shefki Kuqi, and what an arse Hell-Wood made of that transfer, now at Sheffield Wednesday launched an amazing attack recently on Palmer and said he will never be able to manage a side. Palmer has spent most of his time slagging off Kilner but to Andy's credit there has been minimal retaliation and knowing Andy I am surprised he has been able to resist having a go.
The biggest problem of all though is their inability to win football matches and despite their win this week they are still twenty one points from safety with just nine games left, it is just a matter of time before their relegation is confirmed.
They visited the Turf on 15th December and to be fair played reasonably well although there was no doubt the Clarets did deserve the 3-2 scoreline. I'm sure everyone will recall the game, after all it was the last time we won a league game on the Turf.
That was Stockport's fifth consecutive league defeat but it was to get worse as a new club record was created of ten consecutive defeats. They followed that with a couple of away draws and then before the win on Tuesday they lost another five.
So since their defeat at the Turf it has been played 13, won 1, drawn 2 and lost 10. Tuesday's win was 1-0 at home to Bradford City with the goal coming from Luke Beckett. Amazingly they have now beaten Bradford City twice this season. Beckett made his debut against us but he has had mixed fortunes and last Saturday became the latest Stockport player to be sent off.
It was even better the week before when manager Carlton Palmer got a red card and showed a great example by contesting it, a decision that has now cost him a charge of bringing the game into disrepute.
Those two draws in the middle of all the defeats were both away from home, in fact before Tuesday they only had four home points. They came at Coventry 0-0 and then in the very next game 3-3 at Gillingham.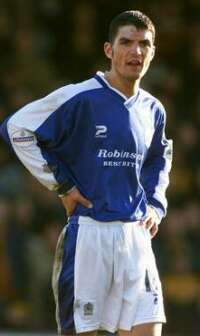 John Hardiker
The defeats have just continued and the ten since they lost at Burnley have been five at home and five away. They have lost at home to Barnsley and Nottingham Forest 3-1, Birmingham 3-0, Crystal Palace 1-0 and Wolves 4-1 whilst away from home to Portsmouth 2-0, West Brom 4-0, Rotherham 3-2, Grimsby 3-1 and most recently Sheffield United 3-0. It has to be said thought that earlier in the season, in the Kilner days, they did pick up points at Wolves and Manchester City.
There was no great success in the FA Cup either and they were easily beaten 4-1 by a very much understrength Bolton in the 3rd round at Edgeley Park.
To that win then as Bradford City became the first visiting side to lose at Edgeley Park since Norwich in mid November and only the second all season. Not only did they win but they were very much the better side against what has to be said was a poor Bradford side. Stockport battled as if their lives depended on it, something similar to that we saw from Walsall, and got their just rewards.
The team is now considerably changed from Kilner's side earlier in the season and they lined up: Andy Dibble, Carlton Palmer, Dave Challinor, Rob Clare (Andrew Thomas 45), Ali Gibb, Colin Woodthorpe, Keith Briggs, David Smith, Fraser McClachcan, Luke Beckett, Jon Daly. Subs not used: Sam Turner, Philip Carratt, Neil Ross, Peter Wild.
Goals have been very much at a premium and in 37 league games they have scored just 34 and they have conceded a staggering 86. Their leading scorer is Shefki Kuqi with five, his last coming on Boxing Day before he moved to Sheffield Wednesday. There are then three players with four goals, Luke Beckett, Scott Taylor and Glynn Hurst although Hurst and Taylor are no longer with the club.
Hurst has joined Chesterfield and Taylor has gone to Blackpool, both on free transfers. They are two of four players to have left since they played us in December. Shefki Kuqi was the one who brought in the money when Sheffield Wednesday paid up to £1 million for him and Jarkko Wiss has joined Hibs on a free transfer.
As well as that two of their better players are now playing towards the top of the 2nd Division on loan, Mike Flynn at Stoke and Leo Roget at Reading. David Smith has been at Macclesfield on loan but returned this week and went straight into the first team.
There have been two new signings though with Dave Challinor, the long throw expert, signing from Tranmere for £120,000 and Morecambe's 19 year-old defender John Hardiker costing £150,000.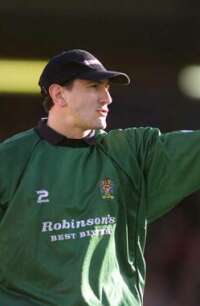 Lee Jones
There won't be any former Burnley players in the Stockport squad but there will be a number on our team coach who know the way. Not only have Graham Branch, Paul Cook and Ian Moore all played for Stockport but all three were transferred directly to us from them. All three can expect to be in the squad but it would be no surprise to see all of them on the bench.
A couple of former Stockport managers have also played for the Clarets. Most recently Andy Kilner who started his career at Burnley and then played for them in the early nineties an in the late 1970s they were managed for a short time by Mike Summerbee.
As far as Stockport are concerned the most popular of ex-Clarets was little Johnny Price who they signed from us in the 60s. In two spells for them he played over 300 league games.
There are many others though including our strike force at the Sherpa Van Trophy Final, Steve Taylor and George Oghani. Two strikers we signed from Stockport were hardly successful at Turf Moor, there was Tony Hancock and then Jimmy Mullen's last signing Ian Helliwell.
Looking back at past away matches against them I can recall Darren Heesom's one and only Burnley goal in a 1-1 draw just before Christmas 1985 when it got caught in the wind but the following season our 1-0 win there is our only league success away to them since 1912. The goal scorer was Ashley Hoskin with a magnificent goal but this was our first win in eleven games as things were starting to look desperate at the bottom of Division Four. That and a win on the following Tuesday at home to league leaders Northampton in the end proved vital.
We haven't scored a goal there since John Francis gave us the lead in September 1993. We lost that game 2-1 though but if we are looking at away matches against them then later that season we did beat them away from Turf Moor. I'm sure you remember it when a certain Ted Tinman McMinn wound them up a little bit and we beat them 2-1 at Wembley.
Do you remember that one Mr. Hell-Wood?
League results in the last 20 years
| | | | | | |
| --- | --- | --- | --- | --- | --- |
| Season | Div | Ven | Result | Att | Scorers |
| 1985/86 | 4 | h | 0-1 | 3,909 | |
| | | a | 1-1 | 3,472 | Heesom |
| 1986/87 | 4 | h | 2-0 | 2,410 | Regis Matthewson(og) |
| | | a | 1-0 | 2,500 | Hoskin |
| 1987/88 | 4 | h | 1-1 | 6,642 | Davis |
| | | a | 0-2 | 4,423 | |
| 1988/89 | 4 | h | 1-0 | 6,942 | Britton |
| | | a | 0-0 | 6,676 | |
| 1989/90 | 4 | h | 0-0 | 6,537 | |
| | | a | 1-3 | 5,210 | White |
| 1990/91 | 4 | h | 3-2 | 8,946 | Futcher Eli Deary |
| | | a | 2-2 | 3,523 | Futcher(2 1pen) |
| 1992/93 | 2 | h | 1-1 | 11,229 | Conroy |
| | | a | 1-2 | 4,953 | Heath |
| 1993/94 | 2 | h | 1-1 | 13,130 | McMinn |
| | | a | 1-2 | 5,122 | Francis |
| 1995/96 | 2 | h | 4-3 | 9,113 | Vinnicombe Cooke Nogan Francis |
| | | a | 0-0 | 8,463 | |
| 1996/97 | 2 | h | 5-2 | 10,332 | Barnes(5) |
| | | a | 0-1 | 9,187 | |
| 2000/01 | 1 | h | 2-1 | 16,107 | Payton Branch |
| | | a | 0-0 | 7,087 | |
| 2001/02 | 1 | h | 3-2 | 15,526 | Little(pen) Taylor I Moore |
Last Time in the League
Stockport County 0 Burnley 0 – Nationwide League Division 1, Tuesday 6th March 2001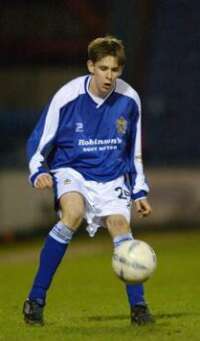 Andy Welsh
It's just a year ago this week but to be honest it is a game that thankfully went out of the memory by the 7
th
March 2001 so bad was it. The 0-0 scoreline just had to be fair because I don't recall either side ever looking as if they might score.
The Clarets were in a dreadful run away from home but were struggling to score goals wherever they played. A report on the game at the time said,
"You wonder where the next goal is coming from yet Andy is either sat watching from the bench or, as was the case at Portsmouth, not even there. Andy Payton is our leading goal scorer despite his lack of games, he is still without question the most likely player on the staff to score a goal. We have a team that can't score, it's leading scorer can't get a game but when asked for an explanation the manager talks in riddles".
Ironic that Andy Payton has just returned and looked sharp in the reserves and again we are in a position where we can't score goals.
Conditions a year ago at Edgeley Park were poor with a bobbly pitch and a gale blowing but everyone had expected an improvement after Stan had admitted to being baffled by our showing at Portsmouth on the Saturday. If anything this was worse, in fact it was worse, and the fans started to turn on players and management.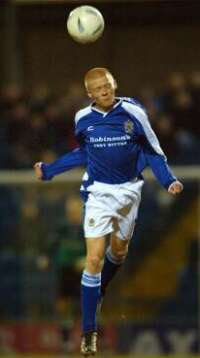 Chris Williams
So a year ago we had fans and manager at loggerheads and the fans screaming for a return to the side of Andy Payton. To this day Andy has still not started another first team game but as we go to Edgeley Park again this weekend it looks as though some things never change.
The teams were,
Stockport County: Andy Dibble, Sean Connelly, Shane Nicholson, Mike Flynn, Simon Grayson, Kevin Cooper, Jarkko Wiss, Kim Fradin, Leo Roget, Shefki Kuqi, Aaron Wilbraham.
Subs not used: Lee Jones, Peter Clark, Ali Gibb, Rob Clare, Glynn Hurst.
Burnley: Nik Michopoulos, Mitchell Thomas, Steve Davis, Ian Cox, Graham Branch, Paul Weller, Kevin Ball, Paul Cook, Lee Briscoe, Gareth Taylor (Andy Payton 87), Ian Moore (John Mullin 89). Subs not used: Paul Crichton, Dean West, Brad Maylett.