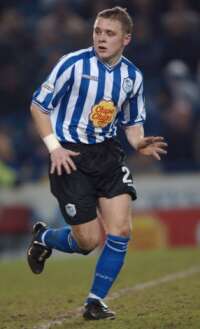 Derek Geary
There is no doubting that they are the biggest club in the region and were a Premiership club less than two years ago. Now they find themselves not just behind local rivals Sheffield United but are also having to look up the table at both Barnsley and Rotherham United.
They don't even seem sure what to do about it either, they seem to be undecided whether to fight relegation to the Second Division or fight to get the Phoenix League off the ground to try and improve their lot that way.
Sheffield Wednesday appear to be a club in major crisis, down near the bottom of Division One and with massive debts. They are even selling their training ground to help the finances and goodness knows what will happen next season once the parachute payments from the Premiership have dried up.
Like many Premiership clubs they were totally unprepared for relegation which to be honest is a major surprise given that under the rules three clubs do have to suffer it every season but Wednesday had players on long term contracts on Premiership wages that they could no longer cope with.
If they had hopes of going straight back up they were very quickly dashed as they found themselves in the relegation places by September and for months never looked as though they would get out. They did but only after sacking manager Paul Jewell and giving Peter Shreeves a second chance. Shreeves was in charge at the beginning of this season but after another poor start left the club to be replaced by his assistant Terry Yorath.
They have had a good run in the Worthington Cup and although they lost the first leg of their semi final we all hope that they can carry the hopes of the Nationwide League to the Millennium Stadium for the final. They have though gone out of the FA Cup this week at Crewe.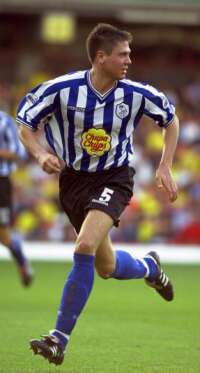 Leigh Bromby
In the league though they currently sit third from bottom with 27 points, the same points as Grimsby a place below them and Walsall a place above them. They are though 15 points above the Unprofessionals in bottom place. They have been hovering in those bottom positions all season.
Our visit to Hillsborough was on the opening day of the season, almost, and apart from an early spell lasting just a few minutes we were very much in control of the game and Wednesday looked a very ordinary side. It has been another poor return and after 28 games so far this season they have won just 6, 4 of these at Hillsborough and 2 away from home.
The first home win didn't come until the 20th October when they beat Walsall 2-1 and since then they have also beaten Barnsley 3-1, Stockport 5-0 and Crewe 1-0 at home with the away wins coming at Crewe 2-0 and Forest 1-0. There have been some heavy defeats though the biggest of which have been at home. They lost 6-2 to KKMC and recently Norwich were 5-0 winners at Hillsborough.
Apart from the two wins away from home they have also picked up points at Wimbledon, Rotherham and West Brom with 1-1 draws and at Wolves with a goalless draw. There have though been seven defeats on the road the heaviest of which was at Crystal Palace where they were beaten 4-1.
They have also been beaten 3-0 at Barnsley, 3-1 at Watford, 2-1 at Gillingham and 2-0 defeats at each of Norwich, Birmingham and Coventry. Away from home they have picked up just 10 points from 13 games and scored just 9 goals in those games.
The goals have not been too easy to come by at home either and they are averaging just a goal a game in total this season, 28 in 28 games. Their leading scorer is a player who, according to rumour in the stands at Selhurst Park last week was set to be lining up for the Clarets this weekend and not against us. It's Dutchman Gerald Sibon who has scored 9 of the goals including the only goal of the game against Crewe last Saturday at Hillsborough.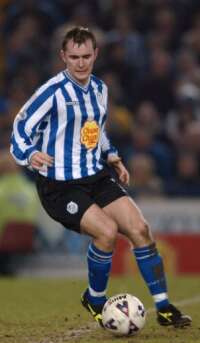 Matthew Hamshaw
The line up in their game last week was Kevin Pressman, Andy Hinchcliffe (Marlon Broomes 17), Derek Geary, Leigh Bromby, Ashley Westwood, Gerald Sibon, Steven Haslam, Matthew Hamshaw, Alan Quinn, Efan Ekoku, Shefki Kuqi. Subs not used: Chris Stringer, Pablo Bonvin, Tony Crane, Danny Maddix.
With finances tight there has been little activity in the transfer market over the season but last week they jumped in ahead of the Clarets to sign Shefki Kuqi and he played in a Kuqi-Ekoku pairing up front last week. They have also failed in an attempt to sign Mansfield Town's Chris Greenacre.
Other than that it has been mainly loan deals and during the season so far they have had Carlton Palmer (Coventry), Dean Windass (Middlesbrough) and Bojan Djordjic (Manchester United) with them but all have now left. Pablo Bonvin who hadn't signed in time for our game in August is with them on loan all season from Boca Juniors.
Tommy Johnson came in from Celtic but has now gone to Kilmarnock and they have sold Aaron Lescott to Stockport for £75,000. Apart from Sibon and Burnley defender Leigh Bromby has also been linked with a £2.5 million move to KKMC. With the financial state at the club sales can not be ruled out.
Saturday should see one player playing against his former club, Lee Briscoe who joined the Clarets from Sheffield Wednesday on a Bosman in the summer of 2000. Brisser was never popular with the Wednesday crowd and even his only goal for the club was overshadowed by Paolo di Canio's dismissal for pushing referee Alcock. Brisser got the only goal of the game that day.
There will be some familiarity on the bench with both assistant managers having played for the opposition. Sam Ellis started his career with Sheffield Wednesday back in the 1960s and on the other side Willie Donachie was a Brian Miller signing for the Clarets in 1982 from Portland Timbers.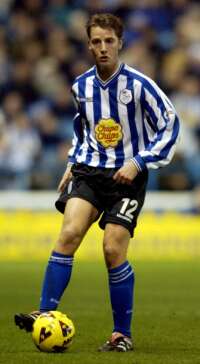 Steven Haslam
Looking back at players that have played for both clubs Sammy Todd joined Wednesday from the Clarets in 1970 and a couple of years later Paul Bradshaw, Sheffield born followed the same route. They are just two of a number. Alan Brown, former Burnley boss of the 1950s, went on to manage Sheffield Wednesday.
There are two players though who were prominent in the 1990s, one from each club. Burnley signed Marlon Beresford from Wednesday in August 1992 and from then until leaving in March 1998 he was our first choice keeper. Marlon hadn't played a game for Wednesday, his first club, but he put that right last season when he made four league appearances on loan for them.
One of the most popular Sheffield Wednesday players of the last decade was Chris Waddle. He was a member of their side that reached two cup finals in 1993. He was a complete disaster at Burnley as manager but amazingly the Wednesday fans seem to call for him every time the manager's position is vacant. A piece of advice – keep well clear of him.
We've had some good performances and some good results against them at the Turf over the years and in two successive seasons in the early sixties won 4-0. In 1961/62 John Connelly(2), Jimmy McIlroy and Jimmy Robson scored to give us all a good Christmas with the first of those 4-0 wins on Boxing Day and the following season the game came three days later on 29th December and this time Ray Pointer(2), Brian Miller and Gordon Harris were the scorers.
There were four more in the 1969/70 season as we came from two down to win 4-2 for the second week in succession. John Murray, Martin Dobson, Doug Collins and Steve Kindon were the scorers that day. Two years later we went one better and won 5-3 and this time Paul Fletcher(2), Dave Thomas, Frank Casper and Leighton James found the net.
There were more goals when we met on New Year's Day 19 years ago. We were struggling, and do I mean struggling, at the bottom of Division Two and Wednesday were riding high. IN front of the television cameras, and highlights were even seen on Coronation Street, the Clarets won the game 4-1 with a Steve Taylor hat-trick and a goal from Billy Hamilton.
The scoreline probably didn't reflect the game, and in fact Wednesday rattled our bar at one point with the scores level and a minute later we were in front. Apart from the Street appearance the match also threw up a football questioner's dream. During the second half manager Brian Miller made a substitution bringing on his son David for his league debut. The player he took off was his son in law Derek Scott.
This was the start of a good run at home with four wins and a draw in five games including a 7-1 thrashing of Lennie Lawrence's Charlton. Who said Lawrence has a good record at the Turf?
There haven't been many opportunities for 4s and 5s since. Last season was Wednesday's first league game at the Turf since that game 19 years ago.
League results in the last 20 years
| | | | | | |
| --- | --- | --- | --- | --- | --- |
| Season | Div | Ven | Result | Att | Scorers |
| 1982/83 | 2 | h | 4-1 | 9,548 | Taylor(3) Hamilton |
| | | a | 1-1 | 16,329 | Steven |
| 2000/01 | 1 | h | 1-0 | 16,372 | Davis |
| | | a | 0-2 | 20,184 | |
| 2001/02 | 1 | a | 2-0 | 21,766 | Taylor Cook(pen) |

Last Time in the League
Burnley 1 (Davis) Sheffield Wednesday 0 – Nationwide League Division 1, Tuesday 17th October 2000.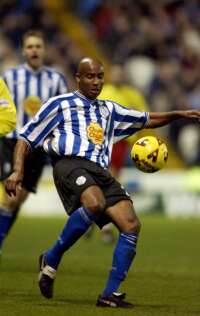 Danny Maddix
Sheffield Wednesday arrived at the Turf on a run of seven consecutive defeats and faced with creating a new club record should they lose again. Burnley fans have always hated this sort of thing, always believing that we would be the side to end the run for them.
No such thing this time as the Clarets, although only winning 1-0, were easy winners against a Sheffield Wednesday that looked well worth their place at the bottom of the league. To be honest we didn't need to get out of second gear for most of the ninety minutes and the outstanding Cox and Davis at the back never looked troubled throughout.
The Clarets were without Glen Little (hamstring injury) and many thought we wouldn't be a threat without him. It made no difference and the biggest surprise of the night was that it took us 74 minutes to get a goal.
Stan had asked for patience from the crowd before the game and he got just that as our biggest gate of the season, they just kept going up, got behind the team from the start. Things were starting to get even better for the Clarets, this was our third win in succession and we had found ourselves in the play off area.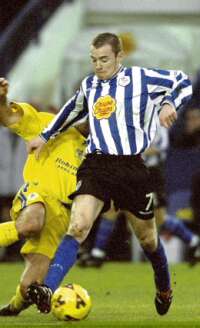 Alan Quinn
The only thing that spoiled the evening's entertainment was the attitude of referee Paul Danson who was over officious throughout. Even Stan had seen enough at one point and stormed to the front of his technical area and gave Danson a Nazi salute bringing the loudest cheer of the night.
The teams were,
Burnley: Nik Michopoulos, Mitchell Thomas, Steve Davis, Ian Cox, Lee Briscoe, Paul Weller, Micky Mellon, Kevin Ball, Paul Cook (Andy Cooke 23), Andy Payton (Lenny Johnrose 80), Graham Branch (Ronnie Jepson 71). Subs not used: Paul Crichton, Paul Robinson.
Sheffield Wednesday: Kevin Pressman, Steven Haslam, Steve Harkness, Des Walker, Alan Quinn, Ian Hendon, Adam Muller (Tony Crane 84), Ritchie Humphreys, Terry Cooke, Matthew Hamshaw (Michele Di Piedi 76), Owen Morrison. Subs not used: Chris Stringer, Aaron Lescott, Alex Higgins.