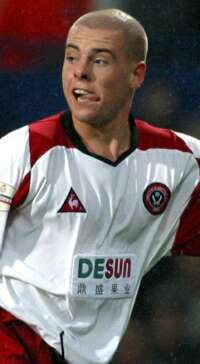 Stretch Junior - Chris Armstrong
It was a dreadful ninety minutes with the Burnley squad struggling with flu symptoms and but for the fluke goal I'm certain it would still be 0-0 now if we were still playing. But for the fourth time in succession it was a victory for Sheffield United with the last Clarets win coming at the beginning of November 2001.
Having lost out on a Premiership place by the narrowest of margins last season, they lost the play off final to Wolves after finishing the season in 3rd place, they are right back up there again and are currently in that same 3rd place position just three points behind leaders West Brom.
There was no major surgery required to the squad over the summer but by the time the 2003/04 season was underway manager Neil Warnock had added a total of eight more players with only one, Chris Armstrong from Oldham, costing a fee and then only £100,000.
Besides Armstrong in came Kristian Rogers (Wrexham), Jack Lester (Nottm Forest), Mark Rankine (Preston), Andy Parkinson (Tranmere), Mike Whitlow (Bolton), Chris Morgan (Barnsley) and Ashley Ward (Bradford City).
Warnock made heavy use of the loan market this year but with his squad boosted in size has brought in only three players on temporary transfers. One, Paul Gerrard from Everton, was simply because first choice keeper Paddy Kenny was injured. Jon Harley, for the second season, spent a month at Bramall Lane and since his return they have signed Alan Wright from Middlesbrough.
There's been just one more permanent addition, just a couple of weeks ago Steve Jagielka (brother of Phil) signed from Shrewsbury Town.
As the Clarets earned a point at Sunderland last week Sheffield United were beating Preston 2-0 at Bramall Lane with a Michael Brown penalty and a goal from veteran midfielder Stuart McCall.
They were somewhat fortunate, Preston were on top in the second half and had Fuller made the most of his chances the result would have been somewhat different. And then there were the decisions from referee Jeff Winter that so upset Weary Whinger Craig Brown.
Sheffield United lined up: Paul Gerrard, Robert Kozluk, Phil Jagielka, Chris Morgan, Alan Wright, Michael Tonge, Stuart McCall (Mike Whitlow 87), Mark Rankine (Peter Ndlovu 48), Michael Brown, Wayne Allison, Jack Lester (Nick Montgomery 69). Subs not used: Mr. Karren Brady, Andy Parkinson.
Sheffield United's fortunate win at the Turf last season was their first league win at Burnley since we played then 29 years earlier on a Saturday evening, an experiment that was brought to an abrupt end after just one game.
We now need to end this current run of Blades wins against us and claim successive home wins for only the second time this season.
Click HERE to see all Sheffield United's results this season.
Past Results in the last 20 years
| | | | | | |
| --- | --- | --- | --- | --- | --- |
| Season | Div | Ven | Result | Att | Scorers |
| a | | | | | |
| 1983/84 | 3 | h | 2-1 | 9,574 | Donachie Dobson |
| | | a | 0-0 | 13,892 | |
| 1992/93 | FAC | a | 2-2 | 23,041 | Heath(2) |
| | | h | 2-4 | 19,061 | Heath Monington |
| 1994/95 | 1 | h | 4-2 | 11,475 | Robinson Hoyland Davis Gayle |
| | | a | 0-2 | 13,349 | |
| 2000/01 | 1 | h | 2-0 | 16,635 | Payton(2 1pen) |
| | | a | 0-2 | 20,013 | |
| 2001/02 | 1 | h | 2-0 | 13,166 | Taylor Cook |
| | | a | 0-3 | 19,003 | |
| 2002/03 | 1 | h | 0-1 | 12,868 | |
| | | a | 2-4 | 17,359 | Taylor Blake |
| 2003/04 | 1 | a | 0-1 | 20,967 | |
Click HERE
to see more results against Sheffield United right back to an FA Cup tie in 1890.
One from the past
McNally dominates game
Burnley 4 (Cochrane,2 Noble,pen Ingham) Sheff Utd 1 (Stainrod)
Football League Division Two – Saturday 11th March 1978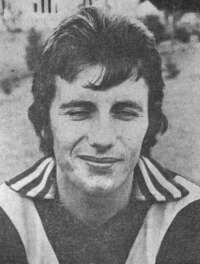 Terry Cochrane - two goals
As Burnley prepared to play Sheffield United in March 1978 the town's dog owners received a massive boost. No it wasn't Swanky Pants getting their first ever Turf Moor booking but the fact that the newly former Dog Owners Action Group had been able to raise a total of £100 in its first week.
There was thought a nasty robbery in town when the entire Saturday takings from top gents' outfitters John Collier was stolen just as it was to be deposited into the night safe at the Midland Bank. A full £200 had been taken that day.
But they could enter the Burnley Express funny caption competition. The local paper invited captions from its readers for a series of football pictures. Entries used to flood in as Burnley fans tried to win the £1 prize on offer.
There were more serious matters around Turf Moor though and Harry Potts' team were struggling, really struggling. We were next to bottom of the league, had played more games than the other sides in the bottom half and had won just six of thirty league games all season. Only Mansfield were below us and they were due at the Turf three days after the visit of Sheffield United.
We needed a lift, a massive lift, and it came in the shape of Mold referee Kevin McNally who was never far away from controversy. It was a known fact that should McNally referee you then you needed to be at home, his crazy performances always seemed to hit the visiting teams.
"In years to come Saturday's remarkable match at Turf Moor will probably be remembered for its drama and sensation," wrote Peter Higgs of the Burnley Express.
"Yet for Burnley its most immediate significance is the result. For whatever assistance or hindrance the Clarets receive – be it fire, earthquake, act of God, or a couple of vital refereeing decisions – all they need to be concerned about is winning matches."
It was just a normal sort of football match that included two sendings off, two very debatable refereeing decisions and a near invasion of the pitch although the match itself was never violent.
McNally was at the centre of everything and there is no doubt that he made a massive contribution to the result – which was Burnley 4 Sheffield United 1.
Everything had been reasonably quiet for the first seventy minutes with the scores level at 1-1 but then in a ten minute spell the whole thing exploded.
It all started when Burnley were awarded a penalty but McNally for a supposed foul by Andy Keeley on Steve Kindon. It was dubious although Steve thought it was a foul but the views of the two managers differed wildly.
"If Kindon dived like that every week he should be in the British Swimming team," fumed Blades boss Happy Harry Haslam whilst Harry Potts, with a perfectly good view from the dug out, said, "It looked an obvious penalty to me."
It was and Peter Noble scored from the spot as Sheffield United's Alan Woodward was booked for apparently protesting. Woodward looked innocent, told McNally and off he went for the first time in a sixteen year career, McNally chasing him seventy yards down the pitch whilst hiding his red card behind his back.
But just three minutes later Jim Thomson and Ian Brennan combined to foul Keith Edwards for a penalty at the other end but incredibly McNally gave an indirect free kick ten yards from goal.
Then Edwards had a goal disallowed for a push that nobody saw. Thomson, who had apparently been pushed didn't think so and neither did Billy Rodaway who was next to the incident. Harry Potts had a good view again though and said, "I thought it was a pretty obvious foul for pushing."
Then at the other end Keeley fouled Paul Fletcher and was invited to join Woodward in the away team dressing room and that was it as the Clarets were able to add two more against nine men.
McNally had given us the lift we needed and this was the start of a run that saw us win seven and draw one of eight games. By the end of the season we were well clear of relegation, ending in the top half of the table.
As for McNally, he was back three days later for an FA Youth Cup tie and received a standing ovation from the Burnley crowd as he came onto the pitch. Less than two years after this game he was back for an FA Cup tie against Stoke when he once again sent off two away team players in a performance every bit as bad as this one.
He was the 1970s equivalent of Barry Knight or Cooperman – he was finally sacked from the Football League list.
The teams were:
Burnley (4-2-4): Alan Stevenson, Derek Scott, Jim Thomson, Billy Rodaway, Ian Brennan, Billy Ingham, Peter Noble, Terry Cochrane, Paul Fletcher, Steve Kindon, Tony Morley. Sub not used: Malcolm Smith.
Sheffield United (4-3-3): Brown, Cutbush, Colquhoun, Keeley, Calvert, Speight, Woodward, Flynn, Campbell, Stainrod, Edwards. Sub not used: Guy.
Referee: Kevin McNally (Mold, Clwyd).
Attendance: 11,756.