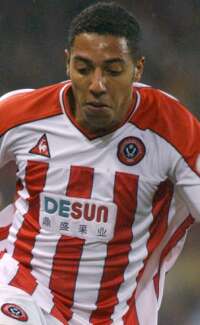 Carl Asaba
We will arrive at Bramall Lane with the Blades very much one of the in form teams in the division and a team lying in 3
rd
place in the table. They have 46 points which is only 14 less than they collected in the whole of last season.
Over the last few seasons they have been very much a mid-table side and nothing more was expected of them this season. That has not been the case though although it didn't look as though things were going to any different as the season got underway.
They arrived at Turf Moor on the third Saturday of the season with just two points from the first three games and certainly looked anything but promotion candidates that afternoon. They probably benefited from our poor start and lack of confidence but they could hardly admit to deserving the 1-0 win that gave them their first three points of the season.
Having dominated the first half we put them under tremendous pressure in the second half but did just about everything but equalise and that one goal was enough for them.
They went on to win four of the next five games to establish themselves in the top six and they have been up there ever since.
And it has not just been league action either. They are now the only side from outside the Premiership left in the Worthington Cup and will take on Liverpool in a two legged semi- final. Just like the Clarets they have benefited from home ties against Premiership clubs and both Leeds and Sunderland were beaten at Bramall Lane during the cup run.
Neil Warnock has been able to do a bit of wheeling and dealing in the transfer market although mostly it has been through the loan system. There have been two permanent additions to the squad since last met though with goalkeeper Paddy Kenny signing after an initial loan move from Bury and striker Steve Kabba costing £250,000 from Crystal Palace.
Kabba has scored for three different clubs in Division One this season. He started the season in the Palace first team and had a loan spell at Grimsby before signing for Sheffield United. He scored twice for Grimsby against the Clarets in the 6-5 game.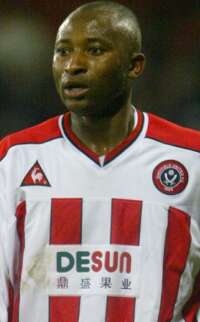 Peter Ndlovu
Two others have been and gone on loan. Michael Boulding from Aston Villa was the first and Clarets' fans will remember him as the player who run us ragged for Grimsby at the end of last season. More recently Dean Windass spent a month at Bramall Lane in a loan deal from Middlesbrough. Windass, like Boulding, has now returned to his club.
Fulham's Jon Harley has been with them on loan since the end of October and looks set to be with them until the end of the season with a permanent signing more than a possibility.
The Christmas period has brought them four points after they won 1-0 at Walsall on Boxing Day and followed that up with a 0-0 home draw against Coventry on Saturday. They have kept five consecutive clean sheets and in fact have conceded just one goal in their last eight league games. That goal was scored by Aki Riihilati of Crystal Palace although Sheffield United won the game 2-1.
The 0-0 draw against Coventry should really have been another win but they had one of those days when they just couldn't find the net despite dominating the game against a Coventry side who were down to ten men for the last 19 minutes with Dean Gordon sent off.
But Hyldgaard was in top form for Coventry but the point kept the Blades three points above Forest in 3rd place.
They lined up for the game: Paddy Kenny, Shaun Murphy, Robert Page, Stuart McCall, Phil Jagielka, Michael Tonge, Jon Harley, Michael Brown, Steve Kabba (Paul Peschisolido 68), Wayne Allison, Peter Ndlovu. Subs not used: Robert Kozluk, John-Paul McGovern, Nick Montgomery, Laurens Ten Heuvel.
They have scored a total of 37 league goals but just 15 of these have come at home. Their leading scorer in the league is former Gillingham striker Carl Asaba with eight whilst both Michael Brown and Michael Tonge have scored five.
It really is about time that we had some luck at Bramall Lane and a good result there would be a useful boost before the cup tie and would please Stan for more than one reason.
Click HERE to see our preview from the home game and HERE to see Sheffield United's results this season.
He played for both
If the two clubs York City and Plymouth Argyle were to be mentioned then it would point most Clarets' fans to one player, John Francis.
Whatever else John achieved he will always be remembered for scoring the goal that clinched the 4th Division Championship at York in 1992 and the two goals that turned the play off semi-final on its head at Plymouth two years later.
John was a Frank Casper signing from Sheffield United in early 1990. He had played against a local club just over a year earlier at Wembley when he was in the Emley side beaten by Colne Dynamoes in the FA Vase Final.
His first Burnley goals were at Grimsby, he got both in a 4-2 defeat, but although he joined us as a striker he was later to play as a right winger with much success.
He had initially partnered Ron Futcher up front and also played alongside Roger Eli but early in the Championship season, as Eli and new signing Mike Conroy former a new striker partnership, John found himself on the right hand side. It was a position he was to make his own.
During that season he contributed to the promotion with some outstanding performances, Northampton at home certainly springs to mind, and also a few goals from his new position.
However deep into stoppage time at York roles were reversed as Conroy got down the left from a Joe Jakub ball and crossed for Francis to turn it in. We were up, we were Champions, and had waited seven long years. Thanks for that John.
He was popular with the Turf Moor crowd, very popular, but chose to leave at the end of that season when his contract was at an end and he signed for Cambridge United. He must have missed us though and in transfer deadline week returned as we finished our first season in the higher division better than we could have hoped.
It was even better the following season and we just about scraped into the play offs and had to face Plymouth. We had a superb home record that season but the away record could only be described as diabolical. So when we drew the home leg 0-0 and went a goal down at Home Park things weren't exactly looking too hopeful.
John was getting some disgraceful abuse from the home fans, that I will never forgive the Plymouth crowd for, but he retaliated in the best way possible by latching onto a through ball and finishing expertly.
The home fans couldn't quite work out how he had done it so a couple of minutes later he gave them an action replay. A Warren Joyce goal made it three, we went to Wembley and won promotion but for John it could have been better.
He was injured in a clash with the Stockport keeper and had to be substituted but worse still was the fact that he never fully recovered from the injury. He did play again but was never a regular in the side and he was finally released at the end of the 1995/96 season.
He had played in a total of 236 games for us in all competitions and scored 49 goals. There were some good goals and some scrappy goals but somehow minds will always go back to York and Plymouth and those three goals that were so important to Burnley Football Club.
League results in the last 20 years
| | | | | | |
| --- | --- | --- | --- | --- | --- |
| Season | Div | Ven | Result | Att | Scorers |
| a | | | | | |
| 1983/84 | 3 | h | 2-1 | 9,574 | Donachie Dobson |
| | | a | 0-0 | 13,892 | |
| 1994/95 | 1 | h | 4-2 | 11,475 | Robinson Hoyland Davis Gayle |
| | | a | 0-2 | 13,349 | |
| 2000/01 | 1 | h | 2-0 | 16,635 | Payton(2 1pen) |
| | | a | 0-2 | 20,013 | |
| 2001/02 | 1 | h | 2-0 | 13,166 | Taylor Cook |
| | | a | 0-3 | 19,003 | |
| 2002/03 | 1 | h | 0-1 | 12,868 | |
Click HERE to see all our previous league results against Sheffield United
Last Time in the League
Sheffield United 3 (Jagielka 19,88 D'Jaffo 47) Burnley 0 - Nationwide League Division 1, Saturday 23rd March 2002-12-30
When games become vital the last place we want to go is Bramall Lane. Just a year earlier we had seen our play off hopes dashed on the penultimate Saturday of the season and on this occasion we really needed to get a result.
With David Johnson having scored twice in his first two games and Paul Gascoigne fresh from an excellent debut hopes were high. We really should know better, time and again hopes have been dashed at the former Yorkshire cricket ground.
It was to be no better last March, in fact it was to be even worse and the scoreline of 3-0 probably flattered us so bad were we. At the time I headlined the game with 'Shambles in the graveyard' and that's exactly what it was – a shambles.
It was the 1974/75 season that we last picked up even a point there and Peter Noble scored our last ever league goal there in 1977/78 and neither of those records ever had a chance of being lost.
The only positive thing I will ever remember of the game was the performance of Kevin Ball, during a second half that was one way traffic he held them at bay for long spells almost single handedly. I lost count of the number of times he won headers, or tackles, or just broke up attacks from his position in the centre of defence.
But it really was a dreadful performance and a dreadful day for the Clarets. Surely we will be able to start 2003 with something at least a bit better than that.
The teams were,
Sheffield United: Simon Tracey, Gus Uhlenbeek, Robert Page, Keith Curle, Shane Nicholson, Peter Ndlovu, Jean-Phillipe Javary (Grant Smith 88), Phil Jagielka, Michael Tongue (Nick Montgomery 61), Larent D'Jaffo, Paul Peschisolido (Bobby Ford 79). Subs not used: Wilko de Vogt, Lee Sandford.
Burnley: Marlon Beresford, Dean West, Kevin Ball, Ian Cox (Alan Moore 15), Mitchell Thomas, Paul Gascoigne (Andy Payton 70), Tony Grant, Lee Briscoe, Ian Moore (Paul Weller 45), Gareth Taylor, David Johnson. Subs not used: Nik Michopoulos, Robbie Blake.
Referee: Graham Laws (Whitley Bay).