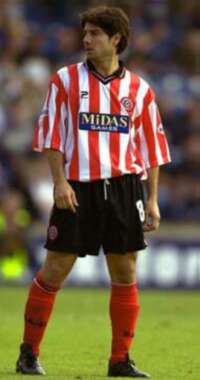 Paul Peschisolido
Nothing can be said or written about our next opponents right now without reference to last Saturday and the disgraceful scenes that saw three Sheffield United players sent off and two go off injured to leave them with six players and a subsequent abandonment.
They have lost the points, and rightly so, and they have put one player, Patrick Suffo, on the transfer list and said that George Santos won't play for them again this season. They have though failed to take any action against manager Neil Warnock or even bothered to apologise to West Brom or the referee.
This game itself produced some unsavoury incidents last season when Stan accused Warnock and his staff of gamesmanship and then we were witnessed to some horrendous challenges from Keith Curle that went unpunished. It is of course no secret that Stan and Warnock are not the best of friends and Stan went so far as to remove him from the welcomes on his page in the programme for the home match.
Sheffield United ended last season three places and four points behind the Clarets in tenth place but they were beating the drum about having a promotion push this time around. It hasn't happened though and they are currently fourteenth with 53 points from 40 games.
The home game against them was shown live on terrestrial television in early November and the Clarets won 2-0 with goals from Gareth Taylor and Paul Cook just either side of the half hour mark. It wasn't a classic but there again when has any game with a Warnock side been a classic?
Warnock said he had been treated like Bin Laden following last week's fiasco but Stan Ternent, who has accused Warnock of being a cheat, said that if he gets away with it he should be called Harry Houdini. Of course there is no love loss between Stan and Warnock but it has become very clear this week that there is not much love lost between many people and Warnock.
He upset the other half of the city recently by saying that he would buy bad players and get Sheffield Wednesday relegated if he got the chance to manage them. I just wonder how long the Sheffield United board will continue to tolerate him.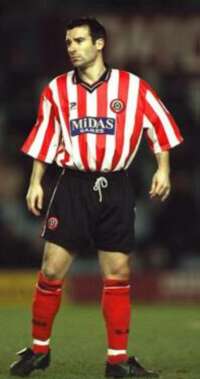 Rob Ullathorne
He apparently kept out of the way on Tuesday evening when they actually did the Clarets a favour by beating Millwall at Bramall Lane with two late goals from former Clarets target Peter Ndlovu.
They were in 18th place in the league after their defeat at the Turf and the three points enabled the Clarets to move back into the top six. They have been in a similar position all season and their current placing of 14th is just about as high as they have been.
The game at the Turf was played on 4th November but they didn't lose again until the last Saturday of the year going down at Wolves on the day we lost at Maine Road.
Since their defeat at Burnley they have played 22 league games of which they have won 9, drawn 7 and lost just 6. Four of the wins have come at Bramall Lane with five away from home. Those at home have been against Birmingham 4-0, Portsmouth 4-3, Stockport 3-0 and Millwall 3-0 whilst away from home they have beaten Walsall and Bradford City 2-1, West Brom, Gillingham and Crystal Palace 1-0.
Manchester City 3-1 and West Brom 3-0 have won at Bramall Lane in that time whilst the other four defeats have come on their travels at Wolves, Grimsby and Coventry 1-0 and Norwich 2-1.
They picked up points in 1-1 draws at Wimbledon and Barnsley but the other four draws have been at home against Preston and Rotherham 2-2, Barnsley 1-1 and Nottingham Forest 0-0.
They reached the 4th round of the FA Cup before going out to Preston at Deepdale. They had beaten Forest 1-0 at home in Round Three with a Michael Brown goal but having gone in front at Preston through Peter Ndlovu they eventually lost 2-1.
With the home game against Millwall last Tuesday they were able to get back to playing after last Saturday's abandoned game and they picked up a deserved three points. They were 1-0 down and 2-1 down before winning 3-2. Michael Tongue got the first goal before those two late match winning goals from Ndlovu.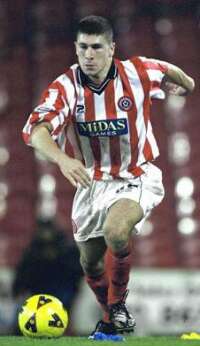 Nick Montgomery
There was no sign of either George Santos or Patrick Suffo in their line up and their two alleged injured players Michael Brown and Robert Ullathorne were also missing. They lined up: Simon Tracey, Gus Uhlenbeek, Robert Page, Keith Curle, Shane Nicholson, Peter Ndolvu, Phil Jagielka, Michael Tongue, Jean-Phillipe Javary, Paul Peschisolido (Laurent D'Jaffo 78), Steve Lovell (Nick Montgomery 78). Subs not used: Wilko de Vogt, Lee Sandford, Grant Smith.
There hasn't been too much in the way of transfer activity since our last meeting and the only permanent signing has been that of French midfielder Jean-Phillipe Javary from Raith Rovers. He has previously played in England for Plymouth Argyle and Brentford. Birmingham's Paul Furlong has been and gone on loan whilst Paul Devlin is currently still at Birmingham in a loan deal.
This week they signed Portsmouth's Steve Lovell on loan for the rest of the season. Striker Lovell, the half brother of former Burnley target Eddie Howe, has struggled to make an impact at Fratton Park following a £250,000 move from Bournemouth.
There is nobody on the Blades' playing staff that has been at the Turf but their club secretary is John Howarth who previously held the same position at Burnley.
One Burnley player going back to his old club is Gareth Taylor who was hugely popular with the Sheffield United fans during his time at Bramall Lane. Taylor is one of nine players to have played for the Clarets in the last six years to have also played for Sheffield United.
The others are Nathan Peel, Tony Philliskirk, John Francis, Adrian Heath, Doug Hodgson, Gordon Cowans, Jamie Hoyland and Tom Cowan. Four of them, Peel, Francis, Hodgson and Hoyland came directly to us from Sheffield United.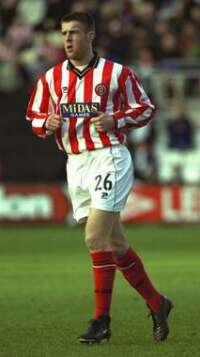 Michael Tongue
John Francis was hugely popular in two spells at the Turf and had the knack of scoring some important goals as those of us at York and Plymouth can readily recall. One player who went the other way became the star man at Bramall Lane for a time. Colin Morris started his career at Burnley before moving on to Southend. After a successful time there and at Blackpool he joined Sheffield United for a big fee and went on to play 240 league games for them.
Bramall Lane has not been the best of grounds for us and our last win there was as far back as the 1973/74 season, our first season back in Division One and the first game of the season. Martin Dobson and Doug Collins got the goals in a 2-0 win that saw Peter Noble make his Clarets league debut when he came on as sub for the injured Mick Docherty. He went to full back, an unfamiliar position for him, and remained there for the whole season.
My first visit coincided with a victory in the 6th round of the FA Cup in the 1961/62 season and you can read more about that game in The Road to Wembley as the Clarets won 1-0.
There are also a couple of draws worth a mention. The first of these came in January 1984 and saw the debut of a very promising central defender Steve Kennedy who a year later picked up an injury that was to end his career. This was a 0-0 draw and was in the days of John Bond at Burnley. Whoever allowed the game to go ahead basically robbed everyone of their money in sub zero temperatures and the pitch like a skating rink.
That was our last ever point there but we did get a draw in the 1992/93 FA Cup 3rd round tie. Sheffield United were in the Premiership at the time and we looked to be coasting to a 2-0 win with Adrian Heath having scored both goals. Everything changed when Heath and Littlejohn were sent off and then when Brian Deane came on as sub. We conceded two late goals and went on to lose the replay.
League results in the last 20 years
| | | | | | |
| --- | --- | --- | --- | --- | --- |
| Season | Div | Ven | Result | Att | Scorers |
| 1983/84 | 3 | h | 2-1 | 9,574 | Donachie Dobson |
| | | a | 0-0 | 13,892 | |
| 1994/95 | 1 | h | 4-2 | 11,475 | Robinson Hoyland Davis Gayle |
| | | a | 0-2 | 13,349 | |
| 2000/01 | 1 | h | 2-0 | 16,635 | Payton(2 1pen) |
| | | a | 0-2 | 20,013 | |
| 2001/02 | 1 | h | 2-0 | 13,166 | Taylor Cook |
Last Time in the League
Sheffield United 2 (Ndlovu 21 Asaba 90) Burnley 0 - Nationwide League Division 1, Saturday 28th April 2001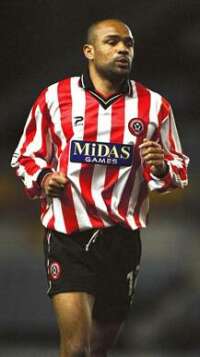 Laurent D'Jaffo
We turned up in our thousands, balloons that is, as 10,000 Claret and Blue balloons were released as the teams came out. There were some 5,000 plus Burnley fans there too hoping that we might just still sneak into the play offs.
As it was with us winning the following Sunday against Watford a win here would have seen us take the last play off place instead of West Brom and a two legged semi-final against Bolton.
Bramall Lane is not the place you would choose to go looking for points if you are a Claret, it hasn't been the best of grounds for us over the years and so it proved once again.
The first chance of the game fell to us but Gareth Taylor missed it against his former club when it looked easier to score and we then fell behind just past the 20 minute mark. We conceded a penalty and although Michopoulos saved it Ndlovu was first to the rebound to knock it in.
Weller and Little had both had to miss out with hamstring injuries (have either of these injuries really cleared up yet?) and they were missed as we seemed to run out of ideas on how to break down a strong Sheffield side.
It was a less than exciting game and apparently the best of the excitement was missed by the fans as Stan had an altercation with a member of the Sheffield United staff for listening in to his half time team talk. Stan was livid after the game but there is no love lost between him and Warnock so it was perhaps no major surprise.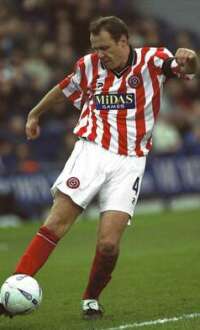 Lee Sandford
There were a number of occasions when referee David Law should surely have been red carding Keith Curle but in a dreadful performance he waved two yellows at Bally for nothing offences.
Try as we might we could not find an equaliser and Sheffield United put the result beyond doubt in stoppage time with a second and our play off hopes were over. In our first season back we had reached the penultimate weekend of the season before being ruled out of a top six place.
Disappointment was on everyone's face in the away stand but each and every Burnley fan stood to give the players a standing ovation. We brought the curtain down on our travels with a defeat but we had managed to pick up seven league victories on our travels in a higher league and we all knew what a fantastic achievement that was.
As we left we all decided that it was nothing worse than a disappointment, that we would crack on and see where it would take us in season 2001/02.
The teams were,
Sheffield United: Frank Talia, Ben Doane, Shaun Murphy, Andy Morrison (James Thomas 11 Nick Montgomery 74), Keith Curle, Paul Devlin, Paul Jagielka, Bobby Ford, Robert Ullathorne, Carl Asaba (Robert Kozluk 90), Peter Ndlovu. Subs not used: Patrick Suffo, Gus Uhlenbeek.
Burnley: Nik Michopoulos, Mitchell Thomas, Steve Davis, Gordon Armstrong, Lee Briscoe (Dean West 59), Brad Maylett (Andy Payton 63), John Mullin, Kevin Ball, Paul Cook (Paul Smith 77), Ian Moore, Gareth Taylor. Subs not used: Paul Crichton, Ian Cox.