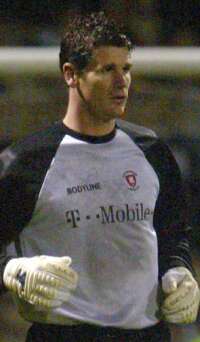 Mike Pollitt
The Turf Moor flag flies at half mast following the death last Sunday of Forest fan Nathan Shaw and the game on Saturday will be preceded by a minute's silence.
To the match though and this week's fixture list in the Football League and in the Premiership are the return fixtures from just four weeks ago.
It can only be hoped that the game is somewhat better than the game at Millmoor which was as low in entertainment as anything we have seen for some time. We saw Gareth Taylor out of the game within six seconds of the kick off and very little else.
There were suggestions that Burnley were going to consider selling tickets this week for seats on the Longside roof, if the game is to be anything like the Millmoor draw there would probably be a better view of the ball.
The scoreline there of 0-0 was just about right with neither goalkeeper having very much to deal with and a clear cut chance hardly created in the 90 minutes. They remained one point and one place above the Clarets after the game.
Rotherham have had just one home game since, a live television match against Wolves, and that was no different to our game there in either entertainment or goals. It was another dreadful 0-0 draw.
Away from though they have had one defeat and one win in the league against two of the sides relegated from the Premiership last May in Leicester and Ipswich. And Three weeks ago they were beaten 2-1 at Leicester whilst last week they came from behind to beat Joe Royle's Ipswich 2-1 at Portman Road. Between these two games they crashed out of the Worthington Cup, going down 4-0 to Blackburn at Ewood Park.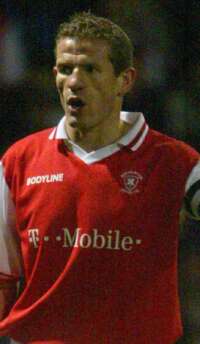 Chris Swailes
These results have seen them drop a place below us and a point below us with the Clarets having picked up six points with the two home wins against Norwich and Forest.
They weren't expected to get anything last week at Ipswich and really shouldn't have done in a game that the Tractor Boys dominated. But Rotherham having fallen behind to a Fabian Wilnis goal as early as the 11th minute came back with goals from Stewart Talbot and Richie Barker by half time.
They defended the lead well in the second half and restricted Ipswich to few chances but it was still a game that the home side should have won. It brought about Rotherham's 4th away win of the season but their first since September.
The Ipswich win so a return to first team action for John Mullin who has been unable to win a place in the side recently and was playing his first game since October at the expense of Andy Monkhouse.
Rotherham lined up: Mike Pollitt, Rob Scott, Paul Hurst, Chris Swailes, Chris Sedgwick (Chris Beech 83), Nick Daws, Stewart Talbot (Paul Warne 76), Martin McIntosh, John Mullin, Alan Lee, Richie Barker. Subs not used: Ian Gray, Darren Byfield, Andy Monkhouse.
Click HERE to see our preview from the away game and HERE to see all Rotherham's results this season.
He played for both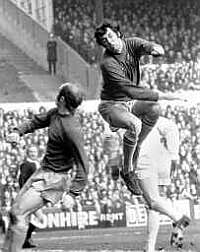 Making a save in the 4-1 win at Leeds in 1974
For the away game we featured Frank Casper who spent his entire career with the two clubs. This time it is a player who had a short spell at Millmoor after a long and distinguished career with the Clarets, goalkeeper Alan Stevenson.
Stevenson came so close to breaking the club's post war league appearance record but after being dropped following a 2-0 defeat at Derby towards the end of the 1982/83 season he didn't make another first team appearance and with 438 games fell one short of both Jimmy McIlroy and John Angus.
We signed him in January 1972 for £50,000 from Chesterfield, a club that had built up a reputation for producing great goalkeepers. He was much sought after but Jimmy Adamson clinched the signing and he went straight into the first team against Orient at Brisbane Road.
To say he established himself as the first choice keeper is an understatement, for the next eleven years and more he was the regular keeper apart from one short spell when Gerry Peyton took over.
He gave us many fine performances with many great saves although one at the Kop end at Anfield in the 3rd Round of the 1972/73 FA Cup still stands out. He very rarely had a bad game and came close to full England honours although in the end had to settle for a place on the bench in Lisbon against Portugal in 1974 on the night that Martin Dobson made his England debut.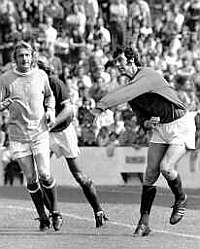 In action during the 1973 Charity Shield win against Manchester City at Maine Road
Burnley played without the two of them that night and earned themselves a more than creditable 3-3 draw against Manchester United at Old Trafford that would have been a win but for two late goals.
He was released by Frank Casper in 1983 and moved on to Rotherham and played almost 50 games there before being replaced by Bobby Mimms and moving on to Hartlepool. One of those games for Rotherham was against the Clarets at Millmoor. After warming up in front of the home fans he had to come down to the other end (the away end) for the first half. The applause started just as he left the penalty box at the far end in one of the most amazing receptions I have ever seen a former player receive.
The Rotherham fans looked bewildered as the Clarets' sang Oh Alan Alan, Alan Alan Alan Alan Stevenson.
For many Burnley fans Stevenson is the best keeper they have ever seen and certainly the best since the days of McDonald and Blacklaw.
League results in the last 20 years
| | | | | | |
| --- | --- | --- | --- | --- | --- |
| Season | Div | Ven | Result | Att | Scorers |
| a | | | | | |
| 1982/83 | 2 | h | 1-2 | 9,169 | Steven |
| | | a | 1-1 | 6,079 | Taylor |
| 1983/84 | 3 | h | 2-2 | 4,676 | Scott Biggins |
| | | a | 1-1 | 5,544 | Flynn |
| 1984/85 | 3 | h | 7-0 | 3,907 | Hird(3 1pen) Biggins(2) Devine Lawrence |
| | | a | 2-3 | 4,646 | Biggins |
| 1988/89 | 4 | h | 1-0 | 9,290 | Oghani |
| | | a | 1-3 | 5,726 | Farrell |
| 1991/92 | 4 | h | 1-2 | 13,812 | Francis |
| | | a | 1-2 | 6,042 | Conroy |
| 1992/93 | 2 | h | 1-1 | 9,684 | Deary |
| | | a | 1-0 | 4,989 | Heath(pen) |
| 1993/94 | 2 | h | 0-0 | 10,806 | |
| | | a | 2-3 | 5,553 | Laws(og) Francis |
| 1995/96 | 2 | h | 2-1 | 10,478 | Eyres(pen) Philliskirk |
| | | a | 0-1 | 5,553 | |
| 1996/97 | 2 | h | 3-3 | 7,875 | Cooke(2) Barnes |
| | | a | 0-1 | 4,562 | |
| 2001/02 | 1 | h | 3-0 | 14,820 | I Moore Weller Payton(pen) |
| | | a | 1-1 | 9,021 | Taylor(pen) |
| 2002/03 | 1 | a | 0-0 | 7,575 | |
Click HERE to see all our league results against Rotherham.
Last Time in the League

Burnley 3 (I Moore 46 Weller 48 Payton 90pen) Rotherham United 0 – Nationwide League Division 1, Saturday 8th September 2001
Burnley took to the field as leaders of Division One having won at Bradford the week before and were expected to turn over struggling Rotherham with no problem whatsoever.
Football never works like that though and we could easily have found ourselves a couple of goals behind in the first ten minutes after what could be described as a sluggish start in a match that had been billed all week as Dad v Son. It was the first time that Ian Moore and dad Ronnie had ever crossed paths.
The major highlight for the Clarets in the first half was a stunning save from Nik Michopoulos to prevent Mark Robins from scoring, a save that won a place in our 100 Greatest Moments.
We were level and thankful to be so at half time but the second half had hardly started when the whole thing changed as we went 2-0 within three minutes of the restart through Ian Moore (it just had to be) and Paul Weller. In fact Weller's goal was his last on the Turf with just an away goal since.
With the early boost the second half was completely different and the Clarets were well on top. Arthur Gnohere was making his full debut at left-back and had a torrid time in the first half. The second half though saw him on top of his game and he treated the fans to a couple of his trademark storming runs.
"We are top of the league" could be heard from all but the travel rug stand and for many it was a higher position than they had ever seen the Clarets – top of division one.
The second half was as good as anything we had produced and was capped with a late penalty from the Natural Born Claret, on as a sub for Paul Weller.
The teams were,
Burnley: Nik Michopoulos, Dean West, Steve Davis, Gordon Armstrong, Arthur Gnohere, Glen Little, Paul Weller (Andy Payton 73), Kevin Ball, Paul Cook, Alan Moore, Ian Moore (Gareth Taylor 60). Subs not used: Luigi Cennamo, Mitchell Thomas, Tony Ellis.

Rotherham United: Mark Pollitt, Marvin Bryan, Paul Hurst, Chris Swailes, Martin McIntosh, Kevin Watson (Nick Daws 67), Stewart Talbot, Alan Lee, Chris Sedgewick (Andy Monkhouse 55), Rob Scott, Mark Robins (Richie Barker 82). Subs not used: Ian Gray, Guy Branston.

Referee: Mr. M. Warren.