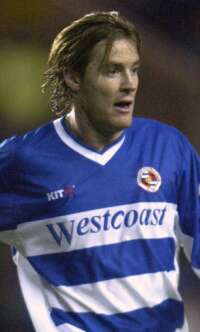 Martin Butler
That August night still haunts me, our fourth game of the season and our fourth defeat. But it was the manner of the defeat and as we all know Stan threatened to give it all up that night and judging from the expressions on the fans' faces most of them had already given this season up.
My REPORT from that night brought the biggest response I have ever had to anything I have written, I just wish I had never had to write it.
At the time I said that Reading were as bad as any team in the division, they were certainly less than impressive that night even though they did win 3-0. I've certainly been proved wrong though and currently they are in our favourite position in the league of 7th and only out of the play off positions on goal difference.
They are one of the better of clubs in the division, relying on Chairman and benefactor John Madejski but they have hardly gone crazy in the transfer market since winning promotion at the end of last season, pipping Brentford on the last day.
In total there have been just three new signings, all from London Premiership clubs. The first, American goalkeeper Marcus Hahnemann, arrived in time to play against us in August whilst Charlton defender Steve Brown was signed in December.
The latest signing arrived from Arsenal via Brighton where he was on loan and we know of him only too well. 20 year-old midfielder Steve Sidwell signed just over a week ago with Brighton trying to win the battle for his signature. It was Sidwell who scored the two late, late goals that earned Brighton a 2-2 draw against us at the end of last month.
Sidwell made his debut in midweek but it was not the best of nights for the Royals as they crashed to their fifth home defeat of the season against Leicester. Coventry, Franchise, Norwich and Sheffield United have already won there.
There has been one further signing this season to the three mentioned above although just a loan signing. And what an impact he had. They took Arsenal central defender Matthew Upson for three months and conceded just five goals in fourteen league games with him in the side.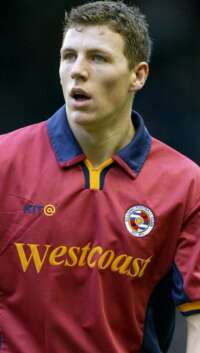 Darius Henderson
Since his return to Highbury they have conceded thirteen goals in just seven games highlighting the impact he had. Upson, who was Arsene Wenger's first signing for Arsenal, has since moved on to Birmingham.
That period brought them a run of just one defeat in twelve games but they have picked up just four points from the last seven games and seen them drop out from a comfortable place in the play offs.
This week they were never in the game against Leicester and it was all over with by half time with the visitors 3-0 up. They did pull a goal back in the second half but that was as far as they got against a Leicester side who otherwise defended the lead with some ease.
The Reading team was: Marcus Hahnemann, Graeme Murty, Adie Williams, Steve Brown (Ricky Newman 45), Nicholas Shorey, Sammy Igoe (Jamie Cureton 56), Steven Sidwell, James Harper (Martin Butler 56), Andrew Hughes, Nicky Forster, Tony Rougier. Subs not used: Nathan Tyson and Jamie Ashdown.
Goals have not been too easy to come by, they have scored just 28 league goals this season. Nicky Forster and Jamie Cureton lead the way with seven each although Cureton notched his fifth and sixth against us back in August. His only goal since came at home to Derby on the last Saturday of 2002.
There have been some very dull games against Reading on the Turf over the years, particularly when Mark McGhee was in charge of the Royals. Hopefully that won't be the case tomorrow and the Clarets will pick up maximum points from an entertaining game.
Click HERE to see our preview from the away game and HERE to see Reading's results for this season.
He played for both
For just a short time in the 1960s Burnley forward John Murray was known as the Goal Machine, not bad for a player who scored just ten first team goals at Turf Moor.
He made his debut in a 5-1 hammering at Leicester on 5th November 1966 but it was just a one off appearance with two more that season. The following season was worse for him and he never got a look in as players such as Irvine, Casper and Lochhead were in front of him.
The following season he got a couple of games at full back but playing up front scored his first goal in the 6-0 League Cup replay win against Reading but it was when Harry Potts reacted to some bad results that Murray came into his own.
There were changes aplenty for a home game against West Ham that was won 3-1. It was the start of a run of eight successive wins that can be found in our 100 GREATEST MOMENTS as the Clarets took the league by storm.
Murray scored eight goals in those eight games and it was during this short spell that he won his nickname. He was soon back out of the side though and it was a year later that he got his next, his tenth and his last goal for Burnley in a 4-2 win against Sheffield Wednesday.
During that season he moved on to Blackpool for £10,000 but played just a few games for them. There followed a three and a half year period at Bury before he signed for Reading in August 1974. He was with the Royals for over three years and scored 43 league goals in 131 games and was a favourite with the Reading fans.
There was to be just one short spell with our cup opponents of last week Brentford before his career came to an end in 1978.
He has continued to coach in the game and was a surprise candidate for the manager' job at Burnley on one occasion it was free in the 1990s.
League results in the last 20 years
| | | | | | |
| --- | --- | --- | --- | --- | --- |
| Season | Div | Ven | Result | Att | Scorers |
| a | | | | | |
| 1984/85 | 3 | h | 0-2 | 3,955 | |
| | | a | 1-5 | 4,024 | Biggins |
| 1992/93 | 2 | h | 1-1 | 8,382 | Harper |
| | | a | 0-1 | 6,398 | |
| 1993/94 | 2 | h | 0-1 | 11,650 | |
| | | a | 1-2 | 5,855 | Eyres (pen) |
| 1994/95 | 1 | h | 1-2 | 9,841 | Parkinson |
| | | a | 0-0 | 8,150 | |
| 1998/99 | 2 | h | 1-1 | 9,366 | Reid |
| | | a | 1-1 | 10,080 | Payton |
| 1999/2000 | 2 | h | 3-0 | 14,436 | Davis Payton Wright |
| | | a | 0-0 | 6,149 | |
| 2002/03 | 1 | a | 0-3 | 12,009 | |
Click HERE to see all our previous results against Reading
Last Time in the League
Burnley 3 (Davis 32 Payton 52 Wright 84) Reading 0 – Nationwide League Division 2, Saturday 18th March 2000
This was a vital game, the natives were getting restless. We were still in fifth place in the league but the excellent home form had suddenly evaporated. Without Andy Payton, suspended, and with Ian Wright in the side (I still find it incredible that I write about Ian Wright playing for Burnley) we had failed to score in three home games and had lost the previous two.
Preston had hit us for three and Luton on a waterlogged pitch had won 2-0 including a goal from Phil Gray. We had also had one of those embarrassing moments at Turf Moor at the Luton game when Bertie Bee decided to be Elvis Presley (see pic). Another one to compete with the dogs.
Since that Luton game we had recovered away from home with a 1-0 win at Wrexham, with Andy Payton's 200th career goal, and won a vital point at Gillingham with a late goal from Ian Wright, his first for Burnley.
Were we back on track? You bet we were. This was expected to be a tough game but in all honesty it turned out to be an easy enough victory. Skipper Steve Davis gave us the lead in the first half with a header at the Jimmy Mac end, Andy Payton made it two with a header early in the second half and Wrighty came on as a sub and scored his first home goal with a header.
We were back in form but little could we ever have imagined that this was the start of a run in of eleven games that would see just one defeat as we stormed through to automatic promotion. There were to be no wins as comprehensive as this although this was the win that got us moving again at the Turf.
The teams were,
Burnley: Paul Crichton, Lenny Johnrose, Mitchell Thomas, Ian Cox, Steve Davis, Paul Cook, Glen Little, Graham Branch, Andy Cooke (Ian Wright), Andy Payton, Micky Mellon (John Mullin).
Reading: Scott Howie, John Polston, Matt Robinson, Neil Smith (Darius Henderson), Linvoy Primus, Peter Grant (Ricky Newman), Lee Hodges (Keith Scott), Darren Caskey, Martin Butler, Nicky Forster, Graeme Butler.
Referee: Roger Furnandiz (Doncaster).