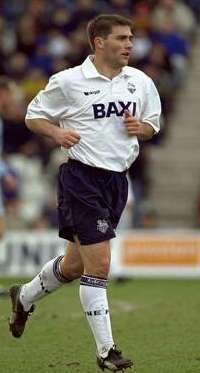 Iain Anderson
I know many Burnley fans took in the Middlesbrough v Everton game last Sunday on television to have a look at Gascoigne's form given our interest in him. I'm sure none of us realised as Everton's defence disintegrated that this would have such an effect on our Lancashire neighbours.
Almost before the Everton players had got off the pitch at the end manager Walter Smith's future looked distinctly less than rosy and even before the announcement of his departure on Tuesday the name of David Moyes was in the frame. There was no doubt at all that Moyes had reached the end of the line at Deepdale, his interviews recently have more than suggested that and he was all so keen to jump ship this week and take the Everton job.
Preston's acting chairman Derek Shaw, yes they don't do anything for real now but just act, described Moyes as the best young manager in English football. There is no doubt that he has done a good job at Preston but I'm not so sure he hasn't got a bit carried away there. We'll see how he does at Everton.
As it is he took over during a shaky spell during the 1997/98 season in Division 2 and having got them into the play offs in his first full season then went on to win the league in 1999/2000 when they went up with the Clarets. Last season they did particularly well and reached the play off final but were well beaten by Bolton on the day.
Preston, like ourselves, had been tipped to be in a relegation fight but the both of us silenced the critics and we weren't so far behind them. The two clubs have constantly been compared over the past three years or so as we never seem to have been to far away from each other in the league.
Moyes, as is the case with Stan, hasn't had the sort of money to spend that other First Division managers have had although he was able to spend £1.5 million to bring in David Healy from Manchester United in January of last year.
He has never been the most inspired of managers and over the years has appeared, as did his predecessor Gary Peters, to wait and see who Burnley tried to sign and then jump in. Gregan, Murdock, Alexander and Robinson were all Burnley targets that ended up at Deepdale.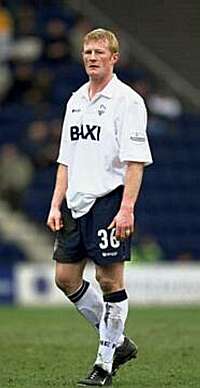 Colin Hendry
But Moyes has gone now and on Sunday Preston will be under the charges of Kelham O'Hanlon and Jimmy Lumsden although this could be for one match only. Both are already linked with a move to Goodison Park to rejoin the Haunted One.
The game at Deepdale was a cracker and along with the free kick goal at Coventry I think Arthur's winner was one of the moments of the season. It was the game when Nik Michopoulous was yellow carded for handling the ball INSIDE his penalty area and when Gareth Taylor had a goal disallowed for scoring with his feet. It was also a game that I still believe provided us with one of the toughest games we have had all season but a game we thoroughly deserved to win.
The Clarets were at the top at the time and North End were in 8th place with 36 points from 23 games although only a point outside the play off positions. They remain in eighth place but are now five points away from the bottom play off position currently occupied by ourselves.
Neither of us have had the greatest of form over the three months or so since we met although Preston's is better than ours. They have played fifteen league games in that time and have won seven of them, drawn two and lost the other six. Until the game in December they had been the draw experts in the division but since the only two draws have both been at Deepdale, 0-0 against Grimsby and 1-1 against Watford.
The first three of the seven wins were all away from home as they had a less than successful spell at home and they were 3-2 at Wolves, 2-1 at Walsall and 1-0 at Bradford City. Since then all the wins have been at home to Sheffield Wednesday 4-2, West Brom and Birmingham 1-0 and Rotherham 2-1.
As for the defeats just one of them has been at home, 2-0 against their bogy team Gillingham and the other five away from home at Rotherham 1-0, Wimbledon 2-0, Manchester City 3-2, Norwich 3-0 and Millwall 2-1.
They did have some success in the FA Cup. They won 2-0 at Brighton in the 3rd round with goals from Eric Skora and Jonathan Macken before beating Sheffield United 2-1 at home in the 4th round when Richard Cresswell and Graham Alexander were the scorers. That's where it ended though and they were beaten 3-1 at Chelsea in Round 5 with Cresswell getting the Preston goal.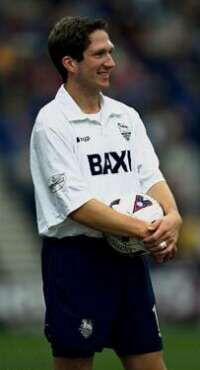 Thordur Gudjonsson
So last Saturday's 2-1 victory over Rotherham last week at Deepdale proved to be David Moyes' last game in charge. It was a great win because Rotherham are the best team in this division if you believe their manager Ronnie Moore. He always seems to think they should have won and always seems to think the decisions have gone against them.
In fact had Alan Lee not missed a simple chance it could have been the case but in the end Richard Cresswell scored twice to win all three points. Cresswell has been amongst the goals recently and has scored eight league goals this season for Preston, as did Jonathan Macken. Leading the way though is David Healy with ten.
The Preston team last Saturday was: David Lucas, Graham Alexander, Rob Edwards, Chris Lucketti, Adam Eaton, Paul McKenna, Thordur Gudjonsson (Lee Cartwright 70), Dickson Etuhu, Iain Anderson (Michael Keane 58), David Healy, Richard Cresswell. Subs not used: Steve Basham, Paul Reid, Tepi Moilanen.
Since our meeting in December Preston have brought in one new permanent signing and made one sale and both have involved doing business with KKMC. In January Preston signed midfielder Dickson Etuhu for a bargain £300,000 and then just over a week ago they persuaded KK to part with £5 million for Jonathan Macken.
They have though signed four other players on loan deals, all of whom are still at Deepdale. They are Thordur Gudjonsson from Las Palmas, Paul Reid from Rangers, Sadio Sow from Nancy and Bolton's Colin Hendry.
The only players on the staff of either club to have played for the opposition are Lenny Johnrose and Tony Ellis. Lenny is Preston born and had a loan spell with them. He is not popular at Deepdale though and Preston's official web site has had a go at him again this week. Mind you the same site called Paul Weller a veteran.
Tony Ellis had two successful spells at North End and in one game against the Clarets I recall him laying out Les Thompson in an off the ball incident on the plastic pitch at Deepdale.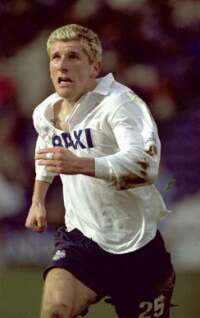 Richard Cresswell
Over recent years Preston have come to Turf Moor with three ex-Clarets in Gary Parkinson, David Eyres and Kurt Nogan but all have now left. These players mentioned though are just some of many to have played for both clubs, the list seems almost endless.
Looking back others to have played for both clubs include Mike Conroy, Steve Harper, Warren Joyce, Graham Lancashire, Paul McGee, David Miller, Tony Morley, John Mullin, David Reeves, Andy Saville and Peter Zelem.
Apart from last season home wins have been thin on the ground against Preston and the previous one was a 2-0 win in the 1992/93 season. This was in the days of John Beck and Preston were on their way down to the 3rd division. Two Adrian Heath goals saw Burnley win comfortably on the night.
It was also 2-0 in a couple of Championship seasons. In the 1972/73 Championship season it was an early season game and goals from Dave Thomas and Leighton James won us the game. Then nine years later it was the third from last game of the season when points were vital and this time two from Billy Hamilton won it and we went on to win the 3rd Division Championship.
The biggest post war win was by 5-0 in the 1960/61 season whilst in the 1950s the fixture seemed to be played on Christmas Day virtually every year and always at home with the Deepdale return on Boxing Day.
League results in the last 20 years
| | | | | | |
| --- | --- | --- | --- | --- | --- |
| Season | Div | Ven | Result | Att | Scorers |
| 1983/84 | 3 | h | 2-1 | 8,095 | Reeves Hamilton |
| | | a | 2-4 | 8,813 | Donachie Tueart |
| 1984/85 | 3 | h | 2-0 | 4,768 | Scott Biggins |
| | | a | 3-3 | 4,995 | Biggins(2) Whatmore |
| 1985/86 | 4 | h | 1-1 | 3,835 | Deakin |
| | | a | 0-1 | 5,585 | |
| 1986/87 | 4 | h | 1-4 | 5,974 | James(pen) |
| | | a | 1-2 | 10,716 | Parker |
| 1992/93 | 2 | h | 2-0 | 12,648 | Heath(2) |
| | | a | 0-2 | 7,209 | |
| 1996/97 | 2 | h | 1-2 | 16,186 | Barnes |
| | | a | 1-1 | 12,652 | Nogan |
| 1997/98 | 2 | h | 1-1 | 13,809 | Cooke |
| | | a | 3-2 | 12,263 | Payton Cooke Moore |
| 1998/99 | 2 | h | 0-1 | 11,561 | |
| | | a | 1-4 | 15,888 | Eastwood |
| 1999/2000 | 2 | h | 0-3 | 22,310 | |
| | | a | 0-0 | 13,708 | |
| 2000/01 | 1 | h | 3-0 | 16,591 | Moore Ball Little |
| | | a | 1-2 | 17,355 | Moore |
| 2001/02 | 1 | a | 3-2 | 20,370 | Gnohere(2) Little |
Last Time in the League
Burnley 3 (Moore 3 Ball 45 Little 73) Preston North End 0 – Nationwide League Division 1, Friday 6th April 2001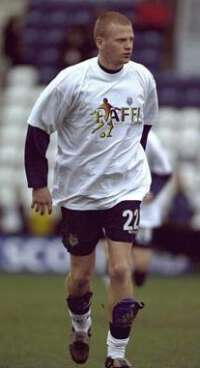 Adam Eaton
It probably wasn't the game we were looking for just six days after a disaster. Would the players be up for it or would there still be a hangover? Those were the questions being asked by all the Clarets fans who were struggling to come to terms with the previous Sunday's defeat.
We needn't have worried, we turned in one of our best performances of the season as each and every member of the side fought as if their lives depended on it. Before we had settled down into our seats we were 1-0 up as West and Little combined down the right and Ian Moore was first to Glen's cross for his third goal in three games against the Moyes' Boys in the season. It was a great start for Fred West who was making his first appearance of the season, it was his pass that put Glen clear down the right.
North End had a lot of the possession after that but it was always Burnley who looked the more likely and right on half time came the second and from the unlikeliest of sources, Kevin Ball. Fred got over a superb cross from the right despite being disgracefully taken out by a Preston defender. The keeper could only parry Gareth Taylor's header and at the second attempt Bally hammered it home from close range. Later close up TV pictures showed that Bally really enjoyed scoring his first Burnley goal.
Half time saw the draw made by an ex-Claret and I think it is a first that having made the draw last season he is set to play in the game this season, it was Middlesbrough goalkeeper Marlon Beresford.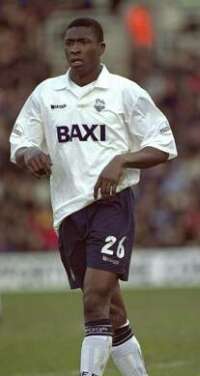 Dickson Etuhu
The second half followed a similar pattern and not for one minute did Preston ever really look as though they would score. Yes they had more possession than us again but never once threatened to pull one back.
It was all wrapped up with seventeen minutes to go from Glen Little who hammered home as the ball came in from the left. Stan has often said a team can be judged on how it responds to a defeat. Last April this Burnley team responded in the best way possible for the last ever visit of David Moyes' Preston to Turf Moor.
The teams were,
Burnley: Nik Michopoulos, Dean West (Bad Maylett 85), Steve Davis, Ian Cox, Paul Smith, Glen Little, Paul Weller, Kevin Ball, Paul Cook, Ian Moore (John Mullin 67), Gareth Taylor (Andy Payton 77). Subs not used: Paul Crichton, Gordon Armstrong.
David Moyes' Preston: Tepi Moilanen (David Lucas 31), Graham Alexander, Colin Murdock, Sean Gregan, Rob Edwards, Paul McKenna, Lee Cartwright, Mark Rankine, Jon Macken (Iain Anderson 46), David Healy, Richard Cresswell. Subs not used: Ryan Kidd, Bjarni Gunnlaugsson, Brian Barry-Murphy.