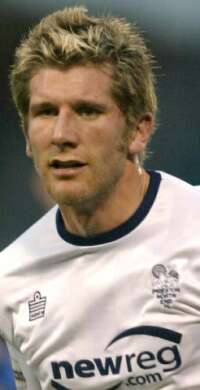 Richard Cresswell
We'll be kicking off two and a half hours early at the 'request' of the police in what is the nearest we have to a derby these days against a Preston side who are currently just two points behind the play offs after going on a recent good run that has seen them lose just once in the last nine games.
The North End fans are still not content though and a couple of bad results would surely see them once again turn on the Weary Whinger Craig Brown who they have never really taken to since he took over from the Haunted One in the summer of 2002.
The video cameras have already been set up for Brown to record any potential howlers from the referee and there is no doubt that whatever happens he will have something to complain about.
He's been a fortunate manager in that he is with a club that were somewhat financially fortunate just over a year ago. They managed to persuade KKMC to pay over the odds for Jonathan Macken, made money on manager Moyes moving to Everton and then sold Sean Gregan to West Brom.
That meant that Brown was under no pressure to sell and has been allowed to bring in a number of new players since he took over. Those signings all came during last season as players such as Fuller, Gould, Koumantarakis, Lynch, Lewis and O'Neil.
Since the end of last season though there has been just one addition and he can hardly be described as having had a major impact. Brown's only summer signing was that of Lee Briscoe who had been released by Burnley.
Briscoe, who didn't even complete last season at Turf Moor, was said to have received a number of offers and finally went for a one year deal at Deepdale. But it is fair to say that injury has played its part and the North End fans are still waiting for their first look at the new man.
They didn't make the best of starts this season but have recovered and their only defeat since mid-October was at Bramall Lane and we know all about losing there. They lost their first two home games of the season against relegated West Ham and Sunderland but have remained unbeaten at Deepdale since winning seven and drawing two games and they have scored four goals on no fewer than three occasions.
This is their first home game since they beat Palace 4-1 and they have since had a draw and a win away from home, the win being the most recent at a ground where they used to be guaranteed to get nothing, Gillingham's Priestfield Stadium.
Preston were in front as early as the third minute with a goal from Ricardo Fuller and although Gillingham threw everything at them they defended superbly with goalkeeper Jonathan Gould in inspired form.
The WW went with three strikers in what he described as an attacking formation and it would be no surprise to see them employ a similar system against the Clarets this weekend.
They lined up: Jonathan Gould, Graham Alexander, Michael Jackson, Chris Lucketti, Marlon Broomes, Paul McKenna (Michael Keane 45), Brian O'Neil, Dixon Etuhu, Richard Cresswell (Eddie Lewis 85), David Healy (Lee Cartwright 68), Ricardo Fuller. Subs not used: Andy Lonergan, Claude Davis.
Having lost at Deepdale last season the Clarets will be looking for the sort of performance as we turned in just before Christmas two years ago in that Arthur inspired 3-2 win.
Click HERE to see all Preston's results this season.
Past Results in the last 20 years
| | | | | | |
| --- | --- | --- | --- | --- | --- |
| Season | Div | Ven | Result | Att | Scorers |
| a | | | | | |
| 1983/84 | 3 | h | 2-1 | 8,095 | Reeves Hamilton |
| | | a | 2-4 | 8,813 | Donachie Tueart |
| 1984/85 | 3 | a | 3-3 | 4,995 | Biggins(2) Whatmore |
| | | h | 2-0 | 4,768 | Scott Biggins |
| 1985/86 | 4 | a | 0-1 | 5,585 | |
| | | a | 1-1 | 3,835 | Deakin |
| 1986/87 | 4 | h | 1-4 | 5,974 | James(pen) |
| | | a | 1-2 | 10,716 | Parker |
| 1992/93 | 2 | a | 0-2 | 7,209 | |
| | | h | 2-0 | 12,648 | Heath(2) |
| 1993/94 | LC | a | 2-1 | | Davis Eyres |
| | | h | 4-1 | | Deary Eyres Francis Russell |
| 1996/97 | 2 | a | 1-1 | 12,652 | Nogan |
| | | h | 1-2 | 16,186 | Barnes |
| 1997/98 | 2 | h | 1-1 | 13,809 | Cooke |
| | | a | 3-2 | 12,263 | Payton Cooke N Moore |
| 1998/99 | 2 | a | 1-4 | 15,888 | Eastwood |
| | | h | 0-1 | 11,561 | |
| 1999/2000 | 2 | a | 0-0 | 13,708 | |
| | | h | 2-0 | 22,310 | |
| 2000/01 | 1 | a | 1-2 | 17,355 | I Moore |
| | | h | 3-0 | 16,591 | I Moore Ball Little |
| 2001/02 | 1 | a | 3-2 | 20,370 | Gnohere(2) Little |
| | | h | 2-1 | 18,388 | I Moore Johnson |
| 2002/03 | 1 | a | 1-3 | 16,046 | Taylor |
| | | h | 2-0 | 12,245 | Blake Papadopoulos |
Click HERE
to see more results against Preston right back to our first ever game in the Football League.
One from the past
Bank Holiday Classic
Preston 1 (McIlmoyle) Burnley 3 (Kindon Casper Waldron,pen)
Football League Division Two – Monday 30th August 1971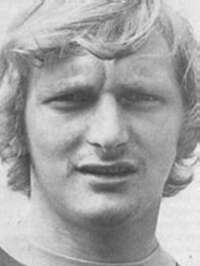 Steve Kindon - awesome shot for first goal
As Burnley prepared to make their first league visit to Deepdale in eleven years there was some news of local football in the Burnley Express that did at the time appear to be somewhat significant. There was to be a new team in the Burnley & District Amateur Football Combination, they were called Colne Dynamoes.
Times were getting difficult for football and Burnley had just embarked on their first season outside the top flight for 24 years with Chairman Bob Lord issuing a warning when he revealed that the Club's wage bill had reached £116,000.
That figure was for the season and for the entire staff and not a week's wage for one overpaid individual.
The Lucas fete had attracted a big crowd over the weekend as the Clarets lost for the first time in a 2-1 defeat at Oxford. As some of us enjoyed the Manor Ground for the first time those who chose to visit the fete were welcomed by Britain's First Lady at the time, Coronation Street's Elsie Tanner.
But if the fete attracted crowds it was nothing to what happened on Bank Holiday Monday evening at Deepdale. The roads from Burnley were blocked for hours as the whole town seemed to set off for our first game against North End since the days of McIlroy and Finney. Cars were left abandoned as fans made the last part of the journey on foot as over 27,000 packed into the ground.
And we didn't disappoint as for much of the game we simply ripped North End apart in a fantastic display which also featured to brilliant goals, one of which I am sure Alan Kelly (he now has his own end at Deepdale) is still looking for it was hit with such power.
We almost fell behind though in the first minute and only a miracle goal line clearance from Mick Docherty saved us after a mix up with goalkeeper Peter Mellor who was back in the side after Tony Waiters was dropped.
Referees had been urged to be stricter and Manchester official Ricky Nicholson took it all to heart and managed to book four players in four separate incidents in a four minute spell within the first quarter of an hour. Both managers were to launch attacks on Nicholson after the game after he had collected a total of six bookings, certainly something very rare in early 70s football.
It had been a superb first half of football with Burnley always having the edge but it looked as though it was going to end without a goal but then with just seconds left on the clock we struck – and how.
Colin Waldron found Steve Kindon just inside his own half and the powerful winger set off at speed. He was down the left but didn't go wide and once around 25 yards from goal hit the most ferocious of shots that hit the net with incredible power. To this day I have never seen a shot hit with such awesome power.
It was no more than we deserved and just three minutes into the second half we doubled the lead and this one would have been memorable had Kindon not hit that first one. This time it was Frank Casper and again the shot was from outside the box and again hit the net before Kelly could even think of moving.
That was about it and the win was really confirmed on the hour when Waldron got on the score sheet with a penalty.
Preston rallied and did pull one back, again from the spot, after Waldron was harshly judged to have fouled Ham. Hugh McIlmoyle converted the spot kick.
But it was Burnley's night, a superb performance from Jimmy Adamson's team that saw us join the early leaders in the division.
The teams were:
Preston: Kelly, McMahon, McNab, Bird, Hawkins, Spavin, Heppolette, Ham, McIlmoyle, Spark, Wilson. Sub not used: Lyall.
Burnley: Peter Mellor, Mick Docherty, Eddie Cliff, Arthur Bellamy, Colin Waldron, Martin Dobson, Dave Thomas, Alan West, Paul Fletcher, Frank Casper, Steve Kindon. Sub not used: Doug Collins.
Referee: Ricky Nicholson (Manchester).
Attendance: 27,200.